Blockchains are decentralized ledgers that are well equipped today to cater to organizations across all verticals. For ushering a great career in IT, blockchains can be a domain to look at. A Certified Blockchain Developer has huge demand. Here's in this Blockchain Certification blog, we will discuss what you can do in your career with blockchains as your core strength.
Given the surge in the demand of blockchains, it won't be wrong—in any dimension—to deduce that blockchains have carved a niche for themselves across all verticals. Although complex, the flexibility and security that blockchains tag along with themselves makes them an undisputed triumphant in the realm of emerging technologies.
'But, are blockchains reliable?'
The answer to this question has been a rhetorical 'YES' ever since blockchains were first applied to bitcoins in early 2008. Ever since, blockchains have been an incessant source of disruptive waves in the ocean of IT, and a hot topic of discussion amongst frontrunners in the technology industry. Today, the requirement of blockchain professionals, including blockchain developers and blockchain trainers is at its epitome. Companies are in pursuit of individuals who not only can understand the sophisticated blockchain technology but also possess the proclivity to drive new disruptions pertaining to real-time situations.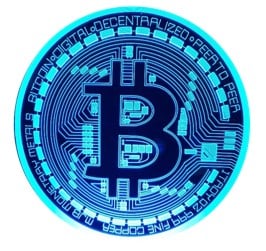 Developed for supporting bitcoins and other altcoins, blockchains have taken a quantum leap in their years of being in limelight. Presently, a lot of research and development is vested upon blockchains pertaining to their potential. Developers believe that with the apt permutation and combination of their framework, blockchains can be architected to be the backbone of every digitized industry in the years to come. The already escalated demand of blockchains is to reach new heights inevitably. And guess who is going to benefit the most from this outburst of these technical advancements? Well, companies in the blockchain space will of course be the maximum beneficiaries, but blockchain engineers and blockchain developers will be the ones who will be crowned as the prime contributors of this revolution.
Do you want to be recognized as a prime blockchain contributor in the future?
If Yes, enrol yourself to a blockchain certification course and get started on the same.
Check this video on Blockchain by intellipaat:

Why certify yourself with a blockchain course?
It is a known fact that certifications are third-party validations of qualifications and skills. Certifications ensure a prospective recruiter about your dedication and interest to the profession. Also, as a certified blockchain professional your chances of getting hired is much more likely.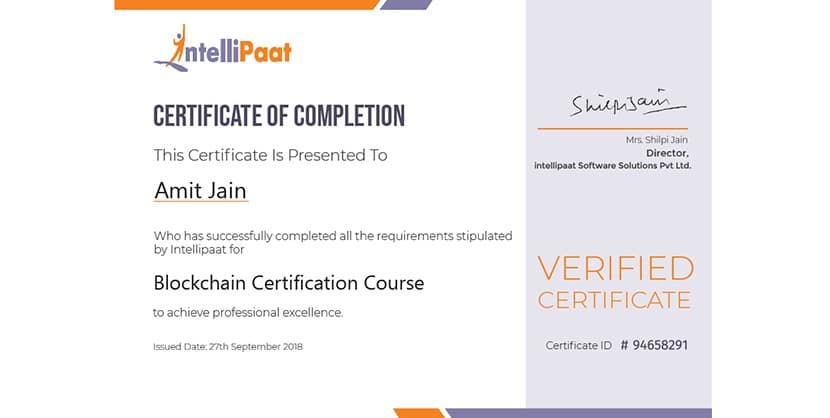 Apart from licensing you as a blockchain developer, a proper blockchain certification would help you steer the course of your career to a direction which will witness no down-time. As a certified blockchain developer or blockchain engineer, you will be the benefactor to a myriad of game-changing cutting-edge applications. On top of all these adventures, the salary of a full-time blockchain developer or blockchain engineer is in multi-folds as opposed to the pay scale of a regular software developer or software engineer.
Here's how a certification can help you boost your career:
A certification will validate your skills and experience in the blockchain world.
It would prepare you for real-time challenges in the corporate world.
Certifications would help you stay updated in the field and keep you posted with the latest tools and technologies in the industry.
You will be able to design blockchains in a much better manner as compared to your peers.
A recruiter would obviously show more interest in certified applicants.
In terms of job opportunities, several gates will be open for you with a certification. It will be upon your choice to choose the one that you find most relevant to your career.
You will get promotions faster as the skills that you must have acquired in your training program would reflect in your professional life.
A certification would be the mirror of your skills and act as the advocate whenever your skills would be questioned.
Check this video on Hyperledger Fabric by intellipaat:
What is the scope of a blockchain certified individual in the marketplace?
Considering the overall demand of blockchains, it is certainly obvious that numerous blockchain jobs are open and available. While the demand to fill these posts is high, the supply of applicants for these jobs is relatively low. There are millions of opportunities in the blockchain space and you can have whichever you want by being a certified blockchain specialist. Here is a list of blockchain jobs that any blockchain trained applicant can opt for:
Blockchain Engineer: Responsible for designing blockchain solutions. Average Salary of a blockchain engineer goes up to $175,000.
Information Security Analyst: Researching and planning P2P network security measures. Average Salary of an information security analyst goes up to $155,000.
Blockchain Project Manager: Responsible for organizing and managing multiple blockchain projects. Average Salary of a blockchain project manager goes up to $250,000.
Research Analyst: Apply data mining techniques in statistical analysis. Average Salary of a Research Analyst goes up to $129,000.
Designer: Design, implement and support blockchain based websites and user interfaces. Average Salary of a Blockchain Designer goes up to $140,000.
Developer: Develops decentralized applications and smart contracts. Average Salary of a Blockchain Developer goes up to $175,000.
Marketing Specialist: Overseeing and developing marketing campaigns. Average Salary of a Marketing Specialist goes up to $134,000.
Data Scientist: Research and analyse blockchain data. Average Salary of a Data Scientist goes up to $160,000.
Aren't the pay scales of blockchain professionals fascinating? Yes, of course, they are! And you can choose any of them and usher in your future. The only requisite to this over-whelming career is the right blockchain certification.
How can you become an industry recognized 'Certified Blockchain Developer'?
You need to devote yourself to a lot of self-analysis to figure this out. There is an innate need for you to discern your area of interest in the blockchain domain, pertaining to which, you should opt for a blockchain course certification from a neutral vendor or a course provider. Once you get enrolled with the course provider, be a part of the curriculum and after successful completion of your course tenure, you will be recognized as a certified blockchain professional.
There are numerous vendors that offer blockchain training and certification packages. However, there are only a handful of them that are vendor neutral and whose certification is recognized by most blockchain companies. After thorough research, we figured out that Intellipaat provides an unsurpassed blockchain certification course. Blockchain certification offers a definitive training in the Blockchain technology that includes Blockchain programming, Solidity, Ethereum, the concepts of distributed ledger, Hyperledger, multichain, cryptocurrency, Bitcoin mining, architecture, core layers, application and more. In this Blockchain course, you will work on real-world projects and case studies for hands-on experience.
The Intellipaat Blockchain online instructor-led training will help you master the Blockchain technology and the driving force behind the cryptocurrency, Bitcoin. You will learn various aspects of the structure, mechanism and advantages of Blockchain technology, designing of a Blockchain network, deploying it for real-world applications and more in this Blockchain certification training.

What can you learn from Intellipaat's Blockchain Online Certification Training Course?
Blockchain technology and Bitcoin cryptocurrency
The concept and relevance of Blockchain
The topic of Blockchain network
Introduction to Bitcoin mining
Performing transactions using Blockchain
Introduction to smart contracts
Languages used in Blockchain contracts
Deploying transactions on the Blockchain node
Working on real-world Blockchain projects
There are no prerequisites for learning the digital currency infrastructure, Blockchain technology. Anybody can take this Blockchain certification training. After you complete your course, you will receive a certificate, following which, you can give a shot at a few internships at some top performing blockchain companies. You may also try freelancing. These pre-corporate involvements would serve as an enhanced training for your blockchain journey.
Now, before you enrol to Intellipaat's Blockchain Certification Training Course, make sure that you go through Intellipaat's free and comprehensive Blockchain Tutorial.