Blockchain Tutorial – For Blockchain Developer
If we are to believe a recent report by Coindesk, Blockchain will continue to foster at an exponential rate in the upcoming fiscal year, and the demand to learn blockchain would increase even more. In addition, fuelled by traditional asset management companies and latest technologies, blockchain will venture into almost every vertical. Owing to these developments in the blockchain landscape, there will be a plethora of job openings for blockchain developers. The median annual salary of a blockchain developer in the range of $106,680.
Check this Blockchain video by intellipaat

"Blockchain technology isn't just a more efficient way to settle securities. It will fundamentally change market structures, and maybe even the architecture of Internet itself. "This statement by Abigail Johnson, CEO of Fidelity Investments, speaks volumes about the potential of blockchain.
You might have come across the term 'blockchain technology' before, in reference to cryptocurrencies. The term might seem abstract with little real meaning on the surface; nonetheless, without blockchain, digital currencies would not exist. If you are new to cryptocurrencies, and to blockchain technology, read this guide on the blockchain basics to get yourself started.



As an attempt to familiarize you with every nook and corner of the blockchain space, we at Intellipaat have prepared this blockchain tutorial. This tutorial will give you an introduction to blockchain, and subsequently pave a way for you to take up a high-paying blockchain developer job role. As you navigate through the modules of this blockchain tutorial, you will get to learn about the blockchain basics, blockchain architecture, blockchain developer, leading blockchain companies, working principles, blockchain applications, blockchain types, and certain of its real-time use cases.



Also, we will shed light on certain several precepts of blockchains that are which will be explained in a thorough manner in the course of the tutorial. By the time you reach the end of this blockchain tutorial, not only will you comprehensively understand how blockchains works in real-time but also have insights about how you can pace your career with the evolution of blockchains.
We can guarantee that if you give us your undivided attention, we impart blockchain basics and you will learn blockchain within a few weeks.
Here we have the list of topics if you want to jump right into a specific one:
Why Blockchain?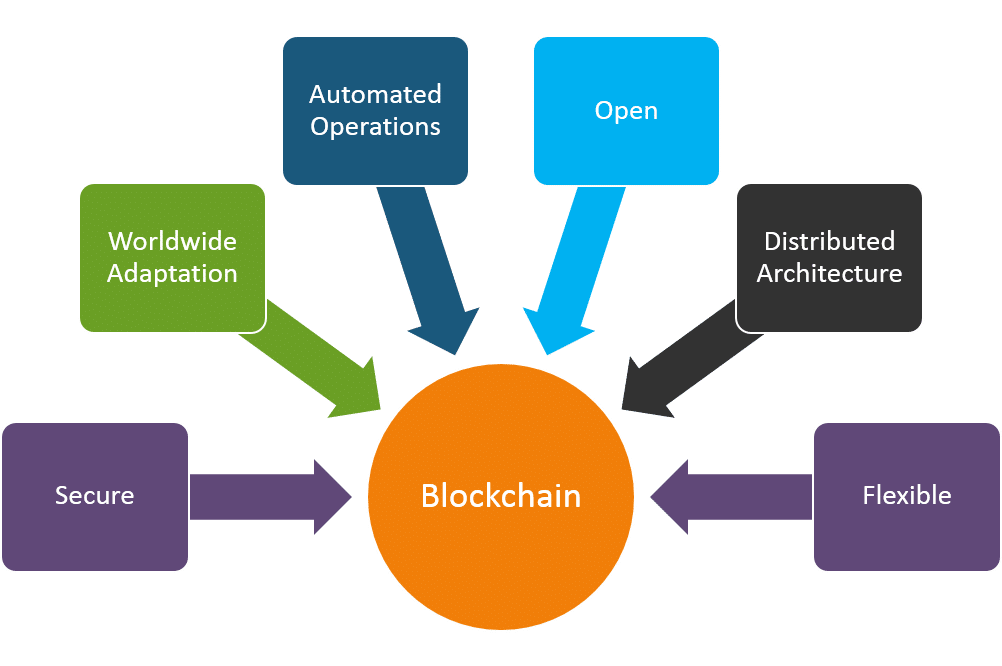 It is impossible for anyone to temper with transactions or ledger records present in blockchain
Blockchain has been adopted worldwide and has the backing of many investors form banking and non-banking sector
In blockchain operation are fully automated through software. Private companies are not needed to handle operations
Blockchain is a open source technology. All operations in blockchain are carried out by the open source community
Blockchain works in a distributed mode in which records are stored in all nodes in the network. If one node goes down, it doesn't impact the other nodes or records
Blockchain is programmable, using basic programming concepts this make blockchain flexible.
Learn about blockchain from the Intellipaat Blockchain Training Course and excel in your career as a blockchain specialist.

Learn what blockchain can do
Blockchain is a digital ledger that keeps a record of all transactions taking place on a peer-to-peer network. All information transferred via blockchain is encrypted and every occurrence recorded, meaning it cannot be altered. It is de-centralised, so there's no need for any central, certifying authority. It can be used for much more than the transfer of currency; contracts, records and other kinds of data can be shared. Encrypted information can be shared across multiple providers without risk of a privacy breach.
Distributed ledger on the internet
Each action is & stays visible for everyone; only adding lines is possible
"Peer to peer": no third party is required in order to carry out transactions
Secured by uncrackable cryptography
Useful for everything having value in the broadest sense
Audience:
Individuals including software professionals and graduates who want to build a career around blockchains or learn the precepts of blockchains in a seamless manner can take up this Intellipaat blockchain tutorial
Prerequisites:
Familiarity with scripting languages such as HTMS, Java Script and CSS
Enthusiasm to grow with the fast-paced evolution of blockchain

Table of Content
Next