RPA Architecture
The architecture of Robotic Process Automation (RPA) is a combination of several tools, platforms, and various infrastructure elements to form a complete RPA tool.
Watch this RPA Developer Training video
There are several blocks available in the RPA solution: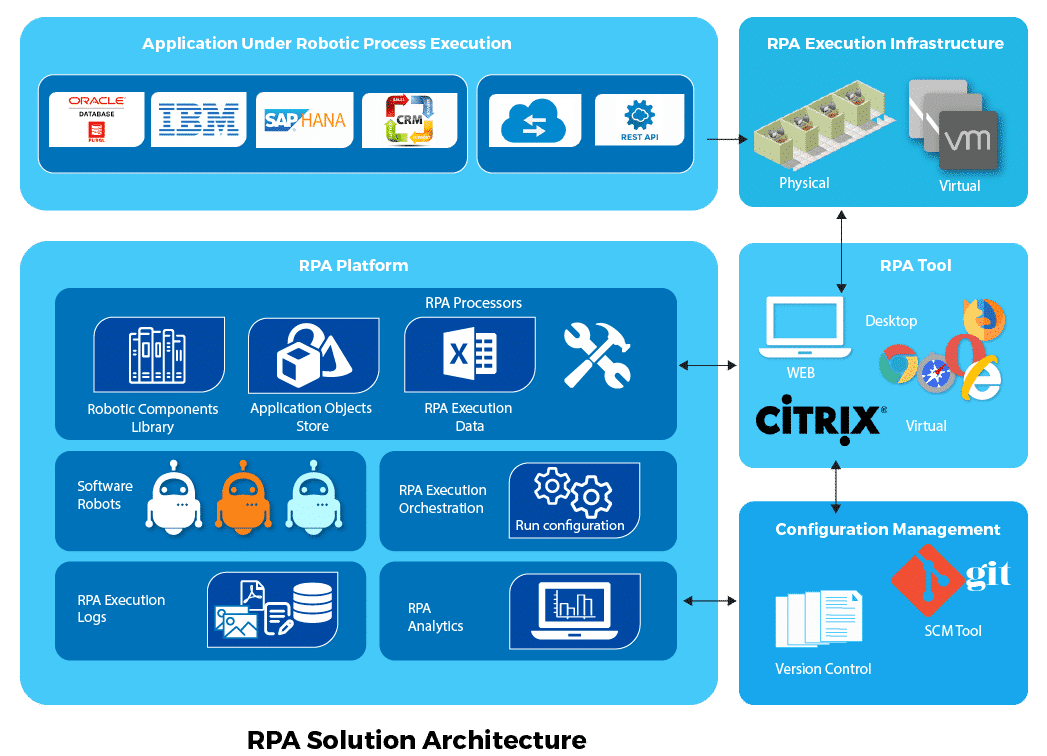 Learn end-to-end RPA concepts through the RPA Course in Hyderabad to take your career to a whole new level!
Applications under robotic process execution – This is well suited for enterprises applications like ERP, SAP or any other record processing application. These applications are data intensive and they are loaded with repetitive tasks.
RPA Tool – To develop software robots to the automation of applications in Desktop, Web and Citrix environment. Exception handling, ability to write to/from various data sources and to build reusable components.
RPA Platform – RPA Software bots can be stored in a shared repository and they can be shared across software robots libraries. RPA platform has the ability to develop meaningful insights on the bots and execution process.
RPA Execution Infrastructure – They act as a bank of parallel physical or virtual lab machines which is controlled based on usage patterns. Machine scale up or down in parallel to achieve the automation can also be performed.
Configuration management – Updation of bots to a newer version is performed. Branching and merging of RPA bots are also performed since they are reusable across the libraries.
Go for the most professional RPA Training Course for a stellar career now!

Check out the top RPA Interview Questions to learn what is expected from RPA professionals!
RPA is a combination of various layers of application and tools that makes the whole architecture.
Layer
Purpose
Benefit
Process

Business rules
Hand-off point
Prioritization if not in management control

Focus on business rule without needing to create links
Simplify changes

Subprocess

Reusable business logic
 Identity
Verification

Reconciliation

Reusability
Avoid multiple changes in the process when logic changes

Object
Procedures for performing specific tasks
Eg. Log on, enter the address

Reusability within systems
Development does not require business rule understanding

Component
Individual screen interaction
Eg. Enter address inline 1

Lower risk, faster changes
Target application integration can be changed without the risk of changing business rules.
Watch this RPA Automation Anywhere Training video
We come to an end of this session on RPA Architecture of this RPA Tutorial. In the next session, we will be covering RPA Lifecycle.