Overview of Robotic Process Automation
In this RPA tutorial or RPA full form that is Robotic Process Automation, you will be able to get a clear idea about RPA automation, different tools in RPA, lifecycle of RPA ,how to deploy UiPath tool, Components of UiPath, UI Automation, working on UiPath Studio, UiPath coding & debugging, Screen Scraping and Citrix Automation.
If you have any doubts or queries related to RPA, get them clarified from the RPA experts on our RPA Community!
So, let us get started!
Watch this video on Robotic Process Automation before going further on this RPA tutorial.
Only in the early 2000s, the term "Robotic Process Automation" became popular emergent, it had three predecessors to it. Three key predecessors of RPA includes –
Here we have the list of topics if you want to jump right into a specific one: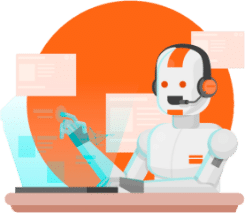 What is RPA?
RPA Automation is a business process automation technology based on the combination of its predecessors. It is highly dependent on screen scraping and workflow automation and it is built on Artificial intelligence.  RPA full form – Robotic process automation (RPA Automation) is a type of software that is used to do automation of fundamental tasks in software applications like how a human performs it. The software robot can be educated a workflow/process with different steps & applications, for example, taking received forms, sending a receipt message, checking the forms for completeness, documenting the form in a folder and updating a spreadsheet with the form name, the date recorded, etc. RPA programming is intended to diminish the weight of monotonous, straightforward tasks/work on workers.
Go for this in-depth job-oriented RPA Training Course now!

RPA in Enterprises
McKinsey & Company uses RPA and suggests that up to 45% of activities can be automated using RPA. It uses RPA to automate tasks such as data migration, copy-paste tasks, and order processing, etc.. RPA is expected to be equivalent to the output of between 110 million- 140 million workers. According to the Institute for Robotic Process Automation, an RPA software robot costs about one-third price of a full-time employee, it can be cost-effective for the companies that can manage all their activities. Deloitte also uses RPA software bot and it is capable of performing a list of more than 600 actions in a given sequence. The Research by Transparency Market Research says that RPA is expected a compounded annual growth rate of 60.5%  worldwide through 2020.
This Robotic Process Automation tutorial is designed with a similar perspective facilitating a large number of business groups and IT organizations to create gen-next digital applications and perform real-time automation and benefit using UiPath to gain efficient business results.
Intellipaat's Robotic process automation tutorial is a complete learning package that lists its top features and helps you know better about RPA and its tools processes and performance. The best of all- each and every topic is comprehensively illustrated using real-world and day-to-day business operation examples. You can even take quick and appropriate business decisions by implementing the automation techniques of RPA using UiPath, which can ensure reduced cost and overall growth of your organization.
Go through this RPA Course in London to get a clear understanding of Artificial Intelligence!
Watch this RPA Tutorial video
In this RPA Tutorial for beginners, we will be learning various aspects of RPA process, the architecture of RPA, various tools used in RPA, the significance of UiPath tool, workflow, and Citrix automation, screen scraping, UiPath coding and debugging.
Wish to crack RPA job interviews? Intellipaat's Top RPA Interview Questions are meant only for you!
Recommended Audience 
Software engineers

Software testing

IT professionals
Prerequisites 
There are no prerequisites for taking this RPA training course. If you have a basic understanding of software coding and programming logic then it is beneficial.