Life Cycle of RPA
The life cycle of RPA doesn't have a defined structure but, in general, there are four stages in RPA. They are: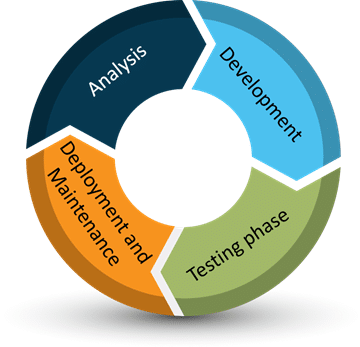 Analysis: Identification of the business process for RPA development
Development: Fulfillment of requirements
Testing phase: Performance of quality checks
Deployment and maintenance: Deployment and maintenance of bots
Watch this RPA video

Visit our RPA Community to get answers to all your queries!
Let's understand all stages individually.
Analysis:
Analysis is the beginning of the RPA life cycle. A business analyst team along with an RPA architect work together to come up with a plan as to why they need RPA and how it can be helpful to them. They use a developmental methodology and develop a strategy to automate tasks in order to eradicate manual work as much as they can. The RPA lead decides a timeline to put this plan to work. After the paperwork and the rest of the formalities, they start the development process.
Development of the Bot:
The development team starts working on the requirements for the automation task. Depending on the kind of automation required, there might or might not be coding involved. Usually, there is no coding. But, there can be exceptions.
Testing Phase:
Depending on the kind of automation developed and the organization, the bot is tested either by the development team itself or by a separate testing team, which is similar to the regular software testing.

Deployment and Maintenance:
After the successful development and testing of the bot, it is now ready for deployment. Once deployed, if there seems to be a problem, then it again undergoes checking by the development team and testing. Every time the bot is deployed, it undergoes maintenance and updating.
Get familiar with the top RPA Interview Questions to get a head start in your career!
We come to the end of this session on RPA Life Cycle. In the next session of this RPA tutorial, we'll be talking about RPA tools.
Go for the most professional RPA Training Course for a stellar career now!