RPA Tools
As RPA is slowly becoming a new dominant technology in the industry, more and more companies are getting inclined toward inculcating RPA in their back-office tasks. This has led to an exponential growth in the demand for RPA tools as well. There are various tools available in the market to implement RPA. These tools are used by organizations to define the workflow of the task that needs to be automated using RPA. In this RPA tutorial on RPA tools, we will learn about various you will see a long RPA tools list, how they are different and much more.
Watch this video on Robotic Process Automation before going further on this RPA tutorial.
Following is the list of all topics that we will cover in this tutorial, in case you need to jump to a specific topic.
Functionalities of RPA Tools
Categories of RPA Tools
Criteria for Selecting the Right RPA Tool
Robotic Process Automation Tools
Types of Bots

Functionalities of RPA Tools
 Main functionalities of a good RPA tool are as follows:
Based on the inputs gathered from other systems, a bot should be able to make decisions and perform the assigned actions.
A bot should be able to interact with other systems through screen scraping or other API interactions.
Categories of RPA Tools
Here are the three main categories of RPA tools in the market.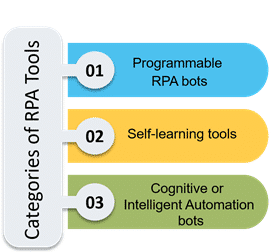 They are the first generation of RPA tools. It included programming, and the programmers needed to code and understand its working to make the bots perform actions to complete tasks.
After vigorous employee activity, the developer/employee understood the process, took over the platform, and started performing the task.
Cognitive or Intelligent Automation Bots:
Cognitive automation bots are augment self-learning bots with advanced functionalities such as Machine Learning, Natural Language Processing, and image recognition. They can deal with both structured and unstructured data.
Watch this UiPath Tutorial video
Criteria for Selecting the Right RPA Tool
RPA industry has no shortage for RPA tool providers, who claim their product to be the best. With so many RPA tools in the market, it shouldn't come as a surprise if the organizations struggle while choosing the right RPA tool. The choice may vary for different organizations depending on their requirements, but the main criteria for the selection remain the same.
For the best of career growth, check out Intellipaat's RPA Learning Course in Chennai and get certified.
Main features to look for in any RPA tool while choosing one are listed below.
Architecture:
The architecture of an RPA tool depends on where one decides to employ it. Various controls and commands built into an RPA tool will decide its functionalities and capabilities. An RPA tool's deployment and maintenance are also reliant on its layered design. The architecture checklist must have tick marks on these points: robust delivery, reusability of components, integration of robots without altering the legacy system, ease of accessibility, and support for a popular language.

Easy Usage:
An RPA tool should be easy to work with for end-to-end business tasks, and it should be easy enough for an analyst with minimum programming knowledge to understand and build the automation and configure the workflow in the RPA tool. The tool should be flexible enough to accommodate basic process automation with built-in extendable commands, wizards and GUIs.

Watch this RPA Tutorial video
Reliability
An RPA tool is said to be reliable depending on the tool's ability to handle different use cases with large data and different conditions. The performance quality should not degrade while performing various iterations.

Scalability
The evaluation of an RPA tool must include how quickly and easily the tool can respond to business needs, updates, exceptions or increasing operations. It also includes the execution criteria where the tool is tested to check if it can help multiple bots executing multiple workflows.

Flexibility
The tool must be able to support a number of operating systems. It must also allow you to configure custom features without having to pay extra for customization to the vendor.


Get ready for the high-paying RPA jobs with these Top RPA Interview Questions and Answers!
Robotic Process Automation Tools
There are several tools available currently for robotic process automation. But, the following are five major tools used by various organizations across the world:
RPA Blue Prism
Automation Anywhere
Kofax Kapow
NICE
| | | | | | |
| --- | --- | --- | --- | --- | --- |
| Function | RPA Blue Prism | UiPath | Automation Anywhere | Kofax Kapow | NICE |
| Year of birth | 2001 | 2005 | 2003 | 1985 | 1986 |
| Learning Platform | No trial version available | Has a community edition | Has a community edition | No community edition | No community edition |
| Reusability | Yes | Yes | Yes | Yes | Yes |
| Base Technology | Basics of C# | Basics of C# and Microsoft | Microsoft | .Net and Java | VB scripting and C# |
| Architecture | Client-server building | Web-based orchestrator (Cloud Based) | Client-server architecture | | |
| Recorders (Macro Readers) | Recorders do not exist | Allows to record and practice actions which can be modified | Allows to record and practice actions which can be modified | | Smart recording (record and play) |
| User-friendliness | High | High | Medium | High | Medium |
| Reliability | Very high | Moderate | High | Low | Moderate |
| Accuracy | Desktop, web and Citrix automation are available | Created for BPO automation and shines in Citrix automation | Fair efficiency across mediums | High for web automation and file handling | Good for tasks that require little or no subjective judgment |
| Cognitive Capability | Low | Low | Medium | Medium | Low |
| Operational Scalability | Execution speed is high | Average in performance | Large-scale deployment is limited | Easily scalable with multi-thread architecture | Fast execution and seamlessly scalable |
Now that we are aware of the have seen top RPA tools list available in the market such as RPA Blue Prism, UiPath, Automation Anywhere, Kofax Kapow, and NICE, let us move ahead and understand what bots are and the different types of bots.
Watch this RPA video

If you have any doubts or queries related to RPA, get them clarified from the RPA experts on our RPA Community!
Different Types of Bots
The RPA tools alone cannot automate the tasks. All they can do is to define the workflow of the task. RPA tools are merely used to create a software or an application to define the workflow of the task that needs to be automated. The entities designed to perform the task by mimicking human behavior are called bots. Basically, bots are configurable software setups that are used to perform the tasks with the help of commands and codes put together in a logical sequence.
There are three different types of bots:
Task Bots
Meta Bots
IQ Bots
Features
Task Bots
Meta Bots
IQ Bots
Basic Definition
Task bots
replicate rule-based
tasks and process
structured data
Meta Bots
can perform visual
captures that are
used for front-
end automation
Developers can add
cognitive capabilities
to extract information
from semi-structured and
unstructured data
    Core Competency
Used in the front end
Facilitates scalability
with next-gen
integration
To enhance
process automation
Best Used for
Repetitive tasks
Complex and
scalable processes
and in places
of scripting
Managing fuzzy
rules and processing
unstructured data
Example
HR administration,
Procure-to-Pay, and
Quote-to-Cash
Enterprise-
wide automation;
Only minimal
maintenance
is needed
Learns in real-time,
extracting languages
from the given data
Watch this RPA Automation Anywhere Training video
We have the perfect professional RPA Developer Training Course for you!
In the next session of this RPA tutorial, we will be learning about RPA UiPath.