Robotic Process Automation
Imagine doing repetitive and mundane tasks in your desktop every day like copy-pasting from several sources to an Excel sheet to make some data analysis or emailing a bunch of contacts at regular intervals. It will be pretty exhausting and boring to do such tasks on a monthly or yearly basis, right? What if I say that these kinds of regular mundane tasks can be automated instead? It won't be just regular automation but robotic process automation (RPA).
Watch this RPA Tutorial For Beginners
According to Cathy Tornbohm, the Vice President of Gartner, 'End-user organizations adopt RPA technology as a quick and easy fix to automate manual tasks.' 'Global spending on robotic process automation (RPA) software is estimated to reach $680 million with an increase of 57 percent year over year.'
Now that we know that RPA is an interesting topic and is not here to waste your precious time, let's go ahead and see what RPA is!
Have you got more queries? Come to our RPA Community and get them clarified today!
But before we get started, let me give you a quick rundown of all the topics that will be covered in this RPA tutorial.
So, without any further delays, let's get started.
What is Robotic Process Automation?
Robotic process automation (RPA) is the process of automating business operations using robots (bots) in order to reduce human intervention. Confused? Don't worry. I'll clear all your doubts as we move along in this tutorial.


Let me explain RPA by breaking down the abbreviation:
Robotic: Represents a machine which mimics human actions
Process: A step-by-step sequence which can complete a task
Automation: Without any human intervention
Keeping the above facts in mind, let us now define RPA.
Mimicking human actions to perform a sequence of steps without any human intervention is known as RPA.
Get familiar with the top RPA Interview Questions to get a head start in your career!
Why RPA?
In a business organization, there are a lot of repetitive and time-consuming tasks that are performed on a daily basis. It wasn't too long before it was realized that it would be beneficial for these organizations if the time spent on these tasks can be used for doing something more productive. To get all these tasks done with more precision and accuracy than ever before, that too in record speed, the concept of RPA came into the picture.
With RPA, all these redundant tasks that a human does on a regular basis are automated by a robot. It follows the exact steps that are defined by a human to complete a task and does it without any human intervention.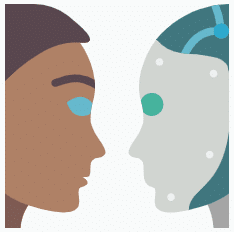 For instance, at the data entry level, the data entry clerk visits the same source every day, gets the data from there and fills it, say, in an Excel sheet. This process has some defined steps like visiting the website, extracting data from there, and adding it in a sheet. If a robot can be trained to do this by just giving it a few simple commands, then why not, right?
The robot follows those commands and completes the work faster and more accurately.
This is just one of the millions of tasks that can be done using RPA technology. Most of the organizations use RPA for end-to-end automation of everyday business operations.
Are you interested in learning RPA from experts? Enroll in our RPA Course in Bangalore now!
RPA Vs. Regular Automation
Now that we've seen how we automate tasks using RPA technology, let's see how RPA is different from regular automation in order to understand why RPA is used rather than regular automation.
| | |
| --- | --- |
| Regular Automation | RPA |
| The user should have a deep understanding of the target application. | As long as RPA knows the right actions to perform, the user needn't bother about the complexity of the underlying application. |
| Regular Automation is completely dependent on coding and relies on methods to integrate different systems. | RPA involves little or no coding. |
| Automation requires the invention of a technology or a software program. | In RPA, we don't invent anything new; instead, we train the technology to perform the tasks that are done manually. |
| For example, when we had to automate the process of calculating numbers, we invented a calculator. | RPA can be used to enter the numbers automatically on a calculator and do the calculations. |

RPA Benefits
RPA is growing very fast because manual processes are not very efficient. Manual processes are prone to errors and lead to employee dissatisfaction. Whereas, using RPA can benefit organizations in the following ways:
Cost Savings
Improved Accuracy and Reduced Operational Risks
Saves Time
Simplicity
Flexibility
Security
Insights and Analytics
1. Cost Savings


One of the biggest advantages of implementing robotic process automation over the regular automation is the huge reduction in manual labor which in turn brings a significant reduction in the overall expenditure. When a redundant work is automated, not only can it be completed faster but also be scheduled at any time of the day we want, which again reduces the effort of a human running it at that specified time. So, you get greater output for less input, which in turn results in a better outcome.
2. Improved Accuracy and Reduced Operational Risks



We as humans tend to make mistakes and that's human nature. Even after conducting numerous proofreads and being as careful as possible, we tend to make mistakes. When one employee makes an error, it's a small mistake, but when hundreds of employees do the same, it becomes a serious concern. With robotic process automation, the tasks are completed accurately and flawlessly. Once RPA is trained to perform a task, it will do it with utmost accuracy which in turn increases the quality of service of the company, along with customer satisfaction.
Watch this RPA Tutorial video
3. Saves Time



Robotic process automation saves a lot of time from being spent on tasks that do not really need any special technical skills but need to be completed on a regular basis. As we saw in the previous example of the data entry clerk who has to open a source, collect information, and add it into an Excel sheet or any other spreadsheet which is a repetitive task, RPA can be taught to do the same work at the scheduled time, in contrast. This saves a lot of time for employees.
The ability to deploy bots to perform certain tasks without having to take much help from IT empowers the end-user to get their jobs done faster. This, in turn, frees up the IT department to focus on more important projects.
4. Simplicity



To automate tasks and workflows through RPA technology, someone need not have to be a professional coder. With user-friendly language, RPA makes it easy for the user to automate even the most complex tasks.
5. Flexibility



RPA tools used for robotic automation provide flexibility to the end-user in terms of automating complex processes with a number of user-friendly options.
Watch this RPA Automation Anywhere Training video
6. Security



One of the top priorities of RPA technology is to provide security to users or to an organization that uses RPA for end-to-end business automation. Tasks can be easily managed by RPA tools that provide security layers in order to protect data or any other kind of information.
7. Insights and Analytics



With the reduction of human intervention, data analysis is in robotic hands which are much more accurate and error-free. This, in turn, improves data quality and eliminates the risks of leakage of confidential information. Bots also help collect information from sources that are otherwise not feasible for humans. This access to a wider scope of data, in turn, enhances the efficiency of analysis and results.

Industrial Applications of RPA
There are a lot of industry-based applications of RPA.  Some of these are mentioned below: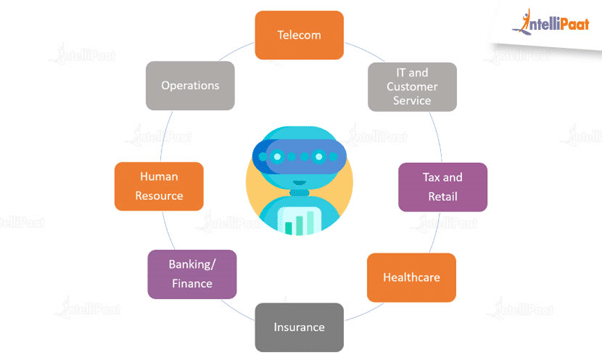 Healthcare: Hospital administrative works, such as tracking patient details, medical history, claims system such as complaints, appeals process, and other data gathering works
Insurance: Data handling, documentation, collection, and processing of documents and streamlining of workflows
Banking/Finance: Copy-pasting data to central systems from a remote system, automation of billing system to reduce errors, customer service, credit card, mortgage processing, fraud detection, KYC process, report automation, and account closure process
Tax: Data sorting, automation of data retrieval process, filing tax appeal based on collected information and reducing manual data entry processes.
Retail: Product categorization, updating orders, managing fake accounts, and processing shipping notifications
Watch this RPA Tutorial for Beginners video
Human Resource: Candidate sourcing, employee history verification, onboarding process, payroll automation, employee data management, expense management, and absence management
Operations: Updating inventory records, issuing refunds, procurement process, such as updating vendor records, and logistics functions, such as trade finance, order update, shipping notifications, etc.
Telecommunication: Monitoring subscriber feeds, fraud management and customer data updates
IT and Customer Services: Automation of repetitive tasks like data entry, system checks, the daily backup process, system administration tasks, running diagnostics, sending scheduled bulk emails and so on
Miscellaneous: Quote-to-cash, procure-to-pay, data cleansing, and data extraction from various apps such as PDF, Excel, Word, etc.
Looking for RPA training Course? Enroll now!