What exactly is RPA? Why is it such a big deal? In this blog, I will help you through all these questions and, by the end of it, you will know everything you need to know about RPA.
Watch this RPA Tutorial for Beginners video:
Let us look at the topics we are going to cover today in this blog:
What is RPA?
Robotic process automation is the process of automating business operations using robots (bots) in order to reduce the human intervention. Confused? Don't worry. I'll clear all your doubts as we move along in this blog.
Let me explain RPA by breaking it down:
Robotic: Involving a machine which mimics human actions
Process:  A step-by-step sequence which can complete a task
Automation: Having no human intervention
Keeping this in mind, let us now define RPA.
Mimicking human actions to perform a sequence of steps without any human intervention is known as RPA.
RPA vs Regular Automation
In traditional automation, the user should have a deep understanding of the target application. On the other hand, in RPA, as long as it knows the right actions to perform, the user needn't bother about the complexity of the underlying application.
Traditional automation is completely dependent on coding and relies on integration methods to integrate different systems. Whereas, RPA involves little or no coding, and one can create an RPA program with drag and drop utilities.
And the biggest difference is that traditional automation requires the invention of a technology/machine/software program. For example, when we wanted to automate the process of calculating numbers, we invented a calculator. On the other hand, in the case of RPA, it can be used to both enter the numbers automatically and do the calculations. Here, we are not inventing anything new; instead, we are training the technology to replace the things that we do manually.
Watch this RPA Tutorial for Beginners video:
How does RPA work?
Now that we know what RPA is, let us see how it works with the help of a simple example.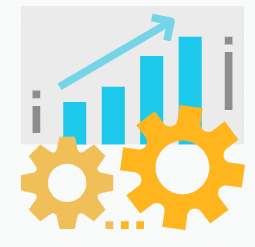 Let's say, a group of candidates have taken an aptitude test for a company that is hiring them. The hiring team enters the test scores into an Excel sheet, along side the names of the candidates and their email IDs. Now, imagine that email messages have to be sent to those candidates with a score above the cut off, saying that they have been called for the next round of interview.
Before the inception of RPA, these messages had to be sent manually to the candidates by the team. But now, RPA saves the team from this tedious work by extracting the data from the Excel sheet, comparing the candidates' scores with the cut off, and sending automated email messages to those who are eligible for the next interview round, all using just a handful of commands and a click. This way manual intervention is reduced at a large level.
Clearly, RPA is a technology. It is not a programming language or a tool. To implement this technology, we have a lot of tools. Let us discuss them in our next section.
Why RPA?
In a business organization, there are a lot of repetitive tasks that are performed on a daily basis. All these redundant tasks that a human does on a regular basis can be replaced by a robot which works on RPA technology. It follows exactly the same steps that are defined by a human and completes the task without any human intervention.
This way, the time spent on doing these repetitive tasks by a user can be utilized to do some other important work.
For instance, at the data entry level, the data entry clerk visits the same source everyday and gets the data from there and fills it, say, in an Excel sheet. This process has a set of defined steps, such as, visiting the website, extracting the data from there, and adding it in a sheet. But, if a robot can be trained to do this by just giving it a few simple commands, then why not, right?
The robot follows those commands and completes the work faster and more accurately.
This is just one of the millions of tasks RPA can do. Most of the organizations use RPA for an end-to-end automation for everyday business operations.
RPA Tools
Here are three major RPA tools that are widely used by business organizations across the world.
UiPath:
Year of birth : 2005
Learning platform: Has a community edition
Usability: Drag and drop and macro recording
Key Features:
This is an open and extensible platform that features hundreds of built-in, customizable, and shareable activities.
UiPath offers worldwide implementation support and a vast network of partner integrators.
It has built-in OCR and deep learning to reduce maintenance.
Blue Prism:
Year of birth: 2001
Learning platform:  No trial version available
Usability: Drag and drop
Key Features:
This RPA tool provides access to leading-edge cloud, artificial intelligence, and cognitive capabilities.
It provides companies with flexible infrastructure choices since the application can run in both on-premise and cloud platforms like AWS.
It provides a wide variety of languages to choose from, making it easy to access for people around the world.
Automation Anywhere:
Year of birth: 2003
Learning platform: Has a community edition
Usability: Drag and drop and macro recording
Key Features:
This tool stands out with its best-in-class intelligent digital workforce which is suitable for most of the organizations across the globe.
It combines the most complex RPA along with cognitive and analytical technologies.
With its enterprise-grade technology, organizations can build smart bots for deploying in a wide variety of business fields.
From the above table, we can clearly see that Automation Anywhere is the winner. So, let us get familiar with this powerful tool better.

What Is Automation Anywhere?
It is one of the best RPA purveyors that offers the most powerful and user-friendly interface to automate end-to-end business operations for an organization.
It provides its users with flexible, scalable, and most importantly secure services for solving complex issues.
Architecture of Automation Anywhere
Main components of the Automation Anywhere architecture are the control room, bot creators, bot runners, and bot farm.
Control Room
The heartbeat of Automation Anywhere's enterprise is the control room.
It is here that the users can centrally manage and deploy an industry's sophisticated RPA bond.
From building a proof of concept to scaling the RPA environment, everything is made easy here. Meeting every processing requirement is one of the top choices of an industry.
Its web-based platform acts as a server for the bots.
Control room also deals with the following:
The code for the bots is controlled by the control room that makes the sharing of codes easy across different systems.
The dashboard feature has all bot analytics, and it keeps track of the status of each bot.
It also provides licensing management where the purchased licenses are configured.
Let me acquaint you with the types of licenses:
Dev license: With this license, one can create, edit, and run a bot.
Run license: With this license, one can run a bot but cannot edit it.
Bot Creators
A bot creator is the desktop-based application which is used by a developer to build bots. On configuration of these bots, developers can create individual bots and execute them all at the same time.
Bot Runners
Bot runners are the machines where the bots are run, but they cannot create or add an update to the automation. Multiple bots can be executed at once.
Bot Farm
Another important component of Automation Anywhere is the bot farm.
Sometimes, during heavy workloads, bot runners need more servers than what are already provided. During these situations, servers can be borrowed from bot farms for the required amount of time and can be returned once the work is completed. This saves developers from wasteful expenses on servers which might not be used otherwise.
A bot farm provides RPA as a service through the Automation Anywhere enterprise version.
Features of Automation Anywhere
Here is a list of important features of Automation Anywhere:
Security
Isolated Environments
Role-based Access
Disaster Recovery
Auto Login Feature
Version Control
Large-scale Automation
Let's discuss these features one by one.
The non-comprehensive and non-repudiable capability of Automation Anywhere enables:
Secure recording of sensitive data
Stealth mode for running bots
Security policy management
Users can create bots within a repository space to which only those specific users have access to run the machine. This helps in keeping one's work confidential.
Automation Anywhere architecture supports development environment, test environment, and production environment within separate environments to provide even more flexibility.
The rigid role-based access control bot runners and all critical admin and management functionalities enable one to segregate the duties for creating bots and the authority to run them.
Automation Anywhere can be configured for high availability and disaster recovery with the help of the bot arm.
The auto login feature helps complete the scheduled tasks automatically even when the user is not logged in.
Automation Anywhere provides vigorous version control functions like check in, check out, and version comparison.
Users can use resources from a pool, of not running resources, for large-scale automation and it can be managed from any device.
Here is a video from intellipaat on RPA.
Applications of RPA
From small firms to MNCs, RPA should be utilized by every company.
Majorly, right now, RPA is being heavily utilized in the banking and BPO sectors. Because, most of the works in these domains are redundant.
Here are a few sectors where Automation Anywhere is used to automate end-to-end business operations.
Automation Anywhere is renowned for its horizontally sealed architecture where bank-grade security is paramount. It is relied upon more by banks and financial institutes than on any other RPA provider in the world with its best-in-class security.
The RPA tool, Automation Anywhere eases the administrative burden by automating and processing patient data, reporting work for doctors, bill processing, automating insurance data, claim status, and eligibility, and triggering emails from medical billing systems.
As a secure digital workforce, Automation Anywhere can handle populating subcontractor forms, integrating legacy systems with new applications, verification processes, and automating daily reports.
During the hiring process, this RPA tool automates the tasks of PeopleSoft (a company that provides Human Resource Management systems), email notifications, and populating.
In sales, Automation Anywhere is used for creating and printing invoices and for adding, deleting, updating, and editing the customer information into the customer relationship management (CRM).
In operations, Automation Anywhere is used to create accounts and set up software, system integration, testing, etc.
These are just a few of its applications. Most of the industries rely on this Automation Anywhere RPA tool for their end-to-end automation.
How to Install Automation Anywhere?
Below are the steps needed to be followed while installing Automation Anywhere:
Step 1. Go to the Automation Anywhere website or click on the link below:
https://www.automationanywhere.com/in/lp/rpa-editions-comparison
The below screen will be displayed.
You can either choose the Community Edition, which is a free edition mainly used by small organizations, developers, and students, or the Enterprise Edition, which is used by mid-sized and large enterprises.
I will proceed further with the Community Edition by clicking on the
button.
Step 2. Fill in the following details under GET COMMUNITY TODAY:
First Name
Last Name
Email
Country
Phone
Company
Click on the check box and hit the DOWNLOAD NOW button.
Step 3. You will receive an email with the Control Room URL, Username, and Password.
Step 4. Click on the Control Room URL and login with the user credentials provided.
You will be taken to the Control Room home page which is a web-based platform.
Click on the
 button.
Step 5. A ZIP folder will automatically get downloaded.
Step 6. Once the download is complete, click on the folder and open the AA-CE Download folder. You will find three files as shown below.
Double-click on the Automation_Anywhere_Community_Edition.exe file to start the installation.
Step 7. After the extraction of files is complete, the first Setup Wizard will pop up.
Click on the Next button.
Step 8. In the next window, which is a License Agreement window, click on the Accept radio button and then on Next.
Step 9. Click on Next again in the Select Destination Folder window.
Step 10. Finally, in the Configuration Window, click on the Install button. Do not change anything here.
Step 11. The installation will start at this point. It might take a few minutes.
Step 12. Once the installation is complete, click on the Finish button in the Setup Wizard window.
Step 13. Now, a window to login to the application will open automatically.
In this Login to Control Room window,
Copy the Control Room URL that is sent to your email from Step 3 and paste it under Control Room
Fill in the Username and Password which are again sent to your email, along with the Control Room URL.
Click on Login.
Congratulations! You have successfully installed Automation Anywhere tool.
Happy 'boting'!
You can also head onto Intellipaat to get started with the best Automation Anywhere training.

Related Articles
---