Salesforce Application
It is a collection of tabs which work as a unit to give functionality.
We can customize an existing app to match the method to work or construct novel apps by assembling standard and custom tabs.
Salesforce gives standard apps such as Sales, Call center, Marketing Cloud and Community
Salesforce application is of two types one is custom App and another one is Service cloud console.
We have the perfect professional Salesforce Training Course for you!
Watch this video on 'Salesforce Developer Training for Beginners':
 Steps to create an application in Salesforce –
Setup – AppSetup – Create -apps – Click on New – Select custom application radio button – Provide the name of App –  Click on Next button – Select the image from document object  – Select the objects – Click on visible check box and save.
If you like to append this salesforce Application to any other profiles or append other tabs to this App we can do as follows –
Setup – AppSetup – Create – Apps – Select the App from the list and click on Edit
If you would like to change the image for the App click on Insert an Image and take from documents. And if you like to append several tabs to App you can select the Tabs from Available Tabs and click on Add selected tabs will be moved to select Tabs selection.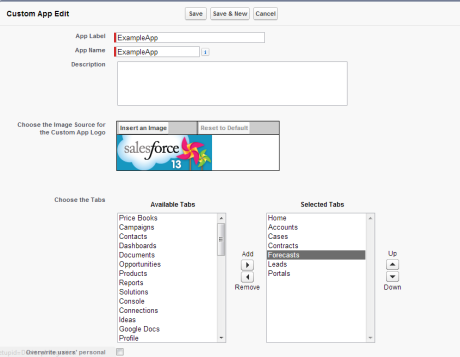 If you want to append our novel application to any profile you can check the checkboxes viewing in the below image.
Learn more about SalesForce Automation System in this insightful blog now!

In this tutorial, we created an application. In the next session of the Salesforce tutorial, we shall be learning how to install App Exchange Applications.