What is Salesforce Marketing Cloud?
What is Salesforce Marketing Cloud? In this session of the Salesforce tutorial, you will be introduced to Salesforce Marketing Cloud, along with the related details of why you should choose it.
Watch this Salesforce Marketing Cloud Training Videos for Beginners:
Check out Intellipaat's blog to get a fair understanding of the Salesforce Automation System!
Let's see what all you'll be learning by the end of this session:
To begin with, Salesforce Marketing Cloud is a platform wherein relevant and personalized journeys are delivered across various devices and channels. This enables various marketers to deliver correct messages to the right people through the right channel. There are various functionalities that Salesforce Marketing Cloud provides for your organization. Have a look at the image below which shows these functionalities: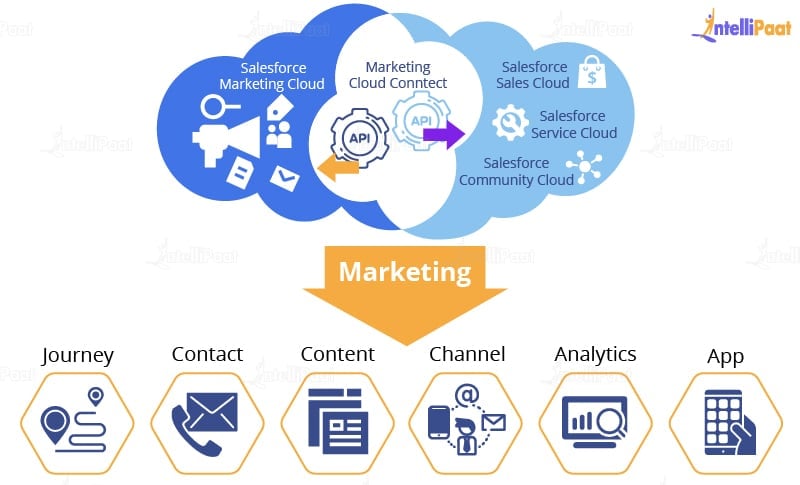 From the image, you can see the functionalities Salesforce Marketing Cloud has for your organization, namely, contact management tools, analytics builder, journey builder, along with several other channels like mobile and email.
Have you got more queries? Come to our Salesforce Community and get them clarified today!
Things you can do with Salesforce Marketing Cloud:
Supports data and Einstein Artificial Intelligence in order to make each interaction related
Creates two-way and real-time engagement whenever a customer is in need
Connects known and unknown profiles to gain a consolidated view of a customer
Measures, optimizes, and reports marketing performance to increase your organization's impact on the customers, thereby increasing customer loyalty
How does the Salesforce platform deliver power to take marketing even further?
Salesforce follows the below ways to make marketing successful for its customers.



Integrate and Connect Everything: You can create a seamless customer experience that is powered by data. You can use a unified CRM platform to know and connect with each customer.
Personalize Every Customer's Journey: Every customer, be it B2C or B2B, is given a tailored experience with intelligence across each commerce solution, marketing channel, and sales touchpoint.
Get Automatic Updates: Every time an update is available, the customers are pre-informed of the same. It is done several times a year and all the updates are fixed in time.
Extend Your Marketing Within Custom Apps: You can increase your marketing with Salesforce Marketing Cloud and get the tools to engage customers across their entire journey. Also, measuring your success using an ecosystem of apps to rise any kind of marketing challenge brings a good hike in the marketing of a company.
Market with Trust and Security: Salesforce provides proper trust and security to its customers with its marketing cloud.
Go for this in-depth job-oriented Salesforce Training Course now!
Need for Salesforce Marketing Cloud
Salesforce Marketing Cloud is a leader, presently, in the marketing cloud domain, among other clouds such as Adobe Marketing Cloud, IBM Marketing Cloud, and Oracle Marketing Cloud. The total market share for Salesforce Marketing Cloud is approximately 24 percent which is in the second position after the Adobe Marketing Cloud. Here is a Google trends chart for Salesforce Marketing Cloud. You can see that the demand for it has increased rapidly. It is also standing the best among the other marketing clouds.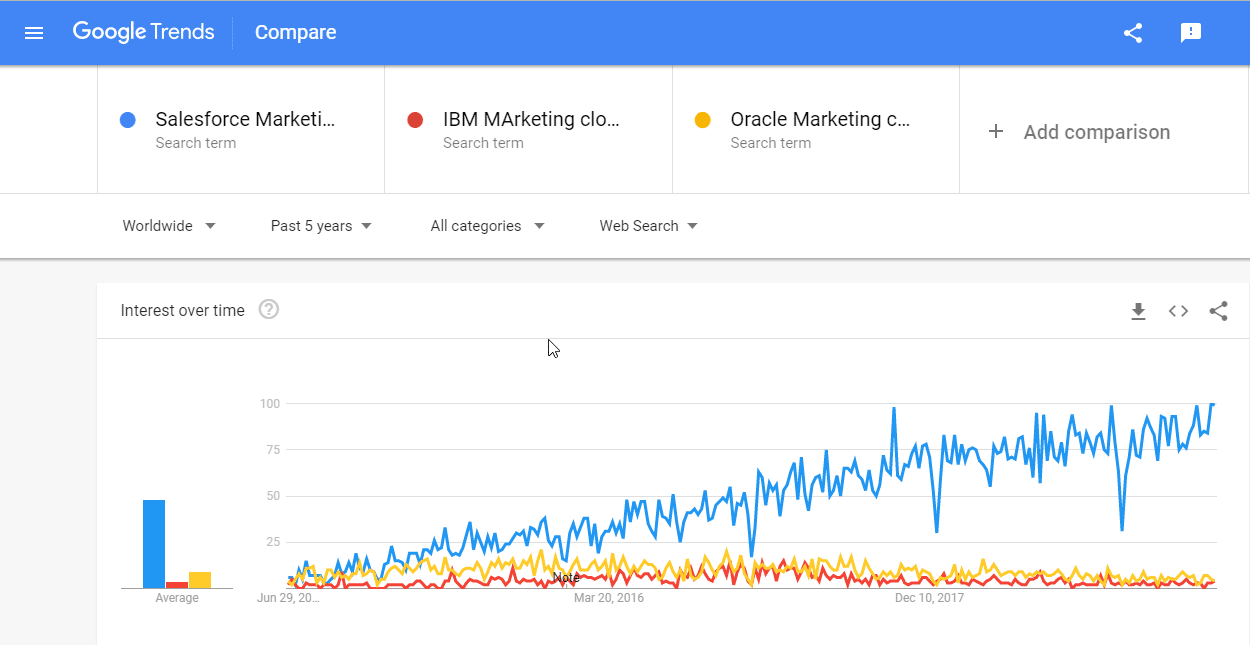 But what makes Salesforce Marketing Cloud stand out among the others?
A platform for planning, personalizing, and optimizing a customer's journey
Mapping a software customer journey across several devices, channels, and customer life cycle stages
Integration with other software like Sales Cloud, Salesforce CRM, and other applications
Provides better and deeper insights for the customers
Benefits of Salesforce Marketing Cloud
There are many benefits of using Salesforce Marketing Cloud, such as:
Gain more information about your clients
Nurture your customers as they move forward
Plan, optimize, and personalize customers' journeys
Map customers' journeys across multiple channels, devices, and customer life cycle stages
Analyze and assess the impact of every customer interaction to determine the strengths and flaws in your processes.

List of Companies Using Salesforce Marketing Cloud
Spotify
Macy's
Toyota
U.S. Bank
Amazon Web Services
T-Mobile US
Learn end-to-end Salesforce concepts through the Salesforce Course in Hyderabad to take your career to a whole new level!
Products in Salesforce Marketing Cloud
By now, you have learned that the Marketing Cloud empowers you to engage and personalize for every customer touchpoint. Further, you are introduced to the different products offered by Salesforce Marketing Cloud.


| | |
| --- | --- |
| Products | Uses |
| Audience Studio | It can capture data from any source or device, and then can join, segment, and activate audiences to create relevant customer experiences. |
| Data Studio | It can expand the range with a data-sharing platform wherein publishers can yield the second-party data with marketers in a transparent and trusted manner. |
| Datorama | It enables cross-platform marketing intelligence by joining the data sources, creating actionable reports, and visualizing AI-powered insights to drive ROI (Return on Investment) |
| Google Analytics 360 | You can gain cross-channel insights to experience seamless customer journeys with this particular product. |
| Journey Builder | It delivers personalized experiences for every step of the customer life cycle, along with campaign management. |
| Interaction Studio | You can visualize, manage, and track all customer experiences with real-time interaction and management-driving engagement at the right moment. |
| Email Studio | You can use data from every department to build smarter email templates. It can be done from basic marketing campaigns to advanced one-to-one messages. |
| Mobile Studio | Consistent SMS, chat app messages, and push can be sent in the real time. |
| Advertising Studio | You can use CRM to securely power one-to-one advertisements over Facebook, Google, LinkedIn, Twitter, and Pinterest, and display them at scale. |
| Social Studio | If you want to create customer advocates, you can listen, engage, and publish them. |
Watch this Salesforce Training Videos for Beginners:
From this tutorial session, I hope you have got a complete understanding of the Salesforce Marketing Cloud, along with the products offered by it. In the next session of this Salesforce tutorial, you will be learning about Salesforce CRM.
Prepare yourself for the industry by going through these Top Salesforce Interview Questions and Answers!