In this fast-paced world every entity wants things to be done instantly be it a company or an end consumer. This has necessitated the firms to respond in real-time to provide true value to its customers. It implies that the businesses need to handle the ever-increasing data in a much swift and efficient manner which cannot be typically done in a conventional pen and paper fashion. Companies need meaningful insights in no time for which they need smart application that could find trends and extract insights from bulk of raw data.
SAP HANA is a similar kind of business Intelligence tool that gives you great data wrangling abilities at your fingertips. A wide range of features coupled with simplicity helps you run the business faster than ever before. Especially the SAP Business Suit which is a testimony of analytical excellence rendered by SAP HANA to an array of industries.
Become SAP HANA certified today!
About 1,900 start-ups are building apps for SAP HANA.- Business Insider
How does SAP HANA add value to your organization?
SAP made a history back in 2012 when it launched SAP HANA which incorporated a wide range of functionalities that help the businesses leverage the power of analytics in affordable costs.
Want to know how can SAP HANA do all that? Take a moment to read:
Catering to all the business needs- SAP HANA embeds the functionalities of ERP, reporting as well as analytics, hence addressing all the business needs with one tool.
Time-saving technology- Able to handle all sorts of queries with instant reports and information with the help of in-memory computing to solve real-time business requirements.
Intuitive analytics and powerful interface- SAP HANA allows generating and customizing reports in order to give greater flexibility and visibility into the business operations with the help of powerful and interactive dashboards.
Fast and efficient analytics- With a wide variety of analytical features it excels in managing all sorts of data by drilling deep in order to find informational patterns making analytics faster and efficient at the same time.
Segmenting operations- This tool segments the business operations in diverse functions such as purchase, sales, inventory, marketing, etc., which are based on HTML5 that ultimately improves the user satisfaction with easy accessible data.
Find all you want to know about SAP HANA in this extensive tutorial!
How is SAP HANA performing in the technology market?
SAP HANA is re engineering the business with its powerful analytical ability that lets a business respond in real-time even in complex scenarios. Market gurus call this technology a disruptive innovation that is integrating IoT to handle the enormous amounts of data generated from applications. Following real-life examples will better tell you about the performance of SAP HANA in some of the top companies of the world-
Florida Crystals Corporation, a cane sugar company implemented SAP HANA for consolidating data from its offices situated at a distant location, meeting daily business needs, and driving value from the cloud platform. The results were quite astonishing as the performance improved up to 97% and the cost reduced at the end of the supply chain. Not only this but the data analysts were able to devote more time to core analysis and the performance improved with the petabytes of data ready to be accessed in real-time.
Another similar example can be seen in Neckermann.at GmBH, an Austrian online retail firm dealing in garments, accessories, electronics, furniture, etc. The company was struggling to pull up its performance of core finance and IT departments. The company was wanted to bring real-time analytics to be incorporated in the business process. In order to achieve these objectives Neckermann implemented SAP HANA and hosted it on a Cisco server. The company did exceptionally well in terms of customer satisfaction and performance. Predictive analytics integration into the business operations helped the company improve customer engagement.
Recently, a lot of buzz was created when it was revealed that SAP HANA is being deployed in one of the most adventures sports, i.e., Formula 1 racing, which is quite surprising. Apparently, the McLaren team is going to use big data analytics to facilitate the communication between the engineers, analysts and the drivers and for that SAP HANA is the most feasible one. Imagine the kind of traction this tool is gaining from all the domains.
These were just the instances when SAP HANA has helped the firms achieve their goals or is going to bring huge revolution in a field. There are numerous other companies across the globe, getting benefitted from this technology.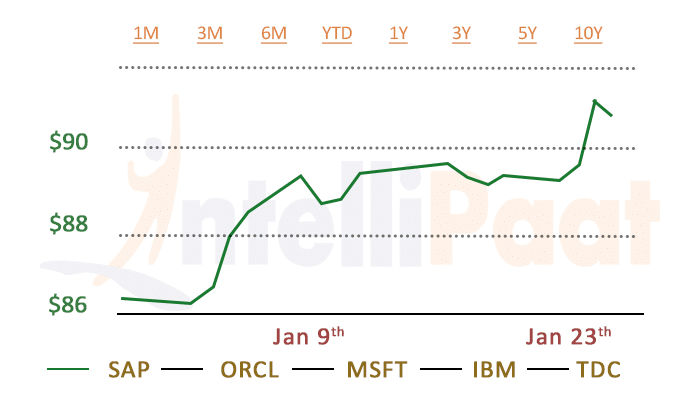 Currently SAP HANA has over 6400 customer all over the world. The trajectory of SAP HANA's growth is showing upper trend as of January 23rd 2017 which is predicted to grow exponentially in near future. Following graph clearly denotes that the latest version of SAP HANA gave a tough competition to some of the market leaders like Oracle and Teradata with 23.2% market share in the third quarter of the year 2016.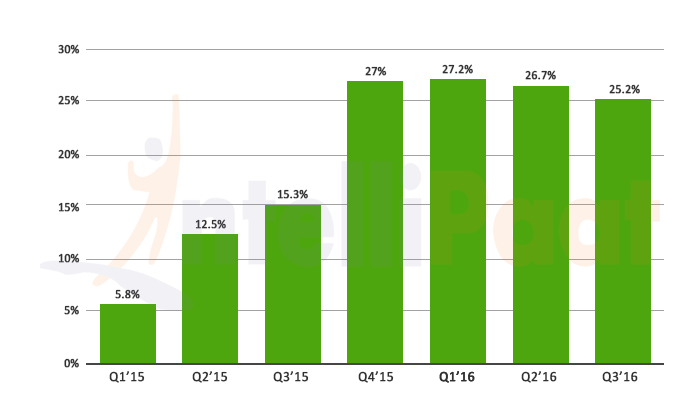 Why should you opt for SAP HANA for your career?
Already being accepted by the Fortune 500 firms, SAP HANA is one of the fastest growing technologies in the current job market. All the companies using SAP enable HANA plug-ins and are performing better with that. This is fueling the demand of SAP HANA professionals in the top-notch companies.
Top SAP HANA Interview Questions you must learn before going for a BI interview!
According to a report from ITjobswatch.com the availability of jobs requiring proficiency in SAP HANA are going up every year.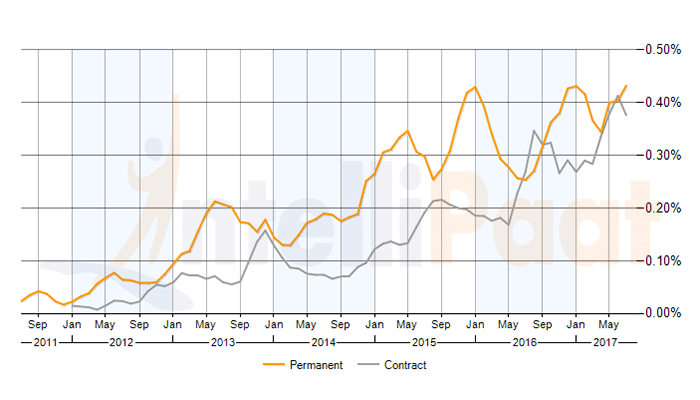 There is a set of diverse job roles for SAP HANA professionals whose salaries range from £38,000 to £100,000  in a year.
SAP HANA is one of the most popular technologies among the biggest technology firms which is why the individuals having proficiency in SAP HANA are demanded to fill the skill gap. Therefore getting a SAP HANA certification will be a wise decision to build a career in 2017. Intellipaat offers you an array of certification courses suitable for beginners and experience holders. World-class training with hands-on expertise will give you a competitive advantage.
Get SAP HANA Certification Training from Intellipaat and ensure a high-paying job tomorrow!
Related Articles
---