Knowledge of SAP Enterprise Management can be obtained by undertaking SAP HANA S/4 Logistics Certification. This blog shall guide you on what SAP S/4 Logistics is, its key modules, new innovations upon its introduction, its scope in the market, the benefits, and the target audience.
Focusing on consumers is the top-notch priority of any production company. By the increase in cost and consumer population, there is massive setback faced by most production companies. There had to be a solution to deal with such volatile market situations, and this paved the way to SAP S4 Logistics.
SAP S4 HANA Logistics soon became a solution or a method that many industries and companies could employ to handle market volatile situations in a short period of time. SAP Simple Logistics can also be termed as SAP S4 HANA Enterprise Management.
Watch this SAP S4 Hana video
What Exactly Is SAP S4 HANA?
SAP S4 HANA is basically a business suite that is built upon SAP owned database system and SAP HANA, which is an inline computing platform. There are two versions of SAP S4 HANA, they are SAP S4 HANA On-premise and SAP S4 HANA Cloud.

Most business management processes can be managed by SAP S4 Logistics, which ensures organized and simple solutions to meet demands in limited time.
Here's a video from Intellipaat on SAP HANA:
Few Key Modules of SAP S4 Logistics
Enterprises work in a systematic manner, and there shall be various phases that control the working of an enterprise. Similarly, SAP S4 Logistics has its own key modules for its effective functioning during the deployment in industries. They are listed below:
Supply chain
Manufacturing
Contract management
Sourcing and acquisition
Demand planning
Material management

What Are the Popular Innovations of SAP S4 Logistics Certification – 1809?
Development and innovation in technology is erratic. With every brand-new idea or solution, there shall always be more room for progressive innovation. Similarly, the introduction of SAP S4 Logistics has led to innovations in numerous industries, few of which are mention below:

These industries experienced maximum growth and profit upon the introduction of SAP S4 HANA Logistics certification – 1809. The efforts of finding eligible logistic solutions were made easily possible for the industries.
What Are the Scope and Career Opportunities of an SAP S4 Certified Professional?
Upon gaining the SAP S4 HANA logistics certification, one shall be qualified enough for a wide range of job opportunities. Few of these career opportunities or designations that are looking for candidates who are specialized with an SAP S4 HANA logistics certification are mentioned below:
Business Analyst SAP Logistics
Logistics Specialist
Senior Logistics Officer
Logistics Analyst
SAP Logistics Coordinator
SAP Logistics Consultant
Logistics Associate

Benefits of SAP S4 HANA Logistic Certification – 1809
Every SAP model shall have its own range of benefits and importance. When it comes to SAP S4 HANA logistic certification 1809, the following are the list of benefits that it offers and these benefits can be accessed by those who gain a S4 HANA logistic certification in it:
Reduced Cost
Faster Announcing
Reduced Aggregates
Enhanced Performance
Easy Access
Maximum Customization
Supports Multiple Devices

Target Audience
S4 HANA Logistics certification is mostly suitable for Business Analytics Professionals, SAP Solution Architects, Application Consultants, SAP Technical Consultants, and Project Managers.
What Does Intellipaat Offer in SAP S4 HANA Logistics Certification Training ?
Learning any new technology and mastering it is not an easy task. But, those who are keen and willing to pursue SAP S4 HANA Logistics Certification training can enroll themselves for the SAP S4 HANA Logistics Certification course offered by Intellipaat. The following is a list of essential topics covered in the SAP S4 HANA Logistics Certification course:
Introduction to SAP S4 HANA Logistics
In-depth architecture of SAP S4 HANA Logistics
Row store vs. column store in SAP
Business benefits of SAP S4 HANA Logistics
SAP Fiori apps for user experience
SAP HANA Enterprise Cloud
Integrating S4 HANA with Design Studio
Crystal reports integration with S4 HANA
These concepts have been explained in an elaborated manner, along with understandable diagrams and data models. One who is willing to provide a strategic solution to meet the rising demand of customers for the production industries can take up this course and gain proficient knowledge in SAP S/4HANA Logistics.
Intellipaat offers certification after the successful completion of the course. This certification is recognized by the top MNCs in the IT world.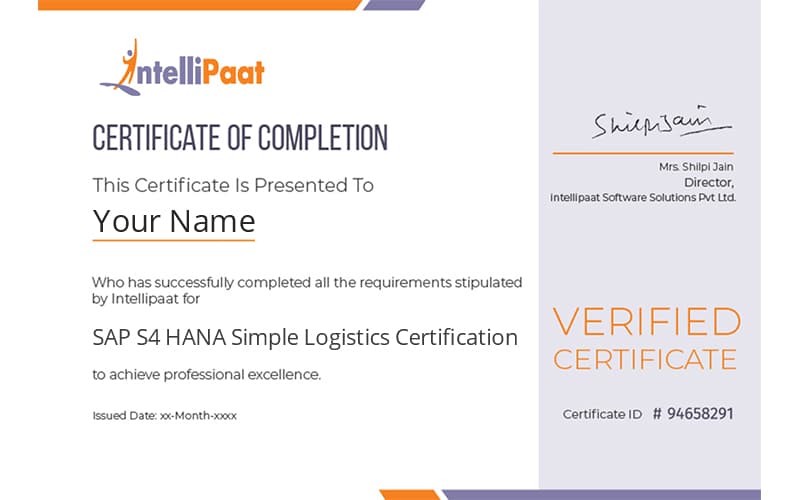 Intellipaat also offers many other SAP courses. If you are interested to gain knowledge in various SAP courses, then this is the best platform to enhance your skills. There are tutorials on SAP HANA, SAP FICO, SAP Business Objects, etc. which you can refer to learn more on the vast domain of SAP.
Are you interested in learning SAP FICO from experts? Get enrolled in the SAP FICO course today!
Enroll yourself in online SAP HANA training and give a head-start to your career in Scala!