What is SAP FICO?
The fact that you are reading this SAP FICO Tutorial drives me to an assumption that you are familiar with the world of SAP and the technological disruptions that have been rampant in it in the recent years.  One such disruption is SAP FICO. An integration of SAP Finance Accounting and SAP Controlling modules, SAP FICO often pops up in the mind of finance specialists when they are supposed to operate around financial transaction data.  While SAP FI (Financial Accounting) records, collects, and processes financial transactions in real-time for providing necessary inputs for external reporting, SAP CO (Controlling) is leveraged for internal reporting and improved decision making. The SAP FICO consultant job is a symbolizes as one of the most lucrative career paths in the market today, interested in learning SAP FICO? Click here to learn more in this SAP FICO Training!
To understand the basics of SAP FICO in a simple and comprehensive manner, click on the link below and gain access to our free SAP FICO tutorial video.
Table Of Content:
In this SAP FICO Tutorial we will be covering,
Lets begin with SAP FICO Tutorial.
But what was the need to integrate SAP FI and SAP CO modules?
The integration of SAP FI and SAP CO modules came as a boon to numerous organizations. This integration helps business organizations maintain and generate financial statements for effective decision making and reporting. The integration of SAP FICO with other modules not only enables users to automatically update transactions to other SAP modules but also streamlines the functionality of numerous SAP modules including Sales & distribution, Material management, Human Resource Management, Production planning, and SAP CRM among others.
Now that we understand what is SAP FICO all about, let us drill down deep into the fundamentals of SAP FI and SAP CO Modules.
Watch this SAP FICO vs SAP S4 HANA Finance Video
SAP FI
SAP FI (Financial Accounting), going by the meaning of its name, suggests upgrades in finance management for enterprises. Considering the fact that managing finance through man power can turn out to be a steep uphill task for organizations, SAP FI was devised.  This module helps manage the entire financial accounting part seamlessly. For this particular reason, SAP FI has gained enormous popularity after it was successfully implemented in organizations. SAP FI comes with an implicit package that helps organizations in handling financial needs and accounting activities. Apart from helping organizations manage finance, SAP FI can also be leveraged to review the financial status of organizations in real time scenarios. Components that comprise the FI module are listed below:
Accounts Receivable
Accounts Payable
Asset Accounting
Account Consolidation
General Ledger Accounting
All these sub-modules are interlinked and integrate in real time. The integration of these modules can be portrayed as: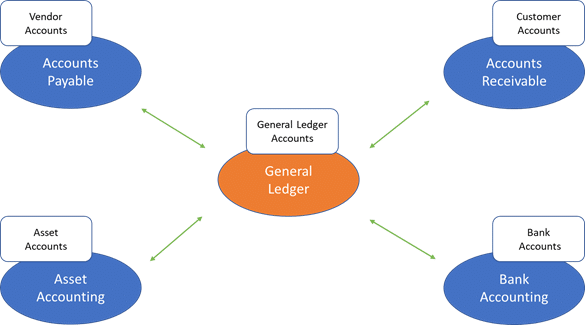 General Ledger Accounting:
General ledger accounts that are used by organizations is called a chart of accounts. These are basically those accounts that are used to prepare financial statements. Transactions are recorded in sub modules and are done through general ledgers in real-time.
Accounts Receivable: 
This sub module in SAP FI deals with customer transactions and can be used to manage customer accounts. Customer accounts are maintained separately when transactions are posted in vendor accounts, and reconciliation accounts. Transactions include invoice posting, credit memo posting, down payments, etc.
Accounts Payable: 
This sub module in SAP FI deals with vendor transactions and can be used to manage vendor accounts. Vendor accounts are maintained separately when transactions are posted in customer accounts, and reconciliation accounts in the general ledger. Transactions include invoice posting, credit memo posting, down payments, etc.
Asset Accounting:
This module is used to manage transactions that are related to assets of an entity for an organization. Reconciliation accounts in the general ledger are updated in real time when transactions are updated in asset accounts. Transactions include asset acquisition, asset retirement, asset sale, asset transfer, asset revaluation, and asset depreciation.
Bank Accounting:
This module deals with transactions with banks. Reconciliation is done to integrate transactions on bank statements and further comparing them with transactions in SAP system general ledger.
Business managers can configure SAP FI users after setting up certain configurations. These configurations are in most cases aligned with clients, their company, and business area. Following this configuration, all transactions can be migrated to SAP FI for driving best practices and informed decision making in financial management system. Enterprises are empowered to view their financial status in real-time, which in turn enables enterprises to monitor financial transactions and streamline finance reporting.


SAP CO
SAP CO, one of the most important modules in SAP, includes SAP CO configuration and SAP CO user details. This module contains master data, configuration and reporting. When we say master data, we mostly mean cost elements, cost centres, profit centres, functional areas, statistical figures and activity types. When implemented, SAP CO allows users to view data of internal costs. Apart from helping users get a complete view of finance reporting, SAP CO helps them manage records and make efficient informed decision making. Moreover, organizations can manage reporting and information databases as per their needs. SAP implementation helps organizations to:
Track cost heads and make future plans in accord with those cost heads
Monitor costs for specialized events
Enable activity-based costing for numerous processes
Build sales reports that are ensured through internal measurement
SAP CO supports coordination, monitoring, and optimization of all processes. It includes the management and configuration of master data that covers cost and profit centres, internal orders, and cost elements. Primarily SAP CO is used for planning to enable users to compare actual data with planned data.
The sub-modules that comprise SAP CO are:
Cost Element Accounting
Cost Center Accounting
Activity-based Accounting
Internal Orders
Product Cost Planning
Profitability Analysis
Profit Center Accounting
Cost Element Accounting:
Cost and Revenue Element Accounting allows users to administer costs and revenues that occur in their organization. This sub module calculates those costs which are individual expenses in Financial Accounting or have no other associated expense.
Cost Centre Accounting:
This sub module is mostly leveraged for managing cost purposes within organizations at an internal level.
Activity-Based Accounting:
This sub module is used to analyse changes in cross-departmental business processes.
Internal Orders:
This sub-module is used to collect and monitor jobs that are assigned internally. Budgets can be assigned for these jobs, and this module can be used to make sure that expenses do not exceed allocated budgets.
Product Cost Controlling:
This sub-module helps calculate the cost of manufacturing products or providing services. Also, the exact cost for profitability marketing can be evaluated using Product Cost Controlling.
Profitability Analysis:
This sub-module can be used to analyze the profit or loss of organizations by defragmenting market segments to individual units. Informed decision making in fuelled by Profitability Analysis.
Profit Centre Accounting:
This sub-module can be used to evaluate the profit and loss of individuals and autonomous and independent areas within organizations.
Being independent modules in the SAP system, SAP CO and SAP FI enable a consistent and reliable dataflow when integrated. This dataflow is relevant to cost flows. Simultaneously, the SAP system assigns costs and revenues to cost centers, business processes, projects or orders. Prepare yourself for the Top SAP FICO Interview Questions and Answers Now!

Demo on Creating New Company & Assigning a Company Code to it.
Now that we understand what is SAP FICO exactly, let us move ahead and observe how a new company can be listed and company code can be assigned against it, using SAP FICO.
Step 1:
In the first place, we will create a company. For doing that, log on to SAP, and use the T-Code 'SPRO' to open the app 'Customizing: Execute Project'. Once the app opens, click on SAP Reference IMG on top left corner of the application. Once you do that, you will find this screen.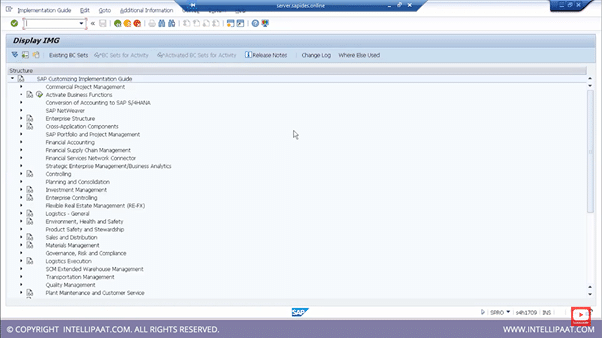 From all the available options click on Enterprise Structure and further click on Definition. Once that happens, click on Financial Accounting, and then open 'Define Company'.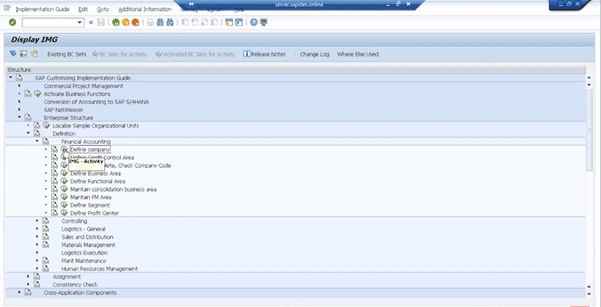 Once you click on Define Company, a box appears and you are required to fill in your company details over there.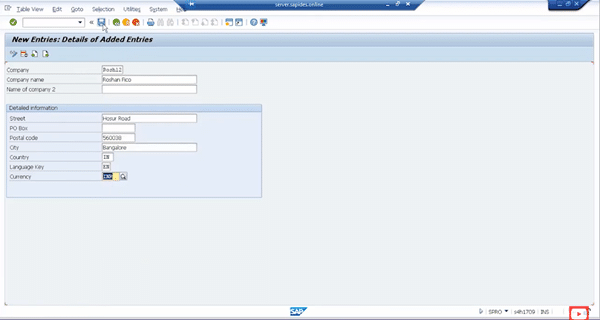 Save your data, and your company gets created.
Step 2:
Now you need to create a company code to your company. To do that, go back to the Financial Accounting Menu and Select 'Edit, Copy, Delete, Check Company Code'.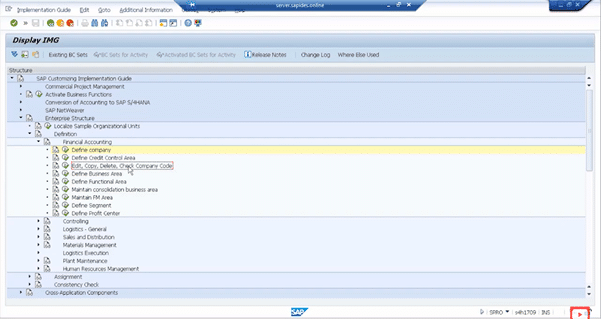 Double Click on that and then, assign your company code in the box that appears.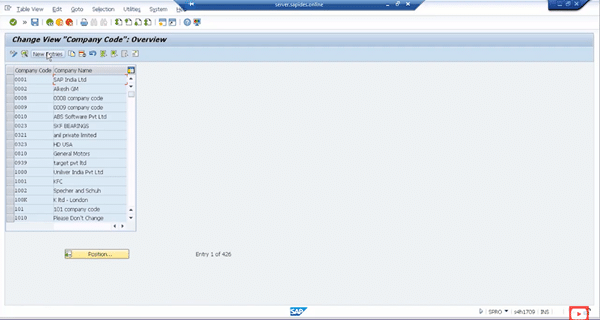 Click on New Entries.
Enter your company code data and click on Save.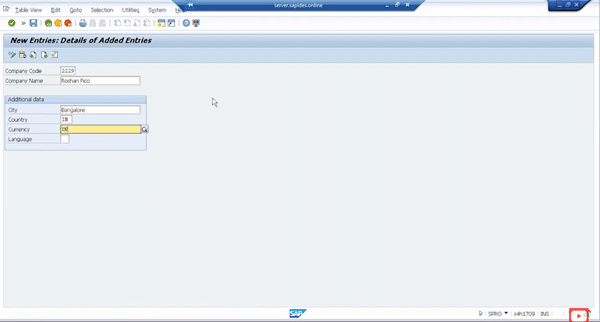 Then, Re-enter required data and click on Confirm.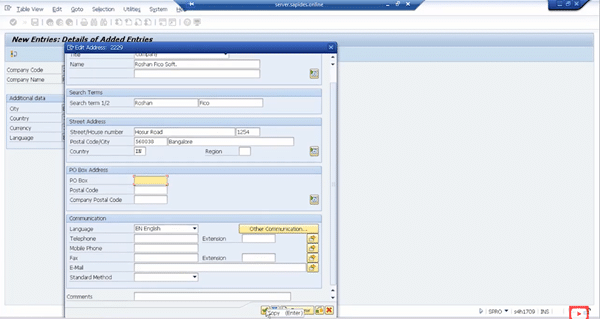 Next you can see that a code appears next to your company name.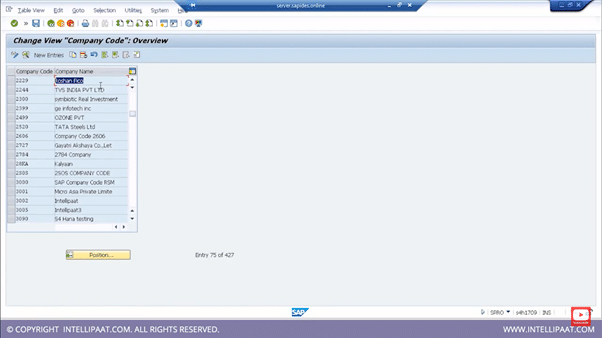 Step 3:
Now you are required to assign the company code that you created to your company.
For that, go back to Enterprise Structure. Click on Assignment. Go to Financial Accounting, and then click on Assign Company Code to Company.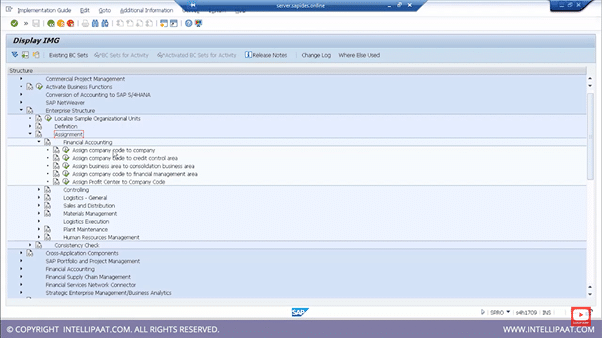 Then assign Company Code to your company.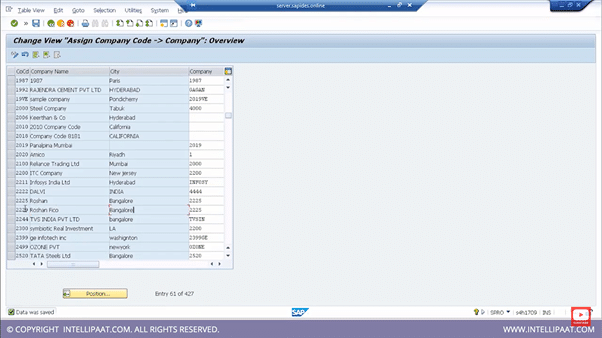 And Click Save.
So, this is basically how users can create new companies in SAP FICO and assign company codes to them. Once that is done, they can conduct various business functions that were discussed earlier.
If you have any technical doubts & queries related to SAP, post the same on SAP Community.
This bring us to the end of this SAP FICO Tutorial. It was just an introduction to SAP FICO. To know all about what is SAP FICO from industry recognized experts, do take a look at the SAP FICO Course that we offer.
Happy Learning!
Related Articles
---