Financial activities are the most vital and carefully monitored activities in any industry. Accounting and financial operation maintenance have become complex as the demands and expenditure increase with respect to customer needs and time. Hence, a solution was required to organize and manage every financial process efficiently.
This is when SAP Simple Finance was developed by SAP HANA. SAP S4 HANA Simple Finance became one of the most important modules that enabled managing of accounting and financial activities of any organization. It also helps in analyzing the financial opportunities in a vast growing market.
In this SAP S4 HANA Simple Finance Certification blog, we shall be focusing on the latest version of SAP S/4HANA, that is, 1809 HANA Certification which is like the next level of intelligent finance.
Before we move forward, here's a video from Intellipaat on SAP Hana.
What Are the Benefits of SAP S4 HANA Simple Finance Certification – 1809? 
There are numerous benefits one can observe inSAP S4 HANA Simple Finance Certification – 1809. Managing financial activities itself is a prominent benefit, and the analytical reporting of the financial operations and accounts can be made possible by making use of a business intelligence tool. The following image denotes a few other beneficial aspects of SAP S4 HANA Simple Finance Certification – 1809:
Few Essential Features of SAP Simple Finance
SAP is a well established and recognized course. Individuals who have undertaken SAP training and have obtained a certification in it have gained renowned recognition in the field of management studies. SAP has expanded its vast domain in the field of logistics, accounting, finance, etc.
Financial specifications and operations have led to a wide deployment of SAP S/4HANA. There are various features that this financial solution includes, few of them are mentioned below:
Financial Planning and Analysis
Financial Risk Management
Accounting and Finance
Risk and Compliance Management
Scope of SAP S4 HANA Simple Finance Certification – 1809 in the Market
SAP training is by far one of the most respected and recognized trainings one can ever obtain. The SAP certification is recognized worldwide. There is a lot of monitory activity involved in any industrial, in order to manage this, various financial models were developed. Since they weren't satisfactory, SAP introduced SAP HAHA Finance, where efficient analysis could be performed. This paved way for many career opportunities and growth for a certified individual in the market. Professions given in the following image showcase their level of expertise in SAP S/4HANA for Simple Finance:

Further Enhancements upon the Release of 1809 SAP S4 HANA Simple Finance Certification
With the introduction of new versions, there shall always be additional features added. Similarly, when SAP S4 HANA Simple Finance Certification 1809 was introduced, it came into the market with new enhanced features and services that helped industries in a massive level to organize and manage financial operations and activities. A few features are listed below:
Embedded Analytics
Real-time Margin Analysis
Treasury Management
Predictive Accounting
Tax Services
Watch this video from Intellipaat on SAP PP:
Target Audience
Every domain has a particular specification and qualified audience which they look for. And the SAP S4 HANA Simple Finance Certification 1809 is mainly suitable for the following list of audience:
Accounting Professionals
Business Analysts and Consultants
Business Process Architects and Owners
Project Managers
Business Executives
What Are the Prerequisites for SAP S4 HANA Simple Finance Certification – 1809?
There might be possibilities that a particular course or certification requires prior knowledge about the opted certification. But, with respect to SAP S4 HANA Simple Finance Certification – 1809, there are no prerequisites for taking up this training course. Although, a basic knowledge of financial management and business processes would be beneficial.

What Does Intellipaat Offer in SAP S/4HANA 1809 for Simple Finance Training and Certification?
For those who are willing to enroll themselves in SAP S/4HANA 1809 for Simple Finance course, which is the latest version of SAP S/4HANA Certification, Intellipaat is offering a rigorous training that is leveled with SAP certification. As a part of the training, you will get an opportunity to learn the following:
S/4 HANA key functional areas in finance
About SAP Fiori and how it fits into the context
Controlling profitability analysis in SAP (COPA)
Universal Journal in SAP S/4HANA
Accounting of general ledger with S/4HANA
Accounting of material management integration
Planning of business with S/4HANA 1809 Finance
All the above-mentioned topics and the respective tutorials shall help you elucidate the concepts in an easy-to-understand manner. For those focusing on learning about financial solutions and its operations with respect to an industry, this certification course shall be beneficial for the growth of an individual aspiring for a career in the financial sector.
After the successful completion of the course, the candidate is rewarded with an Intellipaat Certification that is recognized by the top MNCs.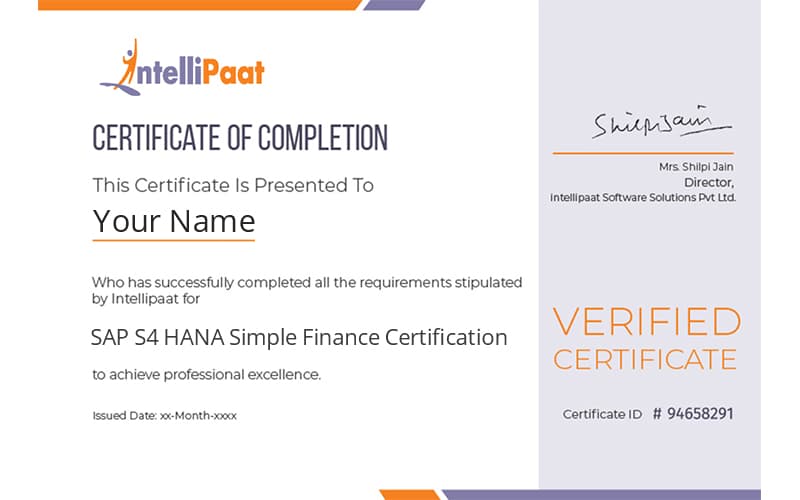 For candidates who are looking forward to expertise in other SAP courses, Intellipaat offers various SAP courses which serve as an excellent platform to learn from and gain knowledge in SAP S/4HANA. There are also other certification blogs on SAP S/4HANA 1809 that you can refer to know more about the enriching domain of SAP.
Related Articles
---