Various Ways for Migrating to SAP HANA
There are various aspects to be considered when an organization is moving to SAP S/4HANA. The following image shows three different methods to activate SAP Simple Logistics.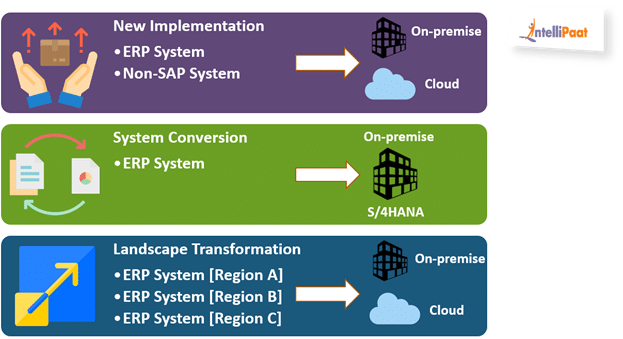 Let us learn about these methods to activate SAP Simple Logistics in detail.
New System Installation
New system installation can be done for either new or the existing SAP customer. This is also known as greenfield approach, in which SAP S/4HANA system is implemented and data are migrated from the legacy system. Hence, standard data migration tools and content has to be used.
How Is This Done?
Initially, one must install SAP S/4HANA using Software Provisioning Manager
Load data from the source system using SAP S/4HANA Migration Cockpit/SAP Data Services with SAP Rapid Data Migration content for on-premise

What Is the Benefit?
Re-engineering and process simplification are based on ready-to-run business processes
Includes guided configuration to provide predefined migration objects and best practices
Reduced time and customers' total cost of ownership
New innovations are rapidly adopted
System Conversion
System conversion is nothing but a complete conversion of an existing SAP Business Suite system to SAP S/4HANA. This is done to the existing customers looking to migrate from SAP ERP system to SAP S/4HANA. This is technically based on Software Update Manager with the Database Migration Option.
How Is This Done?
Move data from the existing database to the HANA database
Install new code with SAP Software Update Manager
One can also directly jump-start the process by just using the SAP HANA Enterprise Cloud.
What Is the Benefit?
Re-implementation is not required during Migration
Current business processes will not be disrupted
Re-evaluation of customization and existing process flows
Landscape Transformation
In this case, an organization would consolidate their current regional SAP Business Suite landscape into one global SAP S/4HANA system. This conversion is done to a customer who is looking to consolidate their landscape or carve out selected entities/processes into a single SAP S/4HANA system.
How Is This Done?
Use SAP Landscape Transformation tool to consolidate clients from different source systems into a new SAP S/4HANA system
Selective Data Transformation process

Carving out of single entities or processes
Migration of selected SAP applications
Using SAP Landscape Transformation to do the transformation

What Is the Benefit?
This approach focuses on parts of the business with the highest ROI and lowest TCI due to selective data transformation
System and landscape consolidation with harmonized/simplified processes and unified master data lead to lower TCO
Before moving on to the case study, first, let us dive deep into inventory management and see how it works. As we already discussed, procurement is a process that starts with requirements gathering and ends with producing goods for vendors. Once the products are ready according to vendors' needs, these goods have to be placed in the organization's premises for further usage or production. This process of placing and handling stock in an organization's premises is known as inventory management. This basically covers:
Management of stock
Planning entry and exit of stocks/goods
Movement of goods will be recorded in the material document