Road Map to SAP Logistics
The SAP road map in logistics throws light on various innovations and new technologies that are being introduced on a yearly basis. The road map also highlights various services that are introduced in different deployment options of SAP. It represents planned innovations with a year scale.
Watch this SAP S4 HANA Simple Logistics Video
In the following representation, different SAP deployment editions are mentioned with various processes and services enabled in them. Tracking of these innovations is carried out in a yearly manner.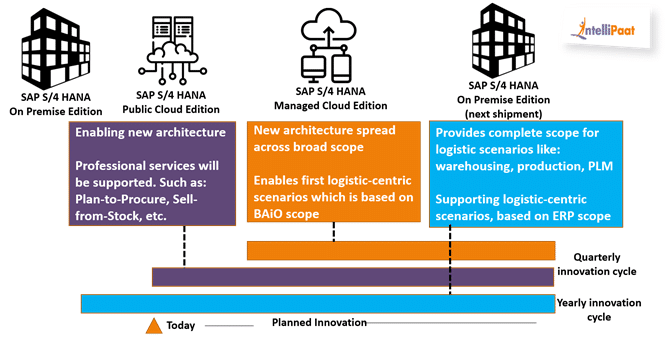 Deployment Options in SAP Logistics
The below image shows the three deployment options provided by SAP S/4HANA, namely, on-premise, cloud, and hybrid deployment solutions. Users will have an open chance to choose their own deployment options based on their business needs, budget, and resources. If they want to control their business, they can move to the on-premise deployment option. Whereas, in cloud and hybrid options, a third-party vendor will have access to their business.
On-premise Solution
In this case, a customer will have to purchase software and hardware, and the same will be managed by the customer itself. All maintenance, implementation, and deployment tasks will be managed by the customer.
Cloud Solution
In this case, hardware and software will be provided by cloud providers which will be rented by the customer. Cloud service providers will be responsible for all maintenance, updation, and implementation tasks.
Hybrid Solution
In the hybrid option, only a part of the software is handled by the client and other additional solutions will be provided by the service provider. The client has to perform an integration between on-premise and cloud environments for an improved service.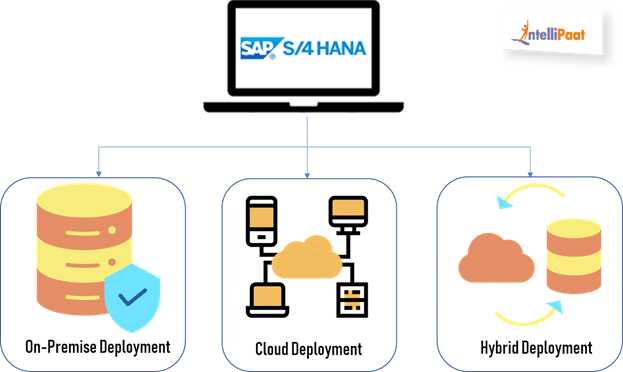 Key Innovations of SAP S/4HANA
There are various innovations that occurred in many industries and enterprises upon the introduction of the latest SAP S/4HANA 1809 Logistics. Some of those industries are listed below:


Embedded Transportation
Load optimization and mixed pallet building
SAP Logistics Business Network offering carrier invoicing
Supply Chain
AATP (Advanced Available-to-Promise): alternative-based confirmations
Calculating non-reserving availability by product allocation
Industry to Core: Utilities
Billing and invoicing include exception resolution
Meter reading analysis
Few other analytical insights
Industry to Core: Retail and Fashion
Empties in warehouse management integration in Merchandise Management
Deployment of enhanced season management

Customer Management
Embedded Service Management (Service Core)
Middleware is eliminated
Data models are harmonized
Digital Manufacturing
Demand-driven visibility and interactive planning
Adjustment for MRP controllers and capacity evaluation
Finance
Provision of a finance data hub for real-time consolidation by Central Finance
Provision of inter-company reconciliation report
Sourcing and Procurement
Purchase requisitions are centralized through the central contract management hub
Integration of SAP Ariba with SAP S/4HANA
Asset Management
Provides an Overview Page for Planner
Analysis of Technical Object Damage
Operations and the task list
Sales and Distribution
Creation of Simplified Sales Order
Performs split analyses in Sales billing and invoicing
Approval of the workflow for credit memo requests
Inventory Management
For decision support, makes use of Predictive Analytics/Machine Learning
Production order is enabled by posting goods receipt
Quality Management
Recording the results for Quality inspection
Complaint management by recording/monitoring
Quality management of data by analyzing KPIs
Extended Warehouse Management
Unique identification for items
Classification of products based on warehouse tasks history by making use of new reports (ABC calculation)
R&D/Engineering
Configure, Price, and Quote (CPQ) and multi-level classification offered by Variant Configuration
Chemical compliance and product marketability

Migration Cockpit
Transferring of data with the help of staging tables
Ability to adjust migration objects used with Object Modeler