SAP S4 HANA Logistics User Handbook
Are you looking for a powerful SAP application to manage your business? If yes, then you must take SAP HANA logistics into consideration. This SAP HANA Logistics cheat sheet is designed for the one who has already started learning about the customization and development using SAP HANA Logistics, then this sheet will be a handy reference sheet.
Watch this SAP S4 Hana video:
Don't worry if you are a beginner and have no idea about how SAP HANA logistics works, this cheat sheet will give you a quick reference of the basics that you must know to get started.
You can also download the printable PDF of SAP S4 HANA Logistics Cheat Sheet.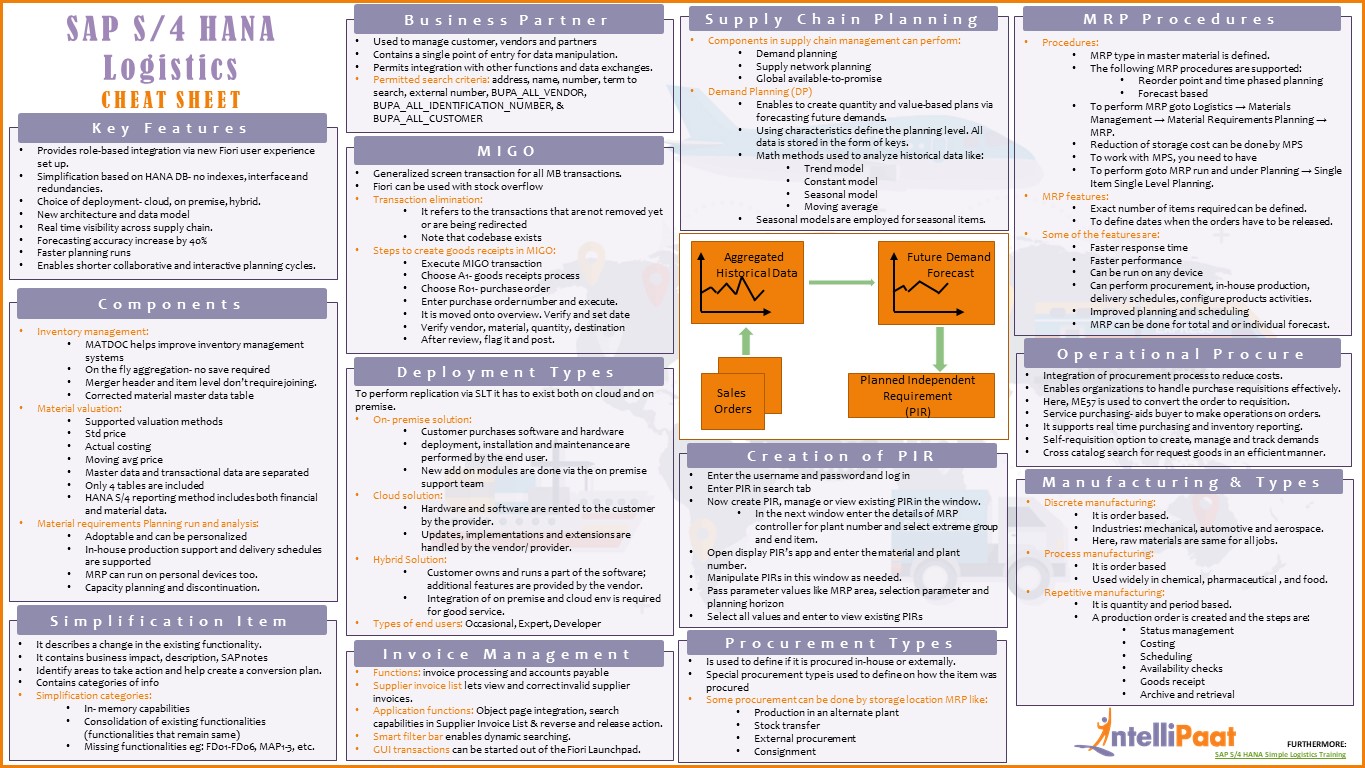 SAP HANA Logistics also known as S4 HANA Enterprise Management which consists of all the key modules under SAP ERP Business suite such as Material management, Supply chain, demand planning, Sourcing and procurement etc.
Key features:
Provides role-based integration via new Fiori user experience set up.
Simplification based on HANA DB- no indexes, interface and redundancies.
Choice of deployment- cloud, on-premise, hybrid.
New architecture and data model
Real-time visibility across the supply chain.
Forecasting accuracy increase by 40%
Faster planning runs
Enables shorter collaborative and interactive planning cycles.

Components:
The main components used in SAP HANA logistics are Inventory management and material valuation.
Inventory management:

MATDOC helps improve inventory management systems
On the fly aggregation- no save required
Merger header and item level don't require joining.
Corrected material master data table
Material valuation:

Supported valuation methods

Std price
Actual costing
Moving avg price

Master data and transactional data are separated
Only 4 tables are included
HANA S4 reporting method includes both financial and material data.

Material requirements Planning run and analysis

Adoptable and can be personalized
In-house production support and delivery schedules are supported
MRP can run on personal devices too.
Capacity planning and discontinuation.
Simplification item:
It describes a change in the existing functionality.
Contains:

Business impact
Description
SAP notes

Enables to identify areas to take action and help create a conversion plan.
Contains categories of info

Simplification categories:

In-memory capabilities
Consolidation of existing functionalities (functionalities that remain same)
Missing functionalities eg: FD01-FD06, MAP1-3, VD01-06, etc.
Business partner:
Used to manage customer, vendors and partners
It contains a single point of entry for creation, deletion and updating.
Permits integration with other functions and data exchanges.

Permitted search criteria:

Address
Name
Number
Term to search
External number
BUPA_ALL_IDENTIFICATION_NUMBER
BUPA_ALL_VENDOR
BUPA_ALL_CUSTOMER
MIGO:
It is a single screen generalized transaction which was replaced by MB transactions
Generalized screen transaction for all MB transactions.
Fiori can be used with stack overflow

Dead code/transaction elimination:

It refers to the transactions that are not removed yet or are being redirected such as MB03 redirects to MIGO
Note that codebase for these exists so dead code is a possibility.

Steps to create goods receipts in MIGO:

Step 1: execute MIGO transaction
Step 2: choose A1- goods receipts process
Step 3: choose R01- purchase order
Step 4: enter the purchase order number and execute it.
Step 5: it is moved onto overview. Verify and set date
Step 6: verify vendor, material, quantity, destination and other order related info
Step 7: After review, flag it and post.
NOTE: To check the material doc: execute transaction MM03–enter the material doc number and year — Enter.
Deployment Types:
3 deployment types: cloud, on-premise and hybrid.
To perform replication via SLT it has to exist both on cloud and on-premise.

On-premise solution:

customer purchases software and hardware
deployment, installation and maintenance are performed by the end-user.
New add on modules is done via the on-premise support team

Cloud solution:

Hardware and software are rented to the customer by the provider.
Updates, implementations, and extensions are handled by the vendor/ provider.

Hybrid Solution:

The customer owns and runs a part of the software; additional features are provided by the vendor.
Integration of on-premise and cloud env is required for good service.

Types of customer's/end users:

Occasional (simple and easy use apps)
Expert (fully trained SAP user)
Developer (adaptation and extension)

Supply chain Planning:
Components in supply chain management can perform functions:

Demand planning
Supply network planning
Global available-to-promise
Demand Planning (DP):

Enables to create quantity and value-based plans via forecasting future demands.
Using characteristics define the planning level. All data is stored in the form of keys.
Math methods used to analyze historical data like:

Trend model
Constant model
Seasonal model
Moving average

In DP seasonal models are employed for seasonal items.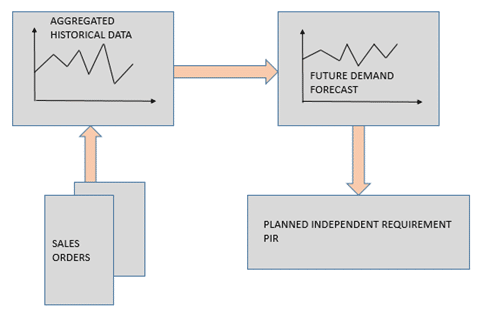 Demand process flow:

Here the sales order provides the basis for forecasting future demands, with these results the demand plans are released as Planned Independent Requirement (PIR).
SAP IBP (Integrated Business Planning) is used which is a real-time planning solution based on SAP HANA
Creation of PIR:
Enter the username and password and log in
Enter PIR in the search tab
Now create PIR, manage or view existing PIR in the window.

In the next window enter the details of the MRP controller for plant number and select extreme group and end item.

Open display PIR's app and enter the material and plant number.
Manipulate PIRs in this window as needed.
Pass parameter values like MRP area, selection parameter and planning horizon
Select all values and enter to view existing PIRs
MRP Procedures and features
Procedures:

MRP type in master material is defined.
The following MRP procedures are supported:

Reorder point planning
Forecast based
Time phased planning

To perform MRP goto Logistics → Materials Management → Material Requirements Planning → MRP.
Reduction of storage cost can be done by MPS
To work with MPS, you need to have MRP and other components too.
Single item planning involves only one material. To perform this goto MRP run and under Planning → Single Item Single Level Planning.

MRP features:

An exact number of items required can be defined.
To define the dates when the orders have to be released.
Some of the features are:

Faster response time
Faster performance
Can be run on any device
Can perform procurement, in-house production, delivery schedules, configure product activities.
Improved planning and scheduling
MRP can be done for total and or individual forecast.
Watch this SAP ABAP Video:
Procurement types:
Is used to define if it is procured in-house or externally.
If it supports both, in-house if the first on the list.
Special procurement type is used to define how the item was procured

Some procurement (special) can be done by storage location MRP like:

Production in an alternate plant
Stock transfer
External procurement
Consignment
Operational procurement:
The integration of procurement process with other processes can be done to reduce costs.
Enables organizations to handle purchase requisitions effectively.
Here, ME57 is used to convert the order to requisition
Service purchasing- aids buyer to create, display and change purchase orders
It supports real-time purchasing and inventory reporting.
Self-requisition option to create, manage and track the demands exists
Cross catalog search for request goods/ services exists in an efficient manner.
Invoice Management:
Functions available: invoice processing, accounts payable, and collaboration.
Supplier invoice list lets you view and directly correct any invalid supplier invoices
Application functions: Object page integration, flexible and dynamic search capabilities in Supplier Invoice List & reverse and release action.
Smart filter bar enables dynamic searching.
GUI transactions can be started out of the Fiori Launchpad such as the Create Supplier Invoice Advanced.
Manufacturing and its types:
Discrete manufacturing:

It is order based.
Industries that use this are mechanical, automotive electronics and aerospace.
Here, raw materials used to create products are the same for all jobs.

Process manufacturing:

It is order based
Used widely in the chemical industry, pharmaceutical industry, food manufacturing industries.

Repetitive manufacturing:

It is quantity and period based.
A production order is created and the steps are:

Status management
Costing
Scheduling
Availability checks
Goods receipt
Archive and retrieval

Job Responsibilities and desired skills:
Job responsibilities:

Responsible for expansion, design, and deployment for public and private sectors.
Design, implement and deploy solutions in the HANA work-frame.
Responsible for end to end implementation of the SAP HANA Tools and functions.
Desired skills:

Experience involving Batch management, Dealer/Distributor Management, Transportation & Taxation CIN and Exports.
Ability to strategize with clients to aid with migration systems.
Should be able to perform requirement gathering, gap analysis and sign off with the core team.
Certification is preferred although not required.
We have covered all the basics of SAP S4 HANA Logistics in this cheat sheet. If you want to start learning SAP S4 HANA Logistics in-depth then check out the SAP S4HANA Logistics training and certification by Intellipaat.
Not only will you get to learn and implement SAP S4 HANA Logistics with a step by step guidance and support from us, but also you will get 24*7 technical support to help you with any and all your queries, from the experts in the respective technologies here at Intellipaat throughout the certification period. So, why wait? Check out the training program and enroll today!