Components of SAP
AS we already discussed, SAP Logistics has critical parts under SAP ERP Business Suite. Following business strategies can be administered using SAP S/4HANA Enterprise Management with upgraded execution and profitability.
Watch this video on SAP S/4HANA Simple Logistics:
Inventory Management
SAP S/4HANA provides streamlined data to achieve extended throughput and versatile examination. Using S/4HANA, one can improve the inventory management by creating a single document table called MATDOC.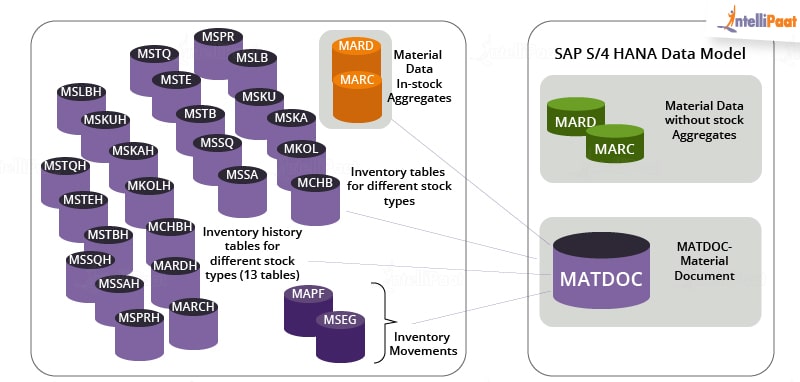 You can see the above image in which a single MATDOC is created in SAP S/4HANA, instead of creating various inventory management concepts like inventory movements, inventory history tables, inventory tables for stocks, etc.


Material Valuation
SAP S/4HANA Simple Logistics supports methods of standard pricing, varying average prices, and material valuation. In this case, one will have a clear separation of master data and transactional data. Also, it includes only four tables instead of having multiple tables. You can observe the same in the below image, how SAP ERP Business Suite includes multiple tables and how it is reduced in SAP S/4HANA. This reduces memory and data footprints.
In SAP ERP Business Suite, reporting was only based on material ledger tables, i.e., the material ledger contains only the material related data and not any other information like financial dimensions. Whereas, SAP S/4HANA data model includes both material and financial information.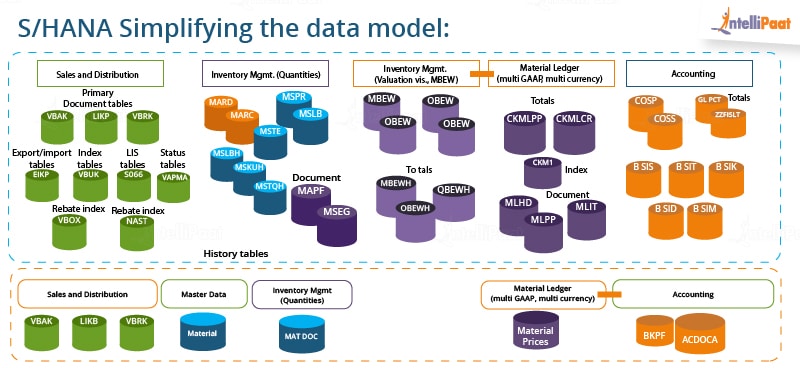 Material Requirements Planning (MRP)
This is used to perform a quick MRP run, and it is also used as another working model for MRP controllers. In this case, the material flow will be analyzed on a real-time basis, and one can quickly identify the disruptions in the material flow and analyze how this impacts the material planning analysis. Below are some of the benefits achieved through this new approach:
Ten times faster when compared to other models
Supports in-house production and delivery schedules
MRP run can be performed on any device
Easily adaptable and personalized
Early detection of issues
Order Management and Billing
Logistics is mainly used to store the product and customer data of an organization. Managing of customer relationship, from raising a quotation to sales order, and billing of any products or services form the basis of order management and billing.
Using S/4HANA Enterprise Management, one can perform end-to-end order-to-cash processes and can take any necessary actions to resolve the exceptions. One can also gather information to resolve the issues and lower the total cost of ownership. This data model supports the recent business versions like FSCM Credit Management, GTS Foreign Trade, etc.
Watch this video on SAP S/4HANA Simple Logistics:
Procurement
The process where buying of materials and acquiring services from vendors or dealers is termed as procurement. Using SAP S/4HANA Enterprise Management, you can achieve increased efficiency in Procure-to-Pay processes, new Analytical Apps and Spend KPIs, Ariba Network Integration for Purchase Order and Invoice Verification.



The special procurements types are listed below:
Consignment
External procurement
Production in an alternative plant
Stock transfer from an alternative plant