Overview of SAP CRM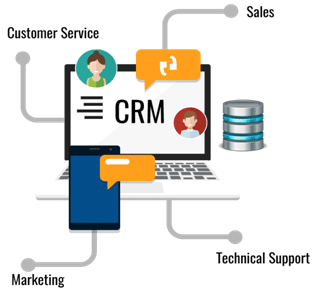 Customer Relationship Management or CRM, if you work in the field of sales, marketing or customer service, I am sure you must have heard of the word CRM, but what does it mean, what is the use of it for your business. In this tutorial, we will discuss some of the main concepts of CRM. That is, we will mainly concentrate on SAP CRM.
In this commercial world retaining existing customers and making new customers to expand the business has become more challenging. Also, the cost associated with finding new customers is too expensive that not all organizations could afford. Maintaining a healthy and productive customer relationship is the best way to make sure a bright future of your business.
Watch this SAP ABAP Video
Before moving to SAP CRM first let us understand what is CRM? Let us take an example and understand what is CRM. Consider that you have a small book center and one of your regular customer's visits to your shop. The first thing you will do is, greet the customer and offer them some drinks.  As you already know your customer's choice, you directly display the clothes according to their choice of preference. As they are your regular customer you will offer a discount too.  This way you're handling your customer in a good manner and you are building a good conversation with your customer, which will attract your customers.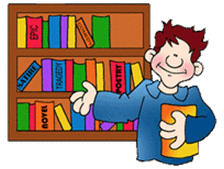 This is can be successful only if you have a countable number of customers. What if you are handling thousands and thousands of customers in a day. Say, large organizations like Vodafone center, reliance and many more. How will you handle millions and millions of customers? And it will be very difficult for you to remember the preferences of all the customers. How will you maintain a good relationship with your customers?
Watch this SAP HANA Administration Video
This is where the concept of Customer Relationship Management (CRM) plays a major role. With a CRM system, one can get a clear overview of their customers. Everything in one place- a simple, customized dashboard that shows customer's history, status, orders, etc. CRM helps the businesses to gain an insight into the behavior of their customers and modify the business operations to serve the customers in a better way.
By looking at the above scenario we can list the importance of CRM in today's businesses:
Creating a bond between existing customers will increase the business future
Creating or having a bond with customers increases the chance of bulk purchases
When you make your customers feel welcome even after the purchase they too start feeling some loyalty towards your brand
When you maintain a strong bond between customers, the customers become your friend which means, they will advocate your brand to others and that's how your business rises.
Definition:
The way businesses interact with current and future customers are known as CRM. Traditionally, this has been done with software that automates and integrates your customer-facing activities like sales, marketing, and customer service. But today, best-in-class CRM software systems go beyond that core functionality – providing additional tools for customer analytics, personalization, e-commerce, social media, collaboration, and more.
Now that we know, what are CRM and its importance, let us move on to our topic SAP CRM. Here we have the list of topics if you want to jump right into a specific one:
Introduction to SAP CRM
SAP CRM is a part of the SAP business suite, that is used to stay connected with customers. It is not only used to address the organization's short-term goals but also helps the organizations to reduce cost and increasing decision-making abilities. The main goal of SAP CRM is to manage and maintain customer relationships.
SAP CRM is integrated with SAP Supply chain management, product lifecycle management, Supplier relationship management, and other SAP modules.
SAP CRM versions
SAP CRM 7.0 released in 2009 (Part of SAP Business Suite)
SAP CRM 6.0 released in 2007
SAP CRM 5.0 released in 2005
SAP CRM features
It supports all customer-focused businesses like marketing, sales, and service.
SAP CRM can be implemented on various customer interaction channels like interaction center, internet, mobile clients, etc.
This also helps the organizations to gather all customer-relevant information to incorporate insights into operational processes.
Wish to get certified in S4 HANA Logistics? Learn from our S4 HANA Logistics expert and do excel in your career with Intellipaat's S4 HANA Logistics certification!
SAP CRM Tools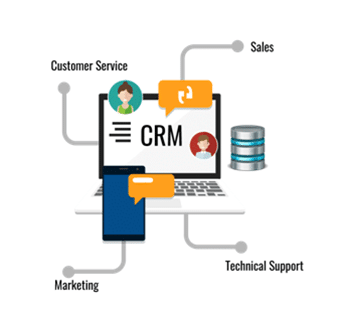 Below are the sub-modules or tools that are used to support the key functions of customer relationship management.
SAP CRM for Sales: Get the deep customer and social insights you need to make an impact in every deal-anytime, anywhere.
SAP CRM Marketing: This delivers contextual and individual customer experience across all channels.
SAP CRM for Service:  Provides services, customer visibility, and real-time problem-solving tools which are required to win customer loyalty and cost-cutting.
SAP CRM for commerce: It offers a personalized digital shopping experience with a CRM solution to support mobile, social and e-commerce.
We will discuss these topics later in this tutorial before that let us understand the architecture of SAP CRM.
SAP CRM Architecture
SAP CRM includes different components that allow users to integrate the CRM module with other SAP and non-SAP modules. As you can see in the below image it includes SAP CRM server that has CRM enterprise functions and CRM middleware.
It also includes three adapters to communicate with other devices and the internet.  You can also see SAP ECC, SAP BI system and SAP SCM on the right-hand side of the image and are used as the backend, analytical reporting and to enhance the capabilities of SAP CRM modules respectively. Here is a list of components of SAP CRM architecture:
SAP ERM Server (CRM Enterprise, CRM Middleware, Adapter)
SAP ECC as a backend system
SAP BI for Analytical Reporting
SAP SCM
Mobile and handheld devices
Internet
Enterprise Portal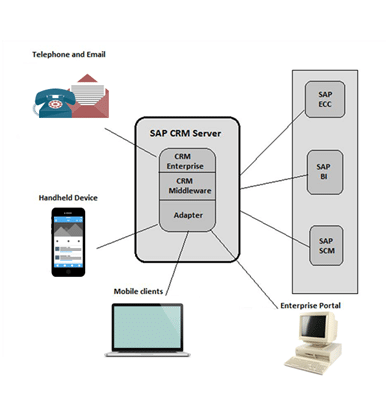 SAP CRM Workflow
A customer can use any medium to raise an issue when a customer raises an issue the CRM system will automatically identify the customer and display all the related information on the computer screen even before the customer representative receives the call. It also displays the customer purchase order, probability of future purchase.
A customer may raise the issue with a vendor using any medium like fax, email, telephone, etc. if the response cannot be provided immediately, the representatives will raise a ticket to SAP CRM. Once they receive a response from SAP CRM, the same will be forwarded to the customer.
For our understanding let us take an example, consider an international call center that uses CRM which is integrated with telephone and computer systems. When a customer calls the system, the computer system will display all customer-related data like previous orders, what the customer is looking for in the future. All this happens even before the representative receives the call. The CRM system also highlights the related products that suit best for the customer.
The system also has the capability to display information based on the department. For example, for the finance department, it might show the current balance and for accounting, it may show information about the recent purchase.
So we can say that the CRM system provides a well-defined platform for all businesses who are mainly into customer management. Which will help the organizations to fulfill their needs and demands effectively?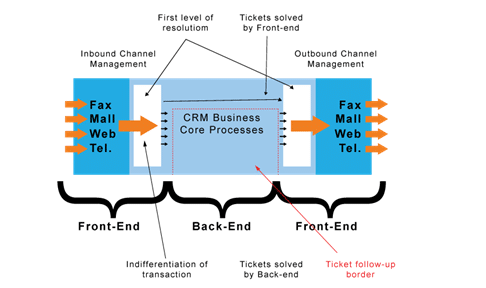 SAP CRM Marketing
CRM Marketing is mainly used to plan all marketing related activities and implement across organizations successfully. This basically includes analyzing the market and valuable customers. It also helps marketing persons to create marketing demands, brand awareness and build customer relationships. It also includes lead generation, identifying target customers and lead generation.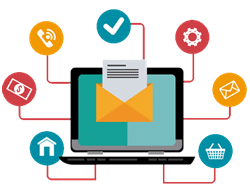 Here is a list of key points that are managed in CRM marketing:
Campaign Management
Customer Management
Lead Management
E-marketing
Promotion Management
Marketing plan
Below are some of the features:
Manages marketing campaigns including design, execution, coordination, optimization, and monitoring.
Deals with the analysis of customer behavior, products, market channels, etc.
Provides an option to gather, qualify and distributing leads
Can be used to create personalized product proposals for respective websites
Prepare yourself for the industry by going through this Top S4 HANA Logistics Interview Questions and Answers!
Marketing plan
Marketing policy in an organization can be implemented using a marketing plan. These marketing plans play an important role in any marketing project hierarchy. This is mainly used as a tool for planning budgets and targets in a marketing strategy.  Marketing plan elements are used to define the structure of a marketing plan in the form of hierarchies and you can assign campaigns to each marketing plan element.
Market plan and campaign management can be defined by following the below link:
SPRO → IMG → Customer Relationship Management → Marketing → Market Planning and Campaign Management.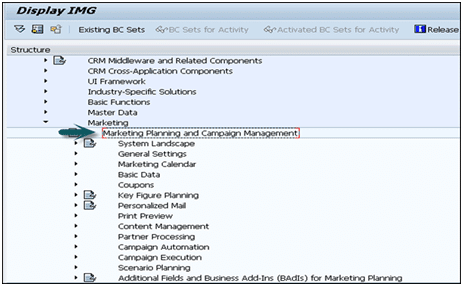 SAP CRM Sales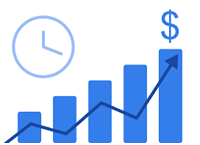 SAP CRM sales allow an organization to manage their sales activities like reducing the sales cycle, increase productivity and revenue. It also helps the organization to increase customer satisfaction and loyalty also, the organization will have an option to manage end to end sales cycle across all sales channels.
There are four types of channels which are managed under SAP CRM sales:



Here is a list of key points that are managed in CRM Sales:
Customer order, contract, and quotation management
Account management
Activity management
Commissions and incentives
Sales plan and analysis
Below are some of the features:
Mainly designed to handle customer contact at any time and anywhere
Supports the sales force of your business to maintain efficient time and work
Includes territory and account management that is used to increase the effectiveness of the sales
Includes opportunity and pipeline management processes that provide visibility in potential sales and sales processes.
Customer demands can be handled effectively using seamless order
SAP CRM Service
SAP CRM service mainly deals with managing the various service cycles and its components. As we are already aware that customers are expecting more services from organizations. SAP CRM provides an end-to-end solution to manage customers in terms of services. That helps the organizations to increase customer loyalty and profitability. It also provides a predefined business role for service professionals. One can manage the service cycles that include agreements, contracts, order management, complaints using SAP CRM.


SAP CRM service can be accessed from different ways in any CRM. Following are the key functions that can be performed from an SAP CRM WebClient:
Service Order, request, ticket and Contract Management
Complaint Management
Case Management
Workflow and base management
Workforce and knowledge management
SAP CRM Channels
SAP CRM provides an option to implement various channels for all your businesses such as the internet, telephony, field sales, and partners. This mainly increases customer interactions. It also provides a user-friendly interface to maintain their day-to-day activities or tasks. SAP CRM also offers customer-specific requirements and industry-specific processes.
Below are some of the interaction channels in SAP CRM:
Back-office
Field service or offline-user
Interaction center
Web channel management
Partner channel management
Business Partners
Any persons or any parties who are interested in business interaction with the company are known as business partners. In SAP CRM business partners can be a person or group of persons or organizations such as firms, branch offices, etc. business partners can be sold to parties, ship-to party, contact persons, etc. Business partners can be of different roles and can be created only once in the CRM system.
In general, business partners can be divided into three parts.


Let us see what are these.
Account: Account can be a person, organization or group of persons with which one will have business relationships. There are three types of accounts,
Individual Account: Only one person is the customer
Corporate account: An organization is a customer
Group of persons: An account in which a group of persons acts as a customer
Contact: In general, this is assigned to the corporate account, in which a person is assigned to a business relationship and working for company customers.
Employees: An Employee is a person who is working with the company and involved in the interaction with the company and customers.
Before moving on to how to create business partners, first let us understand the basic concepts related to business partners.
Business partner roles:
In general, this is used to classify a business partner in business terms. The functions of a particular business partner will depend on the assigned role. Some of the examples of BP roles are sold-to-party, ship-to party, Bill-to party, payer, etc.
The role of the business partner will determine the available assignment blocks. There are two roles of internet users and competitors.
One can define the business partner roles in customizing also if you want to add or customize for cross-application
For example:
Consider that Mr. John is an employee in ABD Pvt. Ltd. Initially, John has made contact with Jenny from XYZ Ltd. John will create master data to share information about existing products.  The master data is as follows:
On the Account page, a master record for a company with the name XYZ Ltd. with the role Prospect. You create general data and the address.
On the Contact page, a master record for an individual with the name Jenny. You create general data, the address, and the relationship Is Contact Person of with you at ABD Pvt. Ltd.
Once the first product is sold and delivered to XYZ Ltd. The invoice is shared for settlement and master data is created as follows:
On the Account page, a master record for a company with the name ABD Pvt, Ltd is created with the roles Bill-To Party and Payer. You will also create or enter general data such as an address, bank details, and billing data.
The new Sold-To Party role for XYZ Ltd. You create sales and shipping data. You assign XYZ Ltd with the relationship Bill-To Party and assign the corresponding sales area and partner function.
Now let us define business partner role in SAP CRM,
Step 1: SAP IMG-> Cross-Application Components -> SAP Business Partner -> Basic Settings -> Business Partner roles -> Define BP roles
Step 2: You will get a screen that shows change view BP roles overview screen, click on create an option to create a new role. On the new entries screen, fill the details like BP role, Title, description.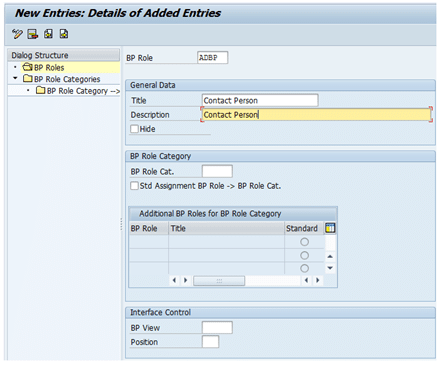 Double Click on "BP Role categories and update the BP role category, update the title and descriptive text of the business role category. Select the business partner category and other details.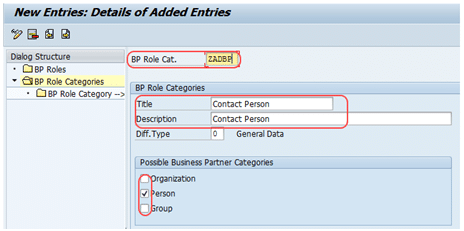 Go to update category id in the BP role category and click on save.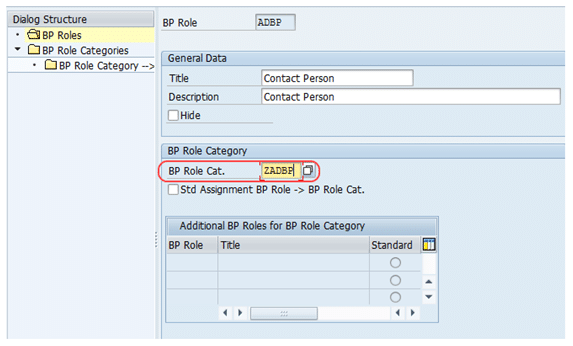 Business Partner Relationships: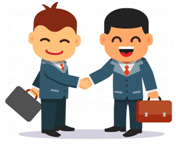 A business partner relationship is a connection between two business partners and this can be time-bound. This can be done by assigning the BP relationship between two business partners. One can easily, create, edit and delete relationships in relationships assignment block of the account and employee page.
For example, if Jenny is one of your employees and responsible for your customer ABD Ltd. In the relationships assignment block on ABD Ltd. Page then you can create a relationship "Has the Employee Responsible" with Jenny as a partner.
Account Hierarchies: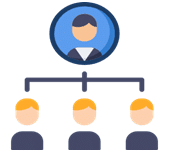 Account hierarchy allows users to map complex structures of any organization's business partner. For example, buying groups, retail outlets, etc. This can also be used for statistical purposes and pricing.
Hierarchy nodes can be created using business partner groups. Also, note that the hierarchy structures created SAP CRM are sales area-independent.
Now let us create a business partner in CRM:
Here we are creating an organization business partners
Step 1: Enter the transaction code "BP" in the command line and click on "Create organization"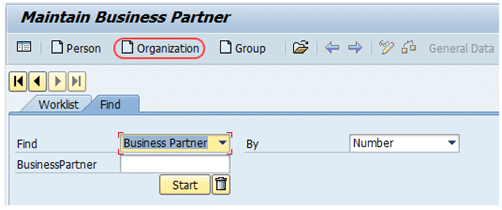 Step 2: Choose grouping and business partner roles and click on create options.



Step 3: Enter the address and other details of the organization and save.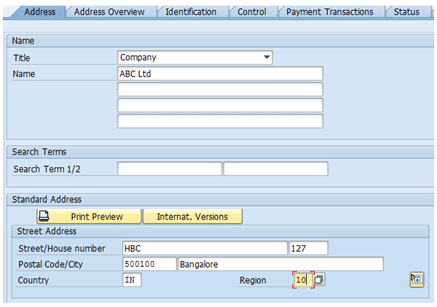 SAP CRM Pricing and Billing
SAP Pricing
Pricing is used to calculate the cost for customers and vendors related to service orders, sales and other pricing. Pricing can be defined in different conditions such as discounts, taxes, surcharges, etc.  This pricing information will be calculated using the condition technique.

Pricing functionality within SAP CRM is provided by Internet Pricing and configuration (IPC) which is a Java-based application. IPC is responsible for pricing throughout the entire SAP CRM application. The pricing can be determined by various factors like product, order and these variable factors are stored in master data. Pricing data can be managed within either by CRM system or downloaded from ERP.
There are two possible scenarios:
Scenario without ERP integration

The scenario with ERP integration

Elements of CRM Pricing:

Pricing Procedure
As we already discussed, SAP CRM pricing can be ERP or CRM. The pricing procedure can be defined:
Pricing conditions types
Calculation sequence of condition types in the transaction
Subtotals on pricing screen
Possible Manual processing
The specific condition type that is considered while performing pricing
Pricing procedure can be defined in customizing by reaching SPRO → IMG → Customer Relationship Management → Basic Functions → Pricing → Define settings for pricing → Create Pricing Procedure.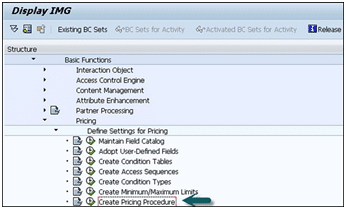 CRM Billing:
CRM billing is used to generate invoices that are related to the transaction in SAP CRM. In general, a CRM system is connected to the ERP system for billing procedures. There are various business transactions that are billed in SAP CRM some of them are:


Sales orders
Deliveries
Service contracts
Service confirmation
Complaints
The release of sales contracts
Service orders
Steps in Billing processing:
Input Processing->Billing->Output Processing
Input Processing: This step deals with billing relevant items from various business transactions. These items are stored as billing due list items.
Billing: In this step, the relevant billing items are grouped from duelist items.
Billing duelist can process the duelist items
These billing items are processed as a part of individual billing
Also, it can process due list items as a part of collective billing
Output Processing: It includes,
Invoice output
Transfer to SAP Financials
Retrieval in SAP BI
You can select different output methods like print, fax or email for the invoice output.
SAP CRM Tax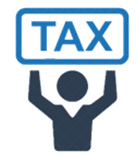 In sales or processing, taxes play a very important role.  In SAP ERP central component back-end integration is required, for sales processes, the taxes are defined in SAP ECC and are downloaded from SAP CRM.  However, taxes for services processes are defined in SAP CRM itself.  This requires an SAP CRM technical user to be conversant with tax settings in both SAP ECC and SAP CRM.
In SAP CRM, Transaction Tax Engine (TTE) is used to calculate the tax in billing. This is used to determine and calculate the tax on various invoice statements and to calculate the external tax.


TTE is used in both SAP CRM and SAP SCM to calculate the tax.
Transaction Tax Engine can be implemented by setting in customizing for cross-application components.  Go to SPRO → IMG → Cross-Application Components → Transaction Tax Engine → Tax Maintenance Settings → Tax Determination and Calculation → Define Tax Event Determination.



Tax event is used to calculate the tax and tax determination. Applicable tax type and tax rate, locations, and other factors are determined.  It uses the decision tree to make tax determination and calculation more simple and transparent. You can also use a simulation tool in TTE for tax determination and for testing customizing settings.
Go through this S4 HANA Logistics course in Bangalore to get a clear understanding of S4 HANA Logistics!
Tax Calculation process:
An input document is compiled using TTE
Tax event is derived by TTE from the input document
Derive applicable tax calculation procedure and tax type from tax event using TTE
TTE directs the applicable tax calculation procedure to the special purpose entity SPE for tax amount calculation
Special Purpose entity SPE shares the tax calculation amount to TTE
TTE then compiles the output document and returns the tax determination results such as tax type, tax calculation procedure, and tax calculation amount
Tax Configuration:
Understanding and implementing tax configurations are a bit difficult and confusing when we are dealing with ECC managerial accounting, financial accounting, and sales. However, it is important to calculate the taxes as they are necessary to find the price component of sales and service processing. In order to do this, one must know the basic settings to be performed in SAP ECC and then proceed with tax configurations in SAP CRM. It is important to understand these settings as they'll provide you an idea of the real-world issues that play their part in the taxation area. For example:
One has to consider the different types of taxes that are defined based on the legal requirements of the country. One also needs to identify whether they need the SAP CRM side or SAP ECC side.
Business rules are established such that no taxes are considered for export sales. Based on the type of product and customer one has to consider half taxes and full taxes.
SAP CRM Web Channel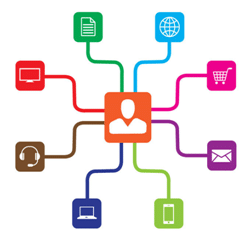 The main motto of CRM Web Channel or E-commerce is to convert the internet into profitable sales and provide customer satisfaction. The CRM web channel applications cover web-based sales and service transactions, targeted marketing, and analytics for system and customer behavior.
In today's market, understanding customers have become an essential concept. Customers of today are empowered, well informed and socially networked with the ability to interact with other customers directly. This fast-changing life has become a challenge for organizations of all sizes.
To meet this approach of customers, web channel managers make use of an administrative tool. This tool helps the managers to manage the process and set up the data or customer relationship. This tool is extremely beneficial in that it allows the managers to continuously make updates to their existing websites without ever involving any IT work.
SAP CRM web channel provides a vast platform that enables users to provide multi-channel customer support services across all channels like e-service, e-commerce, and e-marketing. This is helpful for both consumers and customers. The below image shows the screenshot of the web channel.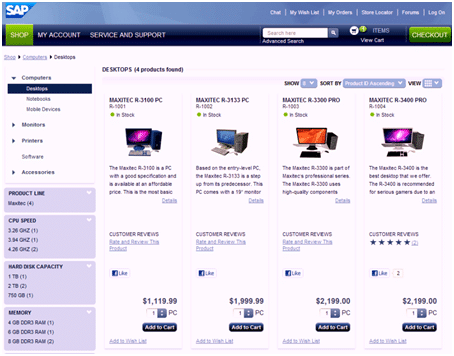 B2B scenario
As the name suggests, the data is exchanged between two organizations or business partners. This communication occurs when a middleware is used like SAP Process Integrator PI/XI. The best example we can give for the B2B scenario is our online marketing amazon, Alibaba, Indiamart, etc.



You can configure the B2B source system by following the below steps:
Define the party that shows your company
Define communication Components
Integration flow should be designed in PI
Assign sender and receiver
Assign the interface for communication
Configure the adapters for both sender and receiver
Define header mapping at receiver
Activate and deploy the integration flow
Monitor the channels
B2C scenario
B2C scenario is used when an organization wants to connect to a number of targeted customers at a single point of time. This can be achieved by using campaigns and target groups.  Flipkart, snapdeal are the example of a B2C scenario.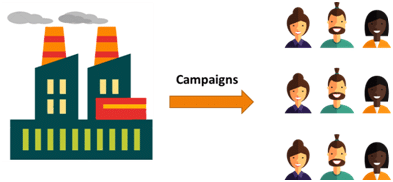 Campaigns in this scenario can be executed as follows:
First, you need to identify the potential customers and this can be done through external providers
Next, create segments and define them based on customer's demand. Once this is done, marketing campaigns can be created to reach the target customers
As the last step, campaigns have to be executed such as e-mail, phone or fax
Conclusion:
This brings us to the end of the SAP Customer Relationship Management tutorial. In this tutorial, we learned in detail about the overview of SAP CRM, business Partners CRM billing and pricing and many more relevant topics. Here we have also explored the SAP web channel that is B2B scenario and B2C scenario.
Are you interested in learning S4 HANA Logistics from experts? Enroll in our S4 HANA Logistics training in Singapore now!
If you want to learn more, I would suggest you try out our Intellipaat course "SAP HANA Training"  that covers all the concepts of SAP HANA from scratch to advance and also covers hands-on projects and case studies.