Introduction to SAP HANA
SAP in SAP HANA stands for System Application Products in Data Processing and HANA stands for High-performance Analytic Appliance.
SAP HANA is a combination of data modeling, HANA database, data provisioning, and HANA administration in one single set. It is an in-memory data platform that is deployable as an on-premise tool or in the cloud. It is best befitted for developing as well as deploying real-time applications and performing real-time analytics.
Watch this video tutorial on SAP HANA.
Here are the topics covered in this session:
Why Choose SAP HANA?
SAP HANA is an in-memory, column-oriented, relational database management system which was developed and marketed by SAP SE. It is majorly used to store and retrieve data as requested by applications. It is claimed to be one of the fastest database servers across the globe. It has the ability to actually handle a massive amount of data and provide us the output in no time.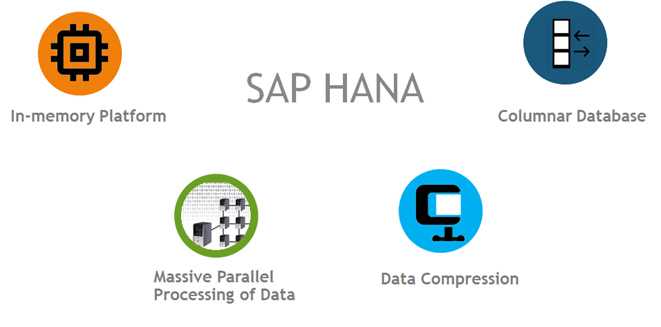 SAP HANA is an on-demand data processing software used for building new roads to various industry applications. As it is a fast and simple in-memory database, many industries are attracted to it. SAP HANA is always there when it comes to drawing the list of high paying jobs.
SAP HANA is a new and radical technology platform that is taking the corporate world by storm. Due to the highly transformational and innovative nature of the SAP company in general, and the HANA platform in particular, there are a huge number of job opportunities in this domain for people who are having the requisite skills in SAP HANA development and implementation. Along with the astronomical salaries, your job as an SAP HANA professional will also be full of excitement and growth, thanks to the vast array of technologies and business processes you will be working in.
Want to get certified in SAP HANA. Learn from our SAP HANA expert and do excel in your career with intellipaat's SAP HANA Admin certification.
Scope of SAP HANA
SAP HANA is an assuring and popular technology all over the globe and has gained a lot of appreciation ever since its launch. SAP has been launching better versions every year resulting in enormous growth in terms of user base and market shares. And, it has been estimated that in the upcoming years, it will continue to grow even more in its field. Currently, a lot of Fortune 500 companies are using SAP for SAP HANA only. And, this actually means that jobs will increase rapidly in the coming years assuring SAP HANA professionals a bright future in this field.


SAP HANA Vs. Oracle In-memory
There is a lot of buzz about Oracle in the market these days. So, let's look at the difference between SAP HANA and Oracle In-memory databases to get a clear view of both.
| | |
| --- | --- |
| SAP HANA | Oracle In-memory |
| SAP HANA is an in-memory, relational database management system. It has a primary function to be a database server to store and retrieve data as requested by applications. | Oracle in-memory database is used for optimizing analytics and mixed workload and delivering outstanding performance for transactions, while at the same time, supporting real-time analytics and business intelligence. |
| Shares 22 percent of the ERP Market Share | Shares 15 percent of the ERP Market Share |
| Takes 17 months on an average to complete a project | Takes 18 months on an average to complete a project |
| More widely used as an ERP system | More widely used as a database tool for product verification, CRM, and medical software applications |
If you have any doubts or queries related to SAP HANA, get them clarified from the SAP experts on our SAP Community!
Features of SAP HANA
Here in this SAP HANA tutorial, you will learn SAP HANA top features that make it so invaluable to enterprises who want to crunch data at lightning speeds and extract valuable business insights from it.
It has a high-performance engine where multiple jobs can be done in parallel.
Its user interface is powered by SAP Fiori which is extremely user-friendly.
In SAP, data management is optimal; you can even report from ERP databases.
It is extremely simple when it comes to the administration of the complete IT landscape.
It offers new features and capabilities regularly, thus making it highly innovative.
Check out the top SAP HANA Interview Questions to learn what is expected from SAP professionals!
Applications of SAP HANA
SAP HANA has some of the top Fortune 500 companies as its customers. Along with that, it also has a whole host of smaller companies that are completely relying on the SAP HANA edge to scale and grow their businesses.
Here, we list some of the top applications of SAP HANA, cutting across the industry sectors:
Processing high-volume analytical and transactional data to support business decisions
Simplifying application development to fast-track innovation and growth
Predicting opportunities by exploiting analytics in insight-driven applications
Managing data warehouses by streamlining operational and Big Data capabilities
Enriching business processes with intelligence derived from the Internet of Things
Recommended Audience
Anybody can benefit from this tutorial by learning SAP HANA and get a head start in this domain and make a career out of it. SAP Developers, Business Intelligence Consultants, Data Warehousing Professionals, Database Architects, Data Analytics Professionals, Project Managers, and students aspiring for a career in SAP HANA can enroll in this course.
Kick-start your career in SAP HANA with the perfect SAP HANA Training Course now!
Prerequisites
There are no prerequisites to learn SAP HANA through this tutorial. If you have a basic knowledge of database concepts or SQL, then it is beneficial.