What Is SAP HANA Data Replication?
SAP HANA data replication enables the migration of data from source systems to the SAP HANA database. An easier way to move data from an existing SAP system to HANA is by using various data replication techniques. They are:
Using an ETL Tool, SAP BusinessObjects Data Services (BODS)
SAP LT Replication Method
SAP HANA DXC Method
We can set-up system replication onto the console through the command line or by using HANA Studio. Transaction systems can stay online during this particular process of setting up system replication.
There are three types of data replication methods in SAP HANA system:
ETL tool, SAP BusinessObjects Data Services (BODS) Method
SAP LT Replication Method
Direct Extractor Connection (DXC) Method


Let's discuss each of these in detail.
Go for the most professional SAP HANA Training Course for SAP HANA career now!
ETL Tool, SAP BusinessObjects Data Services (BODS) Method
In SAP HANA ETL-based data replication, SAP Data Services are used in order to migrate data from SAP or non-SAP source systems with a motive to target them to the HANA database. BODS is an ETL tool that is used to extract, transform, and load data from the source system to the target system.
This system enables to load of business data from SAP ERP to the SAP HANA database at the application layer. We will need to schedule a replication job, define data flows in Data Services, and define the source and target systems in the Data Services Designer.
As this method uses batch processing, data checks, and transformations, synchronization with data providers is also permitted.
Want to get certified in SAP HANA. Learn from our SAP HANA expert and do excel in your career with intellipaat's SAP HANA Admin certification !
The following image gives an overview of this ETL-based replication method. We can see that data replication is operated by Data Services, its main components being Data Services Designer and Job Server. Data Services Designer is where we will model the data flow. And the Data Services Job Server is for the execution of replication jobs.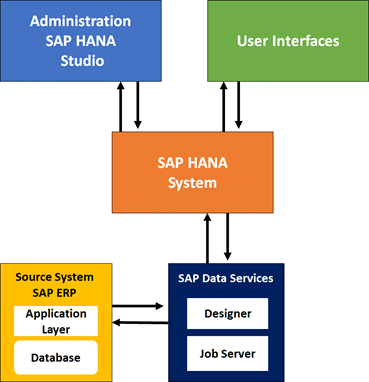 SAP LT Replication Method
SAP LT Replication or SAP Landscape Transformation Replication is a trigger-based data replication method in the HANA system. If the replication of real-time or scheduled data is required, the SAP LT method is the perfect solution for both SAP and non-SAP sources. All trigger requests are taken care of by the SAP LT Replication Server. The server can either run on any SAP system with SAP NW 7.02 and above or can be installed as a standalone server. In order to enable trigger-based data replication in the HANA system environment, a trusted RFC connection between the ECC transaction system and the HANA database is enabled.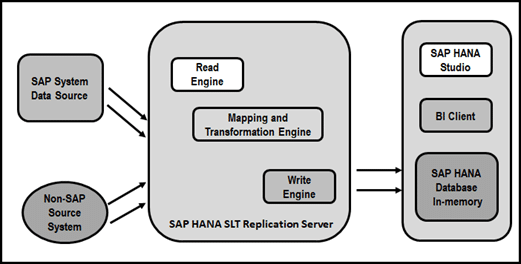 Advantages of SAP LT Replication Method
A trigger-based approach is used in SAP LT.
Data replication from multiple source systems to one HANA system and from one source system to multiple HANA systems is allowed in the SLT Replication method.
Before loading to the HANA database, data transformation and filtering capabilities are provided.
It is fully integrated with the SAP HANA system and with SAP HANA studio.
If you have any doubts or queries related to SAP HANA, get them clarified from the SAP experts on our SAP Community!
SAP HANA DXC
SAP HANA DXC is a batch-driven data replication technique, i.e., it can perform only after a particular time interval. It uses the ETL (Extract, Transform, and Load) method via an HTTPS connection mentioned earlier in this tutorial session. In SAP Business Suite application, data source extractors have been available for data modeling and data acquisition for SAP Business Warehouse.
These data source extractors are used by SAP DXC to deliver data directly to SAP HANA.
DXC is basically available in different configurations based on SAP Business Suite system:
The default configuration available for SAP Business Suite systems based on SAP NetWeaver 7.0 or higher, for example, ECC 6.0
An alternative configuration available for SAP Business Suite systems based on releases lower than SAP NetWeaver 7.0, i.e., SAP ERP 4.6
An SAP Business Suite system is based on SAP NetWeaver. According to the NetWeaver version 7.0, SAP Business Warehouse or BW is a part of SAP Netweaver. That actually means that the BW system is already inside SAP Business Suite systems such as ERP (ECC 6.0 or higher). The BW system is related to an 'embedded BW system'. This embedded BW system present inside the SAP Business Suite is not utilized, as most customers who run BW already have it installed on a different server.
Learn more about SAP HANA from this SAP HANA Training in Toronto to get ahead in your career!
With the default DXC configuration, we utilize the monitoring and scheduling features of the embedded BW system, but we don't utilize its other aspects such as data warehousing, storing data, or BI reporting.
The following illustration depicts the default configuration of DXC.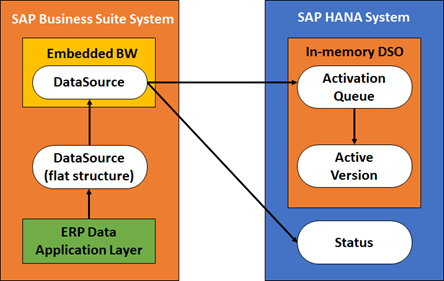 An in-memory DataStore object (IMDSO) is generated in SAP HANA, which directly corresponds to the structure of the DataSource we are working with. This IMDSO consists of several tables and an activation mechanism. The active data table of IMDSO can be utilized as a basis for building data models in SAP HANA (attribute views, analytical views, and calculation views).
Data is transferred from the source SAP Business Suite system using an HTTP connection. Generally, the extraction and load process is virtually the same as extracting and loading SAP Business Warehouse—we rely on InfoPackage scheduling, the data load monitor, process chains, etc.—which are well-known while operating SAP Business Warehouse.
Check out the top SAP HANA Interview Questions to learn what is expected from SAP professionals!
Advantages of SAP DXC
No additional server or application in the system landscape is required by SAP DXC.
SAP HANA implementation timelines are speeding up while using SAP DXC.
Semantic-rich data from SAP Business Suite is extracted to provide it to SAP HANA.
The complexity of data modeling in SAP HANA is reduced when we use SAP DXC.
In this session of SAP HANA tutorial, we learned how data replication is done in SAP HANA. In the next session, we'll talk about SAP HANA Monitoring in detail.