SAP HANA Environment Setup
SAP HANA Studio is an Integrated Development Environment (IDE) used to develop SAP HANA databases. It allows administrators to handle user authorizations and existing models of data and manages the SAP HANA database. Intellipaat brings SAP HANA tutorial to guide you through downloading and installing SAP HANA Studio in one shot.

Prerequisites for installing SAP HANA Studio:
OS: Windows XP, Vista, Windows 7, Windows 8, Mac OS 10.9, and/or SUSE Linux server
Environment: Java Virtual Machine
Disk Space: Minimum 190 MB
Memory: 1 GB
We have the perfect professional SAP HANA Training course for you!
Once you make sure that the aforementioned prerequisites are fulfilled, you can follow the below step-by-step procedure to install SAP HANA Studio:
Step 1: Go to the link below to download SAP HANA Studio:
http://service.sap.com/swdc
Now, select the download suitable for your OS, e.g., if you have 64-bit Windows, then select sap_hana_win64_studio-rev80
Step 2: Open the folder and you will find an executable file, named hdbsetup.exe
Run this file and follow the instructions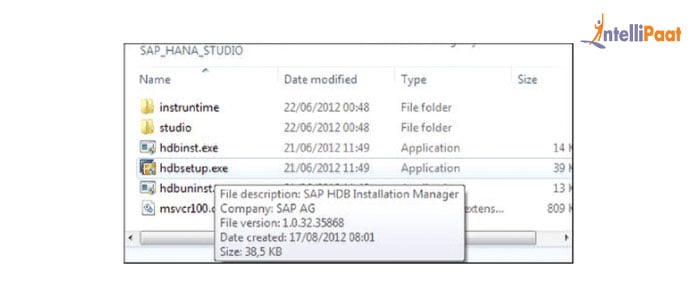 Step 3: Set the destination folder path as C:\Program Files\SAP\hdbstudio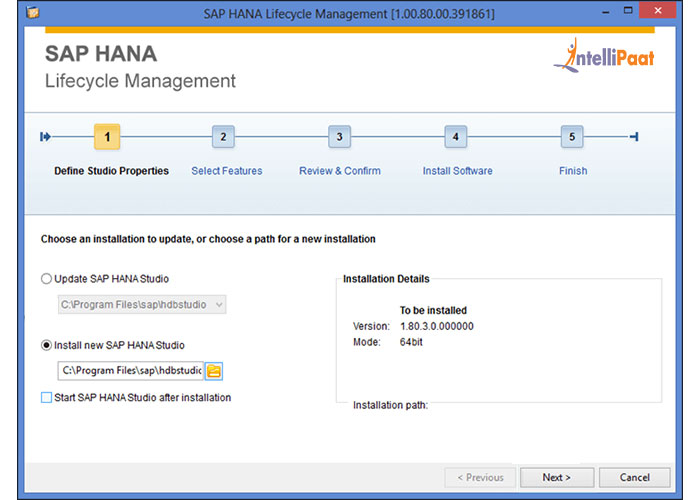 Select Install new SAP HANA Studio and hit the Next button
Step 4: Go to Select Features
Here, the features you need to select are:
SAP HANA Studio Administration
SAP HANA Studio Application Development
SAP HANA Studio Database Development. Now, click on the Next button.
Step 5: Go to Review and Confirm. This window will display the choices you made for installation. Once you ensure what you need, click on the Install button

Step 6: Install the software. It will take a few minutes to complete the installation. After completion, a message saying 'You have successfully installed the SAP HANA Studio' will appear. Then, click on the Finish button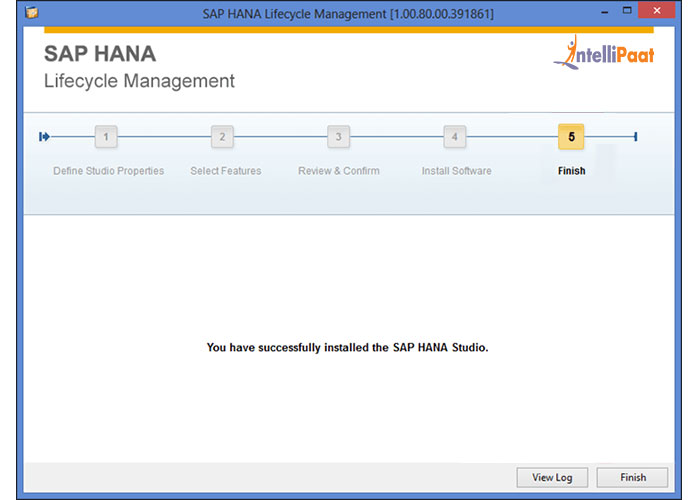 Step 7: First time you run hdbstudio.exe, a welcome window will appear with four options
See the image below: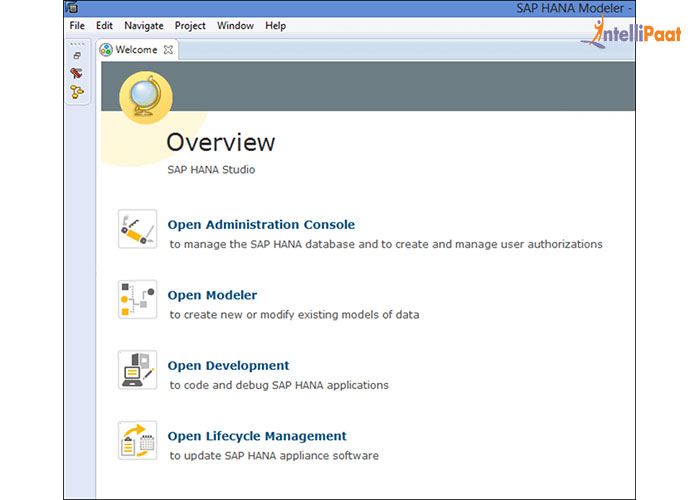 Open Administration Console: This perspective allows the user to administer the software. It configures, monitors, and administers the SAP HANA Document. It also creates users and assigns authorization.
Open Modeler: This option deals with the creation of modeling objects, database object management, creation and modification of tables, objects, and attributes, data provisioning, etc.
Open Development: Using this option, applications in SAP HANA can be developed. It supports programming languages, such as JavaScript, JQuery, etc., for application development.
Open Lifecycle Management: This perspective updates the installation of SAP HANA by adding patches received from SAP.
Get ready for the high-paying SAP HANA jobs with these Top SAP HANA Interview Questions and Answers!
Step 8: Before you start working, you will have to configure the SAP HANA Studio. For that, go to the Open Administration Console or Open Modeler and right-click on the Navigator pane and select Add system. After this the following window will appear: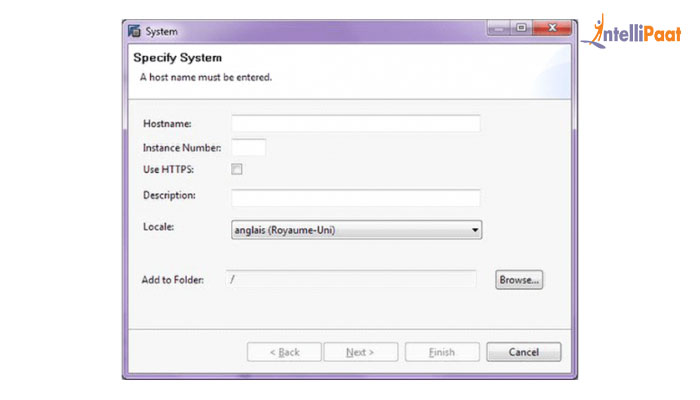 Provide the Hostname and Instance Number of your SAP HANA installation. Set the default language in Locale. Click on Next.
Wish to get certified in SAP HANA! Learn from our SAP HANA expert and do excel in your career with intellipaat's SAP HANA Admin certification!
Step 9: A dialog window will appear where you will have to put your User Name and Password for SAP HANA Server. Click on Finish and SAP HANA Studio will be installed on your system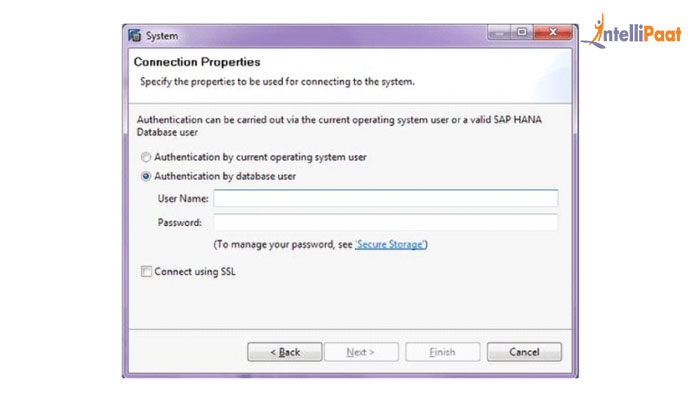 That's all about installing SAP HANA Studio on your system. These steps might look confusing, but I am sure they will be easy to implement when you perform the installation live, referring to the guidelines provided in this module of SAP HANA tutorial.
Go through this SAP HANA Course in Hyderabad to get a clear understanding of SAP HANA!
Next, we'll directly jump into everything you need to know about SAP HANA Studio in our further sessions. Stay tuned!