What Is SAP HANA Modeling?
Modeling is confining of data in database tables by creating views to simulate a business scenario whether it is an entity such as customer, product, etc. Views can be used in creating meaningful reports and also in decision-making. These views are called information views in SAP HANA. An information view contains different combinations of content data to create a model. Following are the topics covered in this module:
Watch this video on 'SAP HANA Modeling':
Information Views in SAP HANA
An information view is created from several combinations of content data to create a model for a business scenario.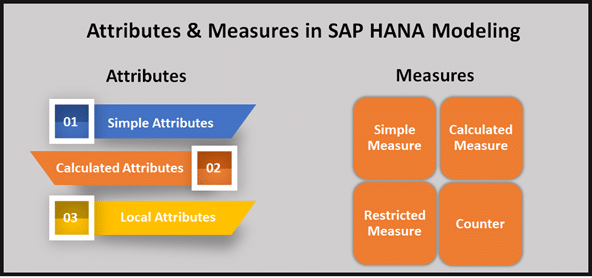 The content data in the information view contains attributes and measures.
Attributes: Attributes are basically non-measurable data like employee ID, employee name, etc. There are three types of attributes which SAP HANA supports:

Simple Attributes
Calculated Attributes
Local Attributes

Measures: Attributes that can be calculated are called measures. Example: salary, revenue, etc.

Simple Measures
Calculated Measures
Restricted Measures
Counters
There are three types of information views:
Attribute View: When we want to access a customer database to know customer details, attribute views provide detailed data which is also known as 'master data'. For instance, the master data is like the customer ID that describes things like hierarchies of a data set. By building attribute views, dimensions can be created, using which construction of subsequent views can be done as well.
Analytic View: Analytic views constructs a 'fact table' with key figures. Analytic views are operated using these key figures. SAP HANA database has a large number of records that contain data of an individual customer or of an employee. In SAP HANA, analytic views are optimized for aggregating mass data. We can use functions or operators to aggregate data. Measures are included to compute operations and form a model data in the analytic view.
Calculation View: It allows to create a flexible and complex logic in the database. Calculations are done after the grouping and aggregation of data because grouping is performed at the attribute level and computations are performed at the analytic level. The calculation view is built on top of one or more analytic or attribute views.
Go for the most professional SAP HANA Training Course for SAP HANA career now!
Privileges in SAP HANA Modeling
A user requires privileges to work in SAP HANA. Privileges basically provide security to the SAP HANA database because of which only an authorized user will be able to access the content.
Below are the privileges required for SAP HANA Modeling: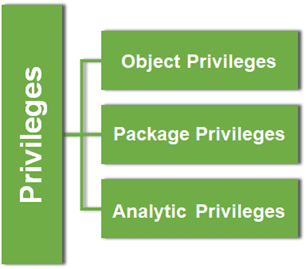 Object Privileges: Object privileges are SQL privileges needed to present read/write access on database objects. Object privileges for modeling are:

SELECT privilege on_SYS_BIC Schema
SELECT privilege on_SYS_BI Schema
SELECT privilege on Table Schema
EXECUTE privilege on REPOSITORY_REST (SYS)

Package Privileges: Package privileges are needed to authorize actions on individual packages. Package privileges required for data modeling are:

READ, REPO.EDIT_NATIVE_OBJECTS & REPO.ACTIVATE_NATIVE_OBJECTS on the package used for content objects
MAINTAIN_NATIVE_PACKAGES privilege on Root Package

Analytic Privileges: Analytic privileges are used to access SAP HANA information view

To get full data access to all information views, _SYS_BI_CP_ALL analytic privilege is required

Other Privileges:

WORK_IN_FOREIGN_WORKSPACES is used for working in foreign workspaces
MAINTAIN_DELIVERY_UNITS is used for creating delivery units
REPO.IMPORT, REPO.EXPORT can be used for importing/exporting delivery units
Want to get certified in SAP HANA! Learn from our SAP HANA expert and do excel in your career with intellipaat's SAP HANA Admin certification!
Importing and Exporting Models
Models can be imported and exported from one system to another using the following method:
Developer Mode
Delivery Mode
SAP Support Mode
If you have any doubts or queries related to SAP HANA, get them clarified from the SAP experts on our SAP Community!
Developer Mode
In developer mode, objects have to be activated manually after import, and when multiple objects are imported, activation is done in a particular sequence.
Developer Mode Export:
Select the system for which the objects are required to be exported
Select the objects to be exported
Select the target location and click on Finish.
Developer Mode Import:
Select the file
Click on Import
Select SAP HANA Content
Click on Developer mode
Select the target system wherein the objects need to be imported

Delivery Mode
Delivery Mode is a single unit that can be mapped to multiple packages, and they can be exported as a single entity as well. So basically, all packages assigned to the delivery unit are treated as a single unit. A user can utilize this option to export all packages which make a delivery unit and the relevant objects contained in it to a HANA server or on a local client location.
SAP Support Mode
SAP support mode is used to export objects along with the data for SAP support purposes. It can be used when requested. For example, the user creates a view that throws up an error and she/he isn't able to resolve it. So, in that case, she/he can use this option to export the view along with data and share it with SAP for the debugging purpose.
Interested in learning SAP HANA? Check out the SAP HANA Training in New York!
In this session of the SAP HANA tutorial, we have learned what SAP HANA modeling is, views in SAP HANA, privileges in SAP HANA, and exporting and importing models. In the next session, we'll learn about SAP HANA reporting in detail.