What Is SAP HANA Reporting?
Drivers like JDBC, ODBO, and ODBC in the reporting tool are part of SAP HANA Client. When we install SAP HANA Client software which is a .exe file, it will make all drivers open on the PC for connecting and reporting tools to SAP HANA. We will be using SAP BI, SAP BO, SAP Lumira, and Microsoft Excel in this session to access SAP HANA Information view. Yet, the choice of the reporting tool completely depends on the type of reports required.
Watch this SAP ABAP Tutorial For Beginners video:

We'll be covering each of these in detail:
Wish to get certified in SAP HANA! Learn from our SAP HANA expert and do excel in your career with intellipaat's SAP HANA Admin certification!
Reporting in SAP BI (Business Intelligence)
SAP BI is a reporting and data warehousing tool. In BI or Business Intelligence, raw data is cleaned, the business logic which has been applied is processed, and meaningful information is provided to the user. SAP BI provides a user-friendly environment.
Many databases are supported by SAP BI, and when migration is done from source data to SAP HANA the following architecture is followed:
SAP BI has 3-tier architecture: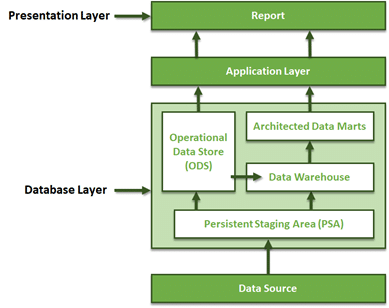 Database Server: In a database server, data is stored physically: in Operational Data Store (ODS), Persistent Staging Area (PSA), and Infocube.
Application Server: The application server is used to access data from the database server and process data for the presentation server.
Presentation Server: The presentation server presents data to the user.
Go through this SAP HANA Course in Sydney to get a clear understanding of SAP HANA!
Analysis and reporting can be done in an SAP BI system on the selected InfoProviders' data with the help of the drag-and-drop feature or the context menu to navigate to the queries.
In SAP BI, Business Explorer (BEx) is one of the key components which allows one to achieve flexible reporting and analysis, and it also provides many tools that can be used for decisive analysis and supporting decision-makers in taking a decision for future strategy.
Tools used in BEx:
Reporting
Query
Analysis Functions
Key components used in a Business Explorer:
BEx Analyzer
BEx Query Designer
BEx Broadcaster
BEx Web Application Designer

Reporting in SAP Crystal Report
SAP Crystal Report helps us visualize, explore, design, and provide a report that can be run on enterprise applications or web. We can create a simple or complex report with SAP Crystal Report.
Crystal reports are majorly used to produce reports from any data root. They are designed to work with databases in order to help in the analysis of users and evaluate important information. Simple reports can be created by users along with the software offering comprehensive tools required to produce complex reports. Data Visualization tools like geographic graphs and maps can communicate any information visually in order to interpret data analysis.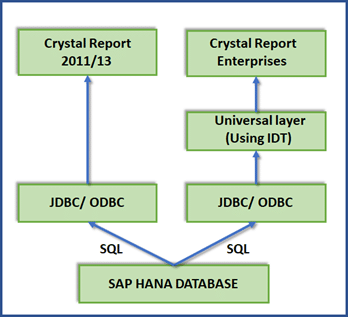 There are two types of SAP Crystal Reports categorized based on their uses:
Crystal report 2011/13: This type of crystal report is used when:

We want to create SQL Expressions
SAP HANA stored procedure needs to be called from crystal reports
A view needs to be executed with parameters or variables and non-default values are to be submitted

Crystal report for enterprises: This type of crystal report is used when there is Creation needed or available.
Wish to crack SAP HANA job interviews? Intellipaat's Top SAP HANA Interview Questions are meant only for you!
Reporting in SAP Lumira
Analyzing and visualization of data is done through a new software from SAP, SAP Lumira. Lumira gives a user the ability to create beautiful infographics, charts, and interactive maps. Data from Excel and other sources can also be imported. Moreover, the Information view of SAP HANA can be accessed by SAP Lumira directly. Visual BI analysis can be performed in SAP HANA using their dashboard.
SAP Lumira is majorly known as a visual intelligence tool used to create and visualize stories on a dataset. Data recorded in Lumira is a dataset wherein filters, hierarchies, calculated columns, etc. can be used to build documents.
In order to make our data more effective, the use of various charts such as bar charts, pie charts, etc. can be of great help.


Features of SAP Lumira
Data Visualizations and stories from multiple data sources can be created.
We can predict future outcomes and forecast according to mobile market situations.
Visualizations on different platforms can be shared.
Data can be adapted according to organizational needs to create stories with visualizations.
Steps needed to visualize data in SAP Lumira:



Step 1: Prepare Data
In this first step of SAP Lumira Data Visualization, data is formatted/prepared according to the required format.
Step 2: Visualize Data
In this second step, the data is given a necessary structure for analysis or reporting. After the creation of a dataset, the system automatically moves from the Prepare tab to the Visualize tab (this can be done manually, as well, by clicking on the Visualize tab).
Step 3: Compose Data
In this third step, multiple visualizations are assembled into a single 'Story Board'.
Step 4: Share Data
The Story created in Lumira can be easily shared to different targets.
Kick-start your career in SAP HANA with the perfect SAP HANA Training Course now!
In this session, we have learned about SAP HANA Reporting. We saw that the choice of the reporting tool depends on the type of reports that are required. In the next part of this session, we'll talk about another tool, i.e. SAP HANA Integration With Microsoft Excel.