What is SAP HANA Studio?
SAP HANA Studio is a tool based on Eclipse. It is considered as the main administration tool and the central development environment for the HANA system. Following are the major topics of this tutorial session:
Major features of SAP HANA Studio are:
It has the ability to provide an environment for HANA Information Modeling, HANA Administration, and Data Provisioning in the HANA database.
It is a client-based tool used to access the HANA system, which is present locally or remotely.
Become a master of SAP HANA by going through this online SAP HANA Course in Toronto !
SAP HANA Studio can be used on the following platforms:
SUSE Linux Enterprise Server SLES11: x86 64 bit
32 and 64-bit versions of Windows XP, Windows Vista, and Windows 7
It is not necessary to have similar features available while installing SAP HANA Studio. You need to specify the features you want as per your requirement when you install SAP HANA Studio. You can use the Software Life Cycle Manager for client update in the most recent version of the HANA Studio


Perspectives in SAP HANA Studio
SAP HANA Studio provides various perspectives to work on. Follow this path to choose a specific perspective:
HANA Studio > Window > Open Perspective > Other
Following are the SAP HANA Perspectives:
SAP HANA Studio Administration Perspective
SAP HANA Studio Database Development Perspective
SAP HANA Studio Application Development Perspective
Kick-start your career in SAP HANA with the perfect SAP HANA Training Course now!
SAP HANA Studio Administration Perspective
SAP HANA Studio Administration Perspective is a toolset for certain administration tasks except for transportable design-time. It also includes general troubleshooting tools such as catalog browser, tracing, and SQL Console.
SAP HANA Studio Database Development Perspective
SAP HANA Studio Database Development is a toolset that provides content development on the major part. Data Marts and ABAP are addressed in particular on SAP HANA scenarios which do not include SAP HANA Native Application Development (XS).
Wish to get certified in SAP HANA! Learn from our SAP HANA expert and do excel in your career with intellipaat's SAP HANA Admin certification !
SAP HANA Studio Application Development Perspective
SAP HANA Studio Application Development as the name suggests deals with the application development part in SAP HANA. The system contains a web server which is hosted on small applications. This perspective provides a toolset that can be used for developing SAP HANA Application like application code in JAVA and HTML.
All these features are installed by default.
SAP HANA Functionalities and Benefits
In order to better understand SAP HANA Studio:
It is a place where you can access schemas, tables, procedures, information views, etc.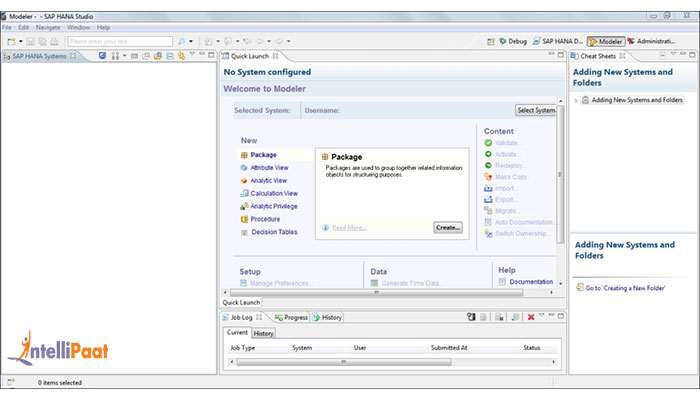 Initially, it looks empty, but as soon as you add systems, you can see multiple options to browse across. These options depend on the perspective you are working in. If you are in a Modeler perspective, only the available systems and objects will be visible. On the other hand, if you are in Development or Debug perspectives, options will differ accordingly.
It appears on the left side and performs the following functions:
Administration: It helps administer the SAP HANA Studio platform.
SQL Console: It is used to write different SQL codes for various purposes. It works without getting a schema name as it works on the schema selected by the user.
Find Table: It allows searching for a table in the SAP HANA system. It returns all the tables having the name given by the user in search.
Find System: This is used to search for a system.
Link with Editor: It lets objects link with the navigation pane. It highlights an object in the navigation pane that has been selected by the user.
Check out the top SAP HANA Interview Questions to learn what is expected from SAP professionals!
Administering SAP HANA Studio
This perspective helps the user maintain and monitor the system's status and disk volume storage, handle alerts, etc.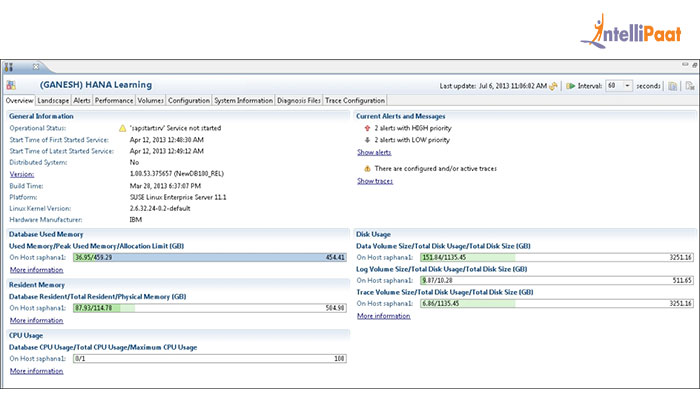 It performs the following activities:
Adding a system: To connect with the SAP HANA instance, some credentials are required such as User ID, Password, Server, etc.
Overview: It allows you to get a glimpse of the entire system's status at once.
Landscape: It allows to have a quick look at the running applications, their configurations, hosts, redistribution, etc., in a fraction of seconds.
Configuration: It allows you to configure hosts.
Redistribution of operations: In order to effectively utilize the resources, operations need to be redistributed across index servers.
Alerts: It creates alerts that help you monitor and manage system operations.
Performance: It monitors all performance-related processes.
Volumes: They provide the memory statistics of all servers present on the host.
Configuration: It includes important data about the configuration of the system.
System information: It consists of system information.
Diagnosis files: They allow you to browse through the trace or log files.
Trace configuration: It provides detailed information regarding the activities of the SAP HANA database.
If you have any doubts or queries related to SAP HANA, get them clarified from the SAP experts on our SAP Community!
After learning about SAP HANA Studio, let's go forward and install SAP HANA Studio and get ourselves started.