Overview of integrated business process :
SAP Integrated Business Planning is a cutting edge planning application, controlled by SAP HANA that which enables organizations to draw partners over the association in an integrated planning process that adjusts their business to most profitability to take care of future demand. IBP is a cycle of planning activities and reviews that enables businesses regularity and repeatable cadence. It includes three stages –
Demand review
Operations review
Business review
Consensus Demand planning involves demand planning and review, Operations planning includes supply planning and operations review, Business planning involves Pre-S&OP and S&OP (Sales & Operations Planning). It is a cyclical process with each feed makes assumptions and guidances based on previous step. The process is driven by exception and focuses on decision making.


Architecture for Integrated Business Planning :
SAP IBP's main components of its architecture is shown below and they perform along together, and it explains the process of how to benefit from the new features when doing an End to End Business Scenario.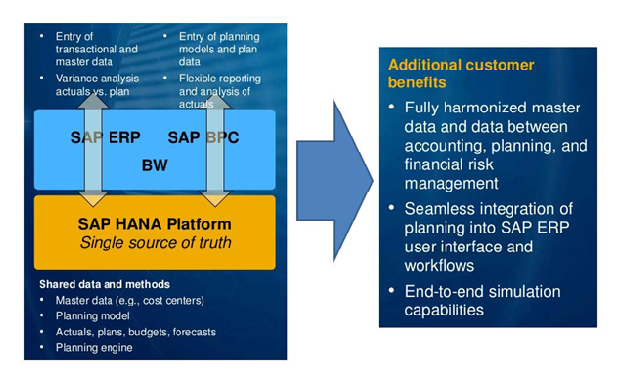 IBP for Finance :
It is a common financial planning model with real time access to master-data and actual data without data replication. It has In-memory planning capabilities, integrated data model that enables flexibility & easy simulations. IBP has faster planning cycles. Since it is an end-to-end simulation, we can take better decisions. It has got Advanced user experience. The planning screens can be seamlessly integrated into the ERP workflows. We can perform modelling and variance analysis in real time data. There are pre built planning models for accelerated adoption.
How to deploy controlling integration with procurement :
The profit and cost analyzer calculation of the supply planning administrator creates a cost-streamlined production, distribution, and procurement plan for the whole supply chain, considering certain limitations. The arrangement incorporates every single material stream to clients from plants and providers by means of distribution centers or other middle locations, and incorporates all production processes.
The scope item portrays how to use the profit and cost optimizer algorithm amid the Supply Review of the sales and activity planning procedure to make an achievable, cost-optimized demand plan. It is utilized as a part of substitution of the unconstrained demand & supply heuristic calculation depicted in scope item IBP for sales & operations.
Steps Covered
Supply Review
Adequately adjust demand and supply and accomplish a cost-ideal arrangement for production, distribution, and procurement

CO integration with production :
Controlling (CO) is an independent application component, which is used to coordinate, monitor, and optimize all processes within a company. The consumption of production factors and services used by the company is entered here. For example, Integration of SAP Waste and Recycling with Controlling enables employees with responsibility for controlling at a waste disposal company, such as a depot manager or a route manager, to calculate relevant cost information according to the values from the waste disposal order confirmation and trigger the final posting following a check.
Transfer pricing :
Transfer price is a value used to valuate the exchange of a good or service between autonomously operating units of an organization. You can utilize an exchange cost to valuate products developments between profit centers. The SAP framework supports three kinds of transfer prices that represent the three essential perspectives of good and merchandise within a corporate group –
Group view
Profit center view
Legal view
Watch this SAP Fico Video
Parallel valuation :
Parallel Valuation whose goal is to allow a single goods movement of a separate material to enable trigger of multiple and simultaneous postings to the G/L (by an unique approach to inventory accounting), all in a single FI document.
Product lifecycle :
Product Lifecycle Management in SAP helps associations rapidly create and convey the items that drive their business. SAP PLM gives all round help to all item related procedures from start of life cycle with item ideation to assembling and administration. SAP Product Lifecycle Costing is an answer for figure costs and different measurements for new items or citations in a beginning period of the item lifecycle, to rapidly recognize cost drivers along the lifecycle and to effortlessly recreate and compare alternatives.