Why SAP HANA?
Generally SAP applications data is stored at a database level and the corresponding calculations are performed. The appropriate results are displayed at the application layer. The major part of the query processing time involves aggregations.
The best application performance are provided by SAP HANA by forwarding the execution into the database. The corresponding data is stored in an inbuilt memory database for the sole purpose of reading the data is much faster as compared to a conventional database.
Watch this video of SAP ABAP by Intellipaat:

SAP HANA makes sure that data replication of data is done in the most precise manner which removes unnecessary latency as well as complexity of data load.


Advantages of using SAP HANA
SAP HANA has the following advantages
Data analysis in Real-time
Unnecessary complexity of hardware can be limited
There is no latency in database when it comes due to nightly ETL jobs
Calculations can be done on the run with column store
Parallel processing
Compression of Data

The Path to S/4 HANA
It was in the mid- 2011 that SAP HANA came into the limelight. Major companies decided to get started with SAP HANA to maintain their Business Warehouse needs.

By 2012 SAP HANA introduced business warehouse in order to support real time analysis and reporting tool.

In the early 2013 SAP introduced its Business Suite in order to support real time business, OLAP

In 2014 SAP Simple Finance was introduced for quick financial insights anda single source of data for reporting.

In 2015, SAP s/4 HANA got into the market to provide a simplified data model, entirely new user experience, multi tenancy and advance processing

S/4 HANA Overview
S/4 HANA is nothing but based on advanced in built memory platform that offers a Specialized Fiori- based user experience to access role- based solution. It can also be inserted over a cloud environment or on a on- premise solution.
Many Businesses are migrating from SAP business Suite to S/4 HANA.Customization can be done by the users even after moving of the system. It is done through implementation package in the form of SAP simple Finance and Simple logistics.
With this SAP S/4 HANA a innovative product for big data is designed to help one run simple in the digital economy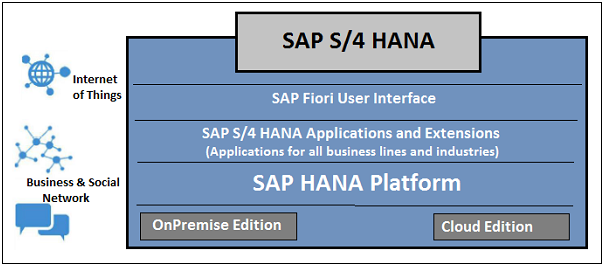 SAP Simple Finance provides different finance and accounting processes for managing and supporting operations efficiently.

Top  Features of SAP Simple Finance :
The following are the key features of SAP Simple Finance
Financial Planning and Analysis – This helps the organization to forecast plan and budget as an ongoing process. Predictive analysis helps you to forecast the impact of business decisions on the financial reports of the organization.
Financial Risk Management – With the help of Predictive Analysis organizations can find various risks that arises in the financial processes at a very early stage and find ways to move them. It is one of the best ways to find the appropriate investment rates as per the market standards.
Accounting and Finance – The legal terms and completion of the financial report of the organization can be met on time with the help of Advance Finance and Accounting Features
Risk and Compliance Management – Unauthorized access to sensitive data can be prevented by using strong financial processes. Detection of Fraudulent and abusive can easily be detected this helps the organization to to balance the risk for all the financial processes