SAP S/4 HANA Finance User Handbook
Are you looking for a powerful SAP application to manage your business? If yes, then you must take SAP HANA finance into your consideration. This SAP HANA finance cheat sheet is designed for the one who has already started learning about the customization and development using SAP HANA finance, then this sheet will be a handy reference. Don't worry if you are a beginner and have no idea about how SAP HANA finance works, this cheat sheet will give you a quick reference of the basics that you must know to get started.
You can also download the printable PDF of the SAP S/4 HANA Finance Cheat Sheet.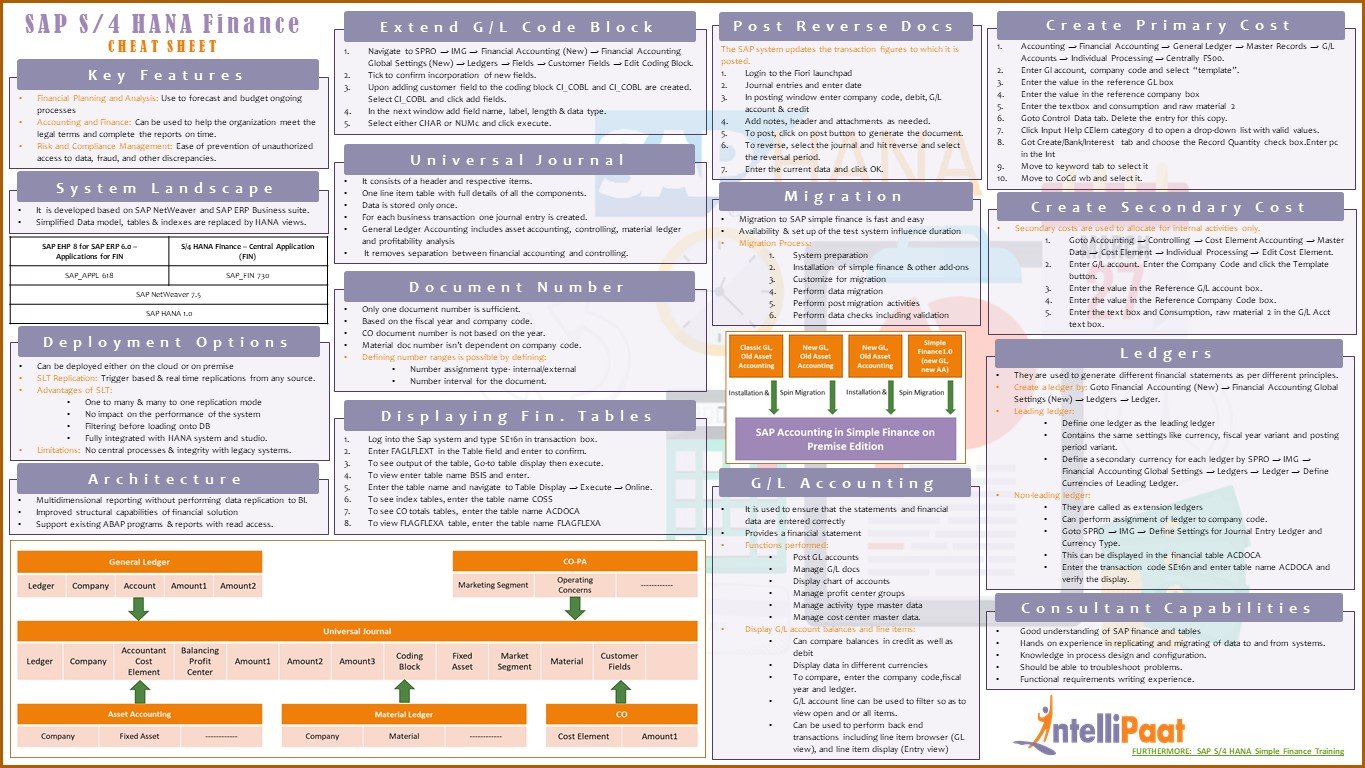 traininh
Key features:
Financial planning and analysis: use to forecast, plan and budget ongoing process
Accounting and finance: can be used to help the organization meet the legal terms and complete the reports on time.
Risk and compliance management: ease of prevention of unauthorized access to data. Fraud, abuse and other discrepancies are easily detectable.

Technical system landscape:
It is developed based on SAP NetWeaver and SAP ERP Business suite.
Consists of a simplified data model
Tables and indexes are replaced by HANA views.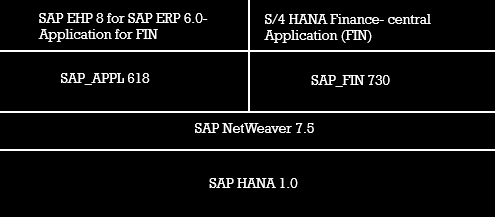 Architecture:
It is useful to cut costs and time to manage the finance and accounting process. Following are the features of SAP HANA architecture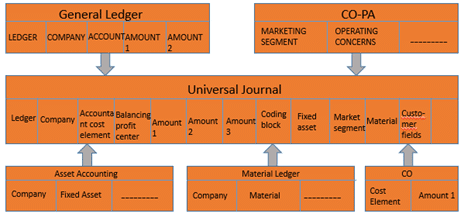 Multidimensional reporting on Universal journal without performing data replication to BI
Improved structural capabilities of financial solution
Support for existing ABAP programs and reports with read access.
Universal Journal as an on-line item table with full detail for all the components.
Optimized structural capabilities of the financial solution- multiGAAP, additional currencies etc.
Extend G/L coding block:
Steps to extend GL coding block:
Step 1: navigate to SPRO → IMG → Financial Accounting (New) → Financial Accounting Global Settings (New) → Ledgers → Fields → Customer Fields → Edit Coding Block.
Step 2: tick to confirm the incorporation of new fields.
Step 3: upon adding the customer field to the coding block CI_COBL and CI_COBL are created. Select CI_COBL and click add fields.
Step 4: In the next window add: field name, label, length and data type.
Step 5: Select either CHAR or NUMc and click execute.
Universal Journal:
It consists of a header and respective items.
It is a one-line item table with full details of all the components.
Data is stored only once.
For each business transaction, one journal entry is created.
General Ledger Accounting

Asset Accounting
Controlling
Material Ledger
Profitability Analysis

It removes the separation between financial accounting and controlling.
Document Number:
Only one document number is sufficient.
Based on the fiscal year and company code.
The CO document number is not based on the year.
The material doc number isn't dependent on company code.
Defining number ranges is possible by defining:

Number assignment type- internal/external
Number interval for the document.
Displaying financial tables:
Step 1: log into the Sap system and type SE16n in transaction box.
Step 2: enter FAGLFLEXT in the Table field and enter to confirm
Step 3: To see output of the table, go to table display then execute and online
Step 4: To view enter table name BSIS and enter
Step 5: Enter the table name and navigate to Table Display → Execute → Online.
Step 6: To see index tables, enter the table name COSS and press ENTER key.
Step 7: To see CO totals tables, enter the table name ACDOCA and press the ENTER key.
Step 8: To view faglflexa table, enter the table name FLAGFLEXA in the table box and confirm the entry.
Deployment options:
Can be deployed either on the cloud or on-premise
To perform data replication via SLT, SLT portions have to be available on both the cloud and on premise
SLT Replication:

Trigger based
Can replicate real time/scheduled replications from SAP and Non-SAP sources.
Advantages of SLT:
Allows one to many and many to one replication mode
No impact on the performance of the system
Filtering before loading onto DB
Fully integrated with HANA system and studio.
Limitations:
No centrally executed processes and no integrity with legacy systems.
Watch this SAP Fico Video
Post and reverse documents:
When a doc is posted the SAP system updates the transaction figures to which it is posted.

Step 1: Login to the Fiori launchpad
Step 2: journal entries and enter date
Step 3: In posting window enter
i)company code
ii) debit
iii) G/L account
iv) Credit
Step 4: add notes, header and attachments as needed.
Step 5: to post, click on post button to generate the document.
Step 6: to reverse, select the journal and hit reverse and select the reversal period.
Step 7: enter the current data and click OK.
Migration:
Migration to SAP simple finance is fast and easy
Availability and set up of the test system can influence the duration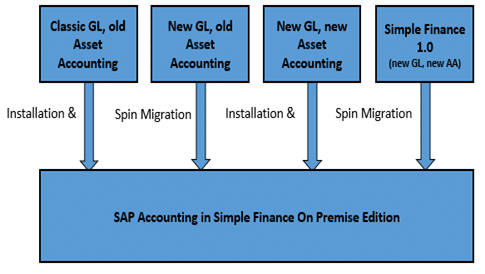 Migration Process:
Step 1: System preparation
Step 2: Installation of simple finance and other add on
Step 3: Customize for migration
Step 4: Perform data migration
Step 5: Perform post-migration activities like cold store
Step 6: Perform data checks including validation
G/L Accounting:
It is used to ensure that the statements and financial data are entered correctly
Provides a financial statement
Functions performed:
Post GL accounts
Manage G/L docs
Display chart of accounts
Manage profit center groups
Manage activity type master data
Manage cost center master data.
Display G/L account balances and line items:
Can compare balances in credit as well as debit
Display data in different currencies
To compare, enter the company code, fiscal year and ledger
G/L account line can be used to filter so as to view open and or all items.
Can be used to perform back end transactions too.
Line item browser (GL view)
Line item display (Entry view)
Create Primary cost:
Step 1: Accounting → Financial Accounting → General Ledger → Master Records → G/L Accounts → Individual Processing → Centrally FS00.
Step 2: Enter Gl account, company code and select "template".
Step 3: Enter the value in the reference GL box
Step 4: Enter the value in the reference company box
Step 5: Enter the textbox and consumption and raw material 2
Step 6: go to Control Data "tab.Delete" the entry for this copy.
Step 7: click Input Help "CElem category d" to open a drop-down list with valid values.
Step 8: got Create/Bank/Interest tab and choose the Record Quantity checkbox. Enter pc in the Int
Step 9: Move to the keyword tab to select it
Step 10: move to CoCd wb and select it. Save
Create secondary cost:
Secondary costs are used to allocate for internal activities only.

Step 1: Goto Accounting → Controlling → Cost Element Accounting → Master Data → Cost Element → Individual Processing → Edit Cost Element.
Step 2: enter G/L account. Enter the Company Code and click the Template button.
Step 3: enter the value in the Reference G/L account box.
Step 4: enter the value in the Reference Company Code box.
Step 5: enter the text box and Consumption, raw material 2 in the G/L Acct text box.
Ledgers:
They are used to generate different financial statements as per different principles.
Create a ledger by goto Financial Accounting (New) → Financial Accounting Global Settings (New) → Ledgers → Ledger.
Types of Ledgers:

Leading ledger: Define one ledger as the leading ledger

It contains the same settings as currency, fiscal year variant and posting period variant.
Define a secondary currency for each ledger by SPRO → IMG → Financial Accounting Global Settings → Ledgers → Ledger → Define Currencies of Leading Ledger.
Non-leading ledgers:

They are called as extension ledgers
Can perform the assignment of ledger to company code.
Goto SPRO → IMG → Define Settings for Journal Entry Ledger and Currency Type.
This can be displayed in the financial table ACDOCA
Enter the transaction code SE16n and enter table name ACDOCA and verify the display.

CONSULTANT CAPABILITIES:
good understanding of SAP finance and tables
hands-on experience in replicating and migrating of data to and from systems
knowledge in process design and configuration.
should be able to troubleshoot problems.
functional requirements writing experience.
We have covered all the basics of SAP S/4 HANA Logistics in this cheat sheet. If you want to start learning SAP S/4 HANA Finance in depth then check out the SAP S/4 HANA Finance training and certification by Intellipaat.
Not only will you get to learn and implement SAP S/4 HANA Finance with a step by step guidance and support from us, but also you will get 24*7 technical support to help you with any and all your queries, from the experts in the respective technologies here at Intellipaat throughout the certification period. So, why wait? Check out the training program and enroll today!