Introduction to SAP HANA
THE HANA architecture is a revolution in columnar database application has been brought about by SAP HANA. It combines the features of in-memory computing and columnar database management system (DBMS), a duo that tremendously enhances speed of operation when performing real-time analysis or running real-time applications. In-memory processing fundamentally utilizes the system's RAM (main memory) to store data, instead of using disk storage. A columnar DBMS boosts system performance and speed when working with aggregates, by reading only the data that is required to satisfactorily fulfill a query, through effective compression of similar columnar data. This technology effectively deploying this combination, thus becomes one of the best suited tools for data warehousing applications.
Watch this video from Intellipaat on SAP PP:
Companies often need to work with aggregates, i.e., huge databases of different types and from different sources and require answers to complex queries out of the data. SAP HANA proves to be one of fastest and most efficient tools in such a situation. The reason is that it is the only DMBS that is exceptionally good in handling both analytical workload (with complex queries, involving aggregates) as well as transactional workload (data typically having a number of short, online transactions) processing. There are various DBMS which are good at handling either online transactional processing (OLTP) or analytical processing (OLAP) but SAP HANA stands out of the crowd to serve both. SAP HANA consists of major components like the HANA Studio which is an Eclipse based IDE for managing HANA database, creating and managing user authorization and working with data models. HANA also consists of the HANA Cloud which is used to create and test HANA-based cloud applications.
| | |
| --- | --- |
| Criteria | SAP HANA |
| Strengths | Extreme customization, ease of use and functionality |
| Working with other databases | Excellent |
| Cost | For training and internal resources |
Wish to Learn Sap Hana? Click Here
Why SAP HANA?
1. SAP HANA provides ACID compliance, i.e., it ensures qualities such as Atomicity, Consistency, Isolation and Durability are adhered to with applications services.
2. It helps in real-time decision making and incorporates advanced data processing features such as:
Text search and analytics
Predictive analytics
Spatial data processing
Graph data processing
Streaming analytics
Real-time insights from live data
3. It provides in-depth analysis of broad data with predictive analysis and machine learning capabilities.
4. It helps in deployment and development of new business apps which are smart and can be run on-premise or on cloud. It enables the use of best available development tools and provides the exact, specific information required by the user by creating a personalized user-experience.
5. SAP HANA platform also incorporates data virtualization- integration, federation and replication.
Get the top SAP HANA interview questions now to crack your next HANA interview.
6. It has the Real-time replication feature which enables access and replication of data from SAP ERP and can be thoroughly integrated with SAP BusinessObjects, the business integration solution of SAP, in order to provide greater insights and a wholesome solution. It also provides SQL and MDX interfaces for enabling access to third- party applications.
7. SAP HANA greatly simplifies the system through simplification of hardware, maintenance, testing, operations and monitoring with integration of basic HANA administration capabilities with the BW Admin Cockpit. In this case all models are virtual and results are calculated using pure operational data.
8. It incorporates tools that monitor various processes, maintain continuous availability of data, and also ensure data and application security, thereby simplifying system administration to a great extent.
9. One of the most important features of any DBMS system is its security aspect. SAP HANA protects all communications, data storage, and application services with secure and tamper-proof identification and access control. Moreover, it deploys a dashboard displaying all KPIs related to security management of the system.
Who is the right audience for learning SAP HANA?
The SAP HANA course adds value and helps in career development of the following professionals:
SAP Development &BI consultants, Data warehouse professionals
Data analytics professionals, Database Architects, Project Managers
What is the scope of SAP HANA?
In FY 2015 the number of HANA customers surpassed 7,200 compared with 3,600 a year ago
A SAP HANA consultant in the United States can earn $115,000 – indeed.com
SAP HANA is one of the most sought-after technologies all across the globe. Pursuing this course will provide one with all the knowledge and hands-on experience required to get a good grasp of the technology and learn it thoroughly. This training will not only add value to one's profile but also equip one with the required skills for getting a highly paid job in this competitive market.
Statistics of SAP HANA  job trend in UK:
The demand trend of job ads citing SAP HANA as a proportion of all IT jobs with a match in the Database & Business Intelligence category.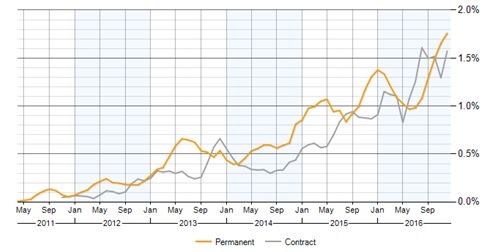 Source:  itjobswatch.co.uk
This chart provides the 3-month moving average for salaries quoted in permanent IT jobs citing SAP HANA within the UK.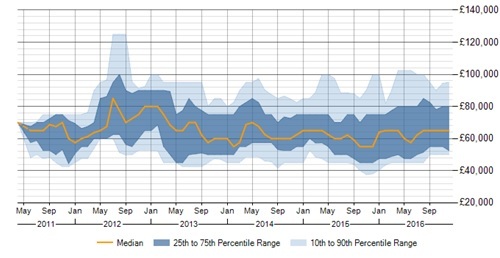 Wish to Learn Sap Hana? Click Here
It can be concluded that SAP HANA is one of the most readily accepted technologies in the market in light of its growing customer base and market share. Following the above stated job trend it can be inferred that the demand for SAP HANA professionals are likely to increase immensely in the coming years.
Interested in learning SAP HANA? Check the Intellipaat's SAP HANA Online Training.
Related Articles
---