Why become a DevOps Engineer in 2020?
Let's first look at some of the facts that will give you an idea about the importance of being a DevOps Engineer in the present day.
Glassdoor states that the average salary of a professional in this position is $100,000 per annum in the US, and getting at least a salary above $100,000 is a sure shot. According to PayScale, in India, a Release Manager earns up to ₹950,000 per annum on average.
According to Indeed, as of September 2019, anyone can apply for the 7000+ jobs available in the market for this role. In Glassdoor's 50 Best Tech Jobs in America, this job role ranks at the second position. As per the SD Times, 'the role of a DevOps Engineer has seen a 225 percent jump in postings.'
This blog on 'How to become a DevOps Engineer?' offers you an ultimate path you can follow in your journey toward becoming a successful DevOps Engineer.
Check out this Intellipaat video to find out 'What is DevOps?':
Now, who exactly is a DevOps Engineer?
Who is a DevOps Engineer?
There is a huge misconception out there that he/she is a person who writes code for an application, who is responsible for testing the application or managing the servers or a person who may have to go ahead and roll-back the failures.
Well, that is not exactly what he/she does. DevOps Engineer is a person who understands the entire SDLC and has an understanding of various automation testing tools for developing pipelines, i.e., CI/CD pipelines. In addition, DevOps essentially means building digital pipelines that take the code from the developer's laptop all the way to the operations guy's laptop, and it results in a revenue-generating product!

DevOps Engineer Have Multiple Career Path
A person working in this role will work with the development team to tackle the coding and scripting that are required to integrate individual unit codes together, like libraries or software development kits (SDKs), and integrate other elements like SQL database management system or e-messaging tools that are required to run the software release on various OS to check multi-browser compatibility and production infrastructure.
This job role doesn't follow a single career path; experts evolve into the position from a range of backgrounds. For example, a person may start as a Software Developer who supervises aspects of the operations team and then develops an interest in deployment and network operations.
Conversely, a professional might advance from a System Administrator role as he/she has gained knowledge about scripting, coding, integration, and testing. There will be some intersection between Development Operations and System Operations Engineering roles looking on the individual organization and its technical needs; however, it is the DevOps Engineer whose responsibilities embrace the changing business processes as required to solve organizational problems and improve business outcomes.
In other words, he/she is somebody who understands the software development life cycle (SDLC) and brings software engineering tools and processes to solve the classic challenges faced by the operations team.
Also note that as a career choice, the whole DevOps space is highly compensated, with almost every company either 'doing it with DevOps' or claiming to do so.
Regardless of where the companies are located, the overall DevOps job opportunities are numerous, offering fun, and employment is only going to increase exponentially in the years to come.
There are no junior DevOps Engineers!
You must have heard an old aphorism: 'There are no junior DevOps Engineers?' If not, please be known that it's a popular expression on Stack Overflow and Reddit. But what does that mean?
Simply put, it implies that it takes a number of years of experience, fused with a solid understanding of tools, to eventually become an effective Senior DevOps professional. Sadly, there is no shortcut to gaining experience.
This is not an effort to cheat the system; it is truly not attainable to fake to be a Senior DevOps Engineer with a couple of months of experience. A solid understanding of the rapidly and forever changing tools and methodologies takes years to master, and there's no easy way to achieve these.
However! There is a roughly approved (yet trendy) menu of tools and ideas that almost all corporations use. Tools are totally different from skills; therefore while you're learning the tools, make sure not to neglect your skills (interviewing, networking, written communication, troubleshooting, etc.).
Most significantly, don't lose track of what you are up to—building a fully automated digital pipeline that takes ideas and turns them into revenue-generating code pieces.
Before we dig deeper into the ultimate roadmap to becoming a DevOps professional, let us look at the skills that you'd need to acquire. Regardless of the background, you are coming from (IT or non-IT), if you think DevOps is the field you might be interested in, then let's start this journey. First, let me list down all the skills you have to learn.
Check out this Intellipaat video to find out 'Install Kubernetes?':
DevOps Engineer Skills
Here are the jobs from different job portals that portray the skills expected for the respective roles:
DevOps R&D Engineer, NOKIA: Jenkins, Python, Java, Docker, Kubernetes, and Git. Salaries at Nokia can range from ₹874,737 to ₹1,095,724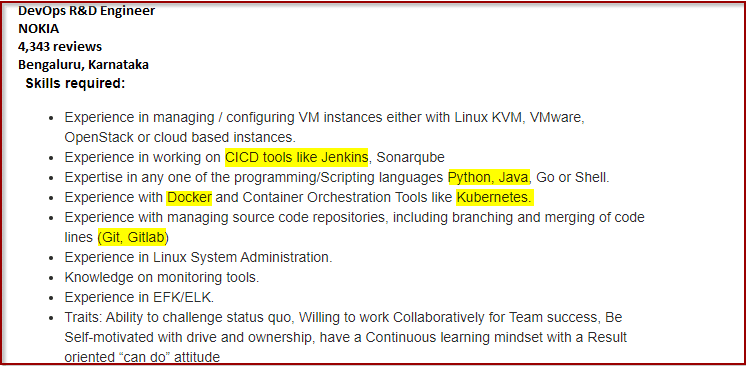 DevOps Analyst, BOEING: Jenkins, Java, and Cloud technologies

TechOps Engineer, Thermo Fisher Scientific: Cloud technologies (AWS, Azure, and GCP), Jenkins, Git, and Container (Docker)

DevOps Engineer, Micro Focus: Operating System Internals, CI/CD tool (Jenkins), Java, and Python scripting. Glassdoor's review states that the base pay in Micro Focus is between ₹893,000 and ₹1,159,000

Therefore, the key takeaway skills are:
Now that you know which key skill sets to master, you must be wondering where to start? To grasp these skills in the best possible sequence, read on!
Ultimate DevOps Engineer Roadmap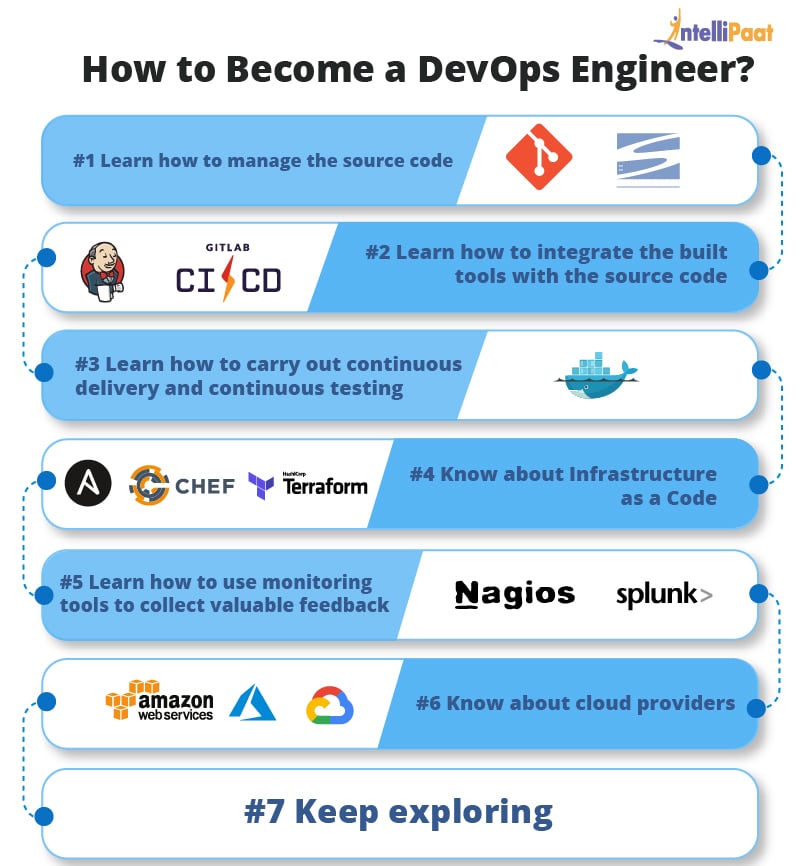 Altogether, spending an hour every day, five days a week, is enough to get a solid understanding in six months or less.
To explore more, check out our blog on DevOps: A Solution to Accelerate Your Cloud Performance!
Who said becoming a DevOps Engineer is not everyone's piece of cake? If you aspire for it, you can surely achieve it! But remember, no effort, no results!
Now, let's come to the question, from where to acquire these skills?
Check out the Top DevOps Interview Questions – Most Asked
Where should you learn DevOps from?
To gain theoretical knowledge, you may visit Intellipaat's tutorial page on DevOps Tools. However, practical knowledge is much more required to get a DevOps job. Along with learning the tools, you should have practical knowledge and experience. And hence you would have to work on real-life projects. You can start working on your own. Or you can also choose Intellipaat's "Cloud and DevOps Architect Master's Course in Association with IBM." This course will present you the opportunity to work on real-world projects based on AWS, Azure, Python, Java, Splunk, Linux, and more.
We understand that to become a trained professional, you need professional help. Therefore, we have got you covered with our course, which is designed and developed by industry-experienced professionals. As this certification adds value to your resume and acts as a solid authentication of your skills in your DevOps Engineer interview, consider enrolling yourself in our Cloud and DevOps Architect Master's Course in Association with IBM today! I hope you liked this blog. For more such lucrative blogs and tutorials, please visit our page.
Related Articles
---