What are Blockchain smart contracts with respect to Bitcoins?
On an evening when Nick Szabo was wondering about the purpose of security around bitcoins, he thought of incorporating software-based protocols to facilitate, verify, and enforce the negotiation or performance of a contract. These software models later were referred to as 'blockchain smart contracts.' The basic purpose behind the inception of Blockchain smart contracts was to allow the performance of credible transactions without involving third parties. Although these transactions are trackable, they are irreversible. The aim of blockchain smart contracts is to provide security that is superior to the traditional contract law and in the meanwhile reduce other transaction costs that are associated with contracting.
Szabo defined blockchain smart contracts as computerized transaction protocols that execute terms of a contract. He further wanted to extend the functionality of electronic transaction methods, such as POS to the digital landscape.



In 2018, a US Senate report said: 'While smart contracts blockchain might sound new, the concept is rooted in basic contract law. Usually, the judicial system adjudicates contractual disputes and enforces terms, but it is also common to have another arbitration method, especially for international transactions. With smart contracts blockchain, a program enforces the contract built into the code.'


Considering the flexibility, cost-effectiveness, and robustness that smart contracts blockchain have introduced in the realm of bitcoins, they are undoubtedly at the epitome of their adaptability and popularity.
Byzantine fault-tolerant algorithms are the algorithms that allow digital security through decentralization to form smart contracts blockchain. Certain programming languages with various degrees of Turing completeness as a built-in feature of some blockchains make the creation of custom sophisticated logic possible. Some notable implementations of smart contracts blockchain are:
For Bitcoins: This cryptocurrency provides a Turing incomplete script language that allows to customize the creation of situation-specific smart contracts blockchain.
For Ethereum: Ethereum implements a nearly Turing-complete language on its blockchain as a prominent smart contract framework.
For Ripple: Ripple's Codius was another smart contract framework the development of which got halted in late 2015.
Watch this video on "Smart Contract"

Have a peek at the image below to understand how exactly smart contracts blockchain function.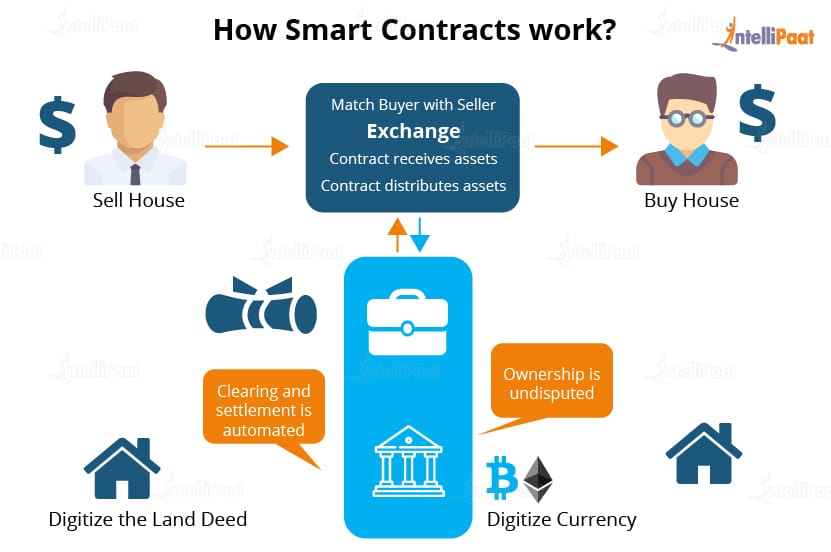 There are several types of blockchain smart contracts. They are listed as follows:
Assurance Contracts: These contracts assure both sending and receiving parties guaranteed returns on their respective investments.
Smart Properties: With smart properties, ownership is controlled by the blockchain and a smart contract. They can be leveraged for digital properties like company shares and 'access rights' to an online service.
Transferable Virtual Properties: These properties have single ownership at a time. They cannot be controlled by a central authority.
Autonomous Agents: Autonomous agents reduce costs by cutting out any middle man. They also discard human interactions and the liabilities that tag along with these interactions.
Distributed Markets: These are used for trading securities like stocks and bonds with no centralized clearinghouse.

A Concluding Note on Blockchain smart contracts
In a paper that he published in 1994, Szabo proposed the execution of a contract for synthetic assets including derivatives and bonds. He referred to the sale and purchase of derivatives with complex terms.
'These new securities are formed by combining securities and derivatives in a wide variety of ways. Very complex term structures for payments can now be built into standardized contracts and traded with low transaction costs, due to computerized analysis of these complex term structures,' he wrote.
Further, check our online Blockchain course for certification and prepare yourself with our free Blockchain interview questions listed by the experts.