As described in the reference model, one can use the TOGAF terminology on infrastructure. It basically provides the terms and taxonomy of classes of infrastructure as well as infrastructure services.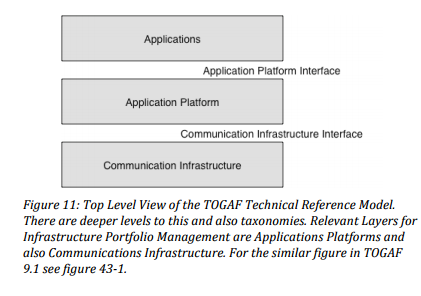 TOGAF And Developing Architectures
The Architecture Development Method (ADM) of TOGAF offers a verified and repeatable process for creating architectures. The ADM includes setting up an architecture framework, developing architecture, changing, content and governing the realization of architectures. All these noted activities are taking out within an iterative cycle of constant architecture definition and a realization that permits organizations to transform their enterprises in a forbidden manner in response to business goals and prospects.
The TOGAF describes a cyclic process for architecture development. The below given figure portrays the whole process.
• Preliminary Phase: gives an idea of training and initiation activities required to generate an Architecture Capability comprising tradition of TOGAF and definition of Architecture Principles.
• Architecture Vision: it is being used to elaborate the initial phase of an architecture development cycle. It comprises the details of defining the scope of the architecture development initiative, finding the stakeholder, developing the architecture vision and getting permission to proceed with the architecture development.
• Business Architecture: helps to explain the growth of a Business Architecture to support the approved Architecture Vision.
• Information Systems Architectures: the task of this phase is to explain the growth of Information System Architectures to hold up the approved Architecture Vision.
• Technology Architecture: helps in describing the development of the Technology Architecture to hold on the approved Architecture Vision.
• Opportunities & solutions: In this phase the initial implementation planning will carry out and the identifications of release vehicles for the architecture defined in the previous steps.
• Migration planning: It speaks about how to move from the baseline to the Target Architectures by finalizing the thorough functioning and Migration Plan.
• Implementation Governance: it helps in finding the architectural oversight of the implementation.
• Architecture Change Management: it will be helping in setting up the procedures for managing change to the new architecture.
• Requirements Management: helps in examining the process of managing architecture needs all through the ADM.