The complete work procedure of the Enterprise IT Architecture can be divided into 3 parts. They are:
• Strategic Tasks:
The CIO grows the IT strategy, and this is assisted by the Enterprise IT Architects. The foundation requirement for the strategic planning is given by the IT portfolio. Keeping in mind the objective of the IT enterprise, the strategy task plans the entire enterprise operation. This is done by modifying the present tasks with a view to achieving the proper predetermined goal helped by a planned roadmap.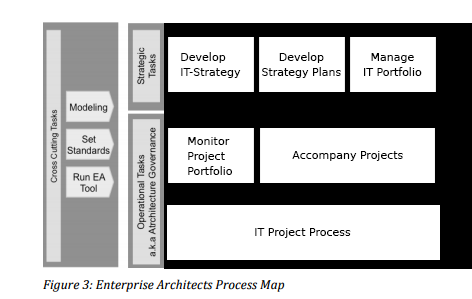 • Operational Tasks:
Once the strategy is planned, the strategy has to be applied to the everyday task of the enterprise. The daily tasks which run the enterprise fall under the operational tasks. The governance will take care of these operational works. During the governing of the operational tasks, always focus on the toughest tasks more than the easier ones. Once you overcome with the tough ones, the operation of the remaining takes lesser time. Proper running of the enterprise completely depends on the smooth governing of the operational tasks.
• Basic Tasks:
In order to have a marketing IT strategy and to have a successful IT operation, governance, all that you need to have is a strong base. The basic tasks of any enterprise withstand the other advanced tasks. In order to avoid further complications, the proper running of the basic tasks has to be taken care.